Vegan Lemony Stuffed Grape Leaves – Dolmas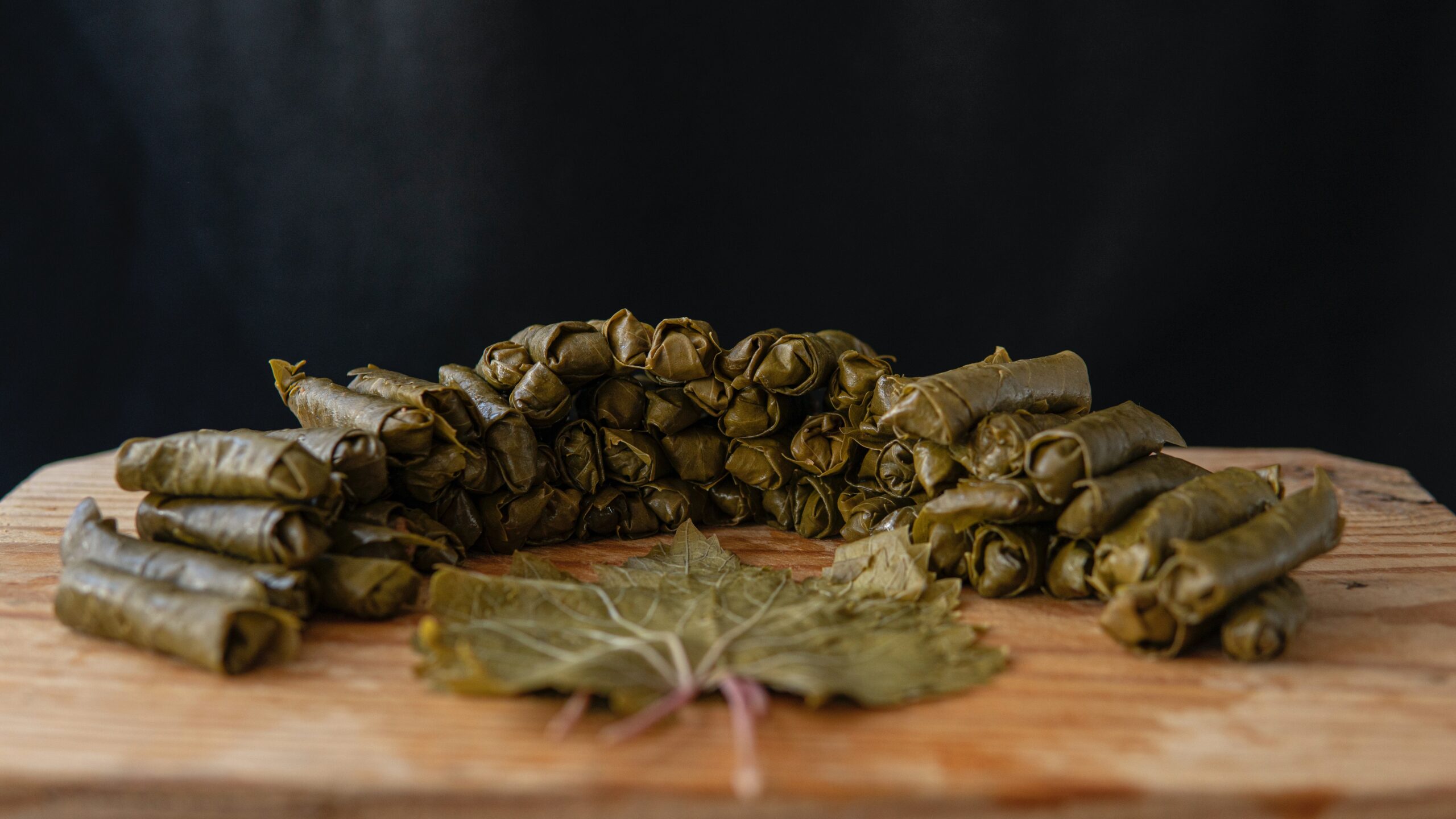 When I first made this vegan lemony stuffed grape leaves – Dolmas, I was a little intimidated. I thought it would be as laborious as making tamales! How wrong I was! This recipe couldn't be easier and more delicious! And it is great for first timers like me.
The only part that takes a bit of time is the rolling, but that can be a great way to catch up on a podcast or tv show while you working.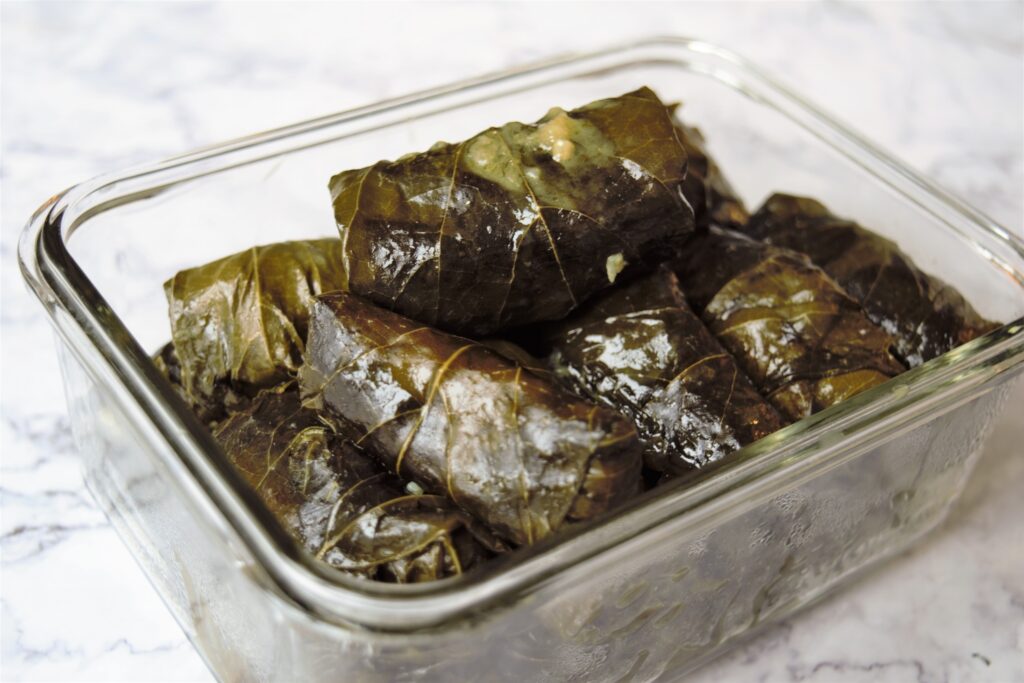 Called Dolmades or Dolmas, these moist leaf wrapped packages make a great addition to a meze platter or a buffet. Popular in the Middle East, ancient Greece, and Eastern Europe. They are served cold or warm, as an appetizer or main course, and can be made in many different ways: many kinds of leaves (cabbage, fig leaf, collard greens) are stuffed with meats including seafood, and vegetables. Their diminutive size makes them an ideal finger food. They can be made with
Grape leaves (stuffed or just the leaves in jars) are easy to find in well-stocked supermarkets, gourmet grocers, or Greek or Middle Western markets. Even Amazon carries them!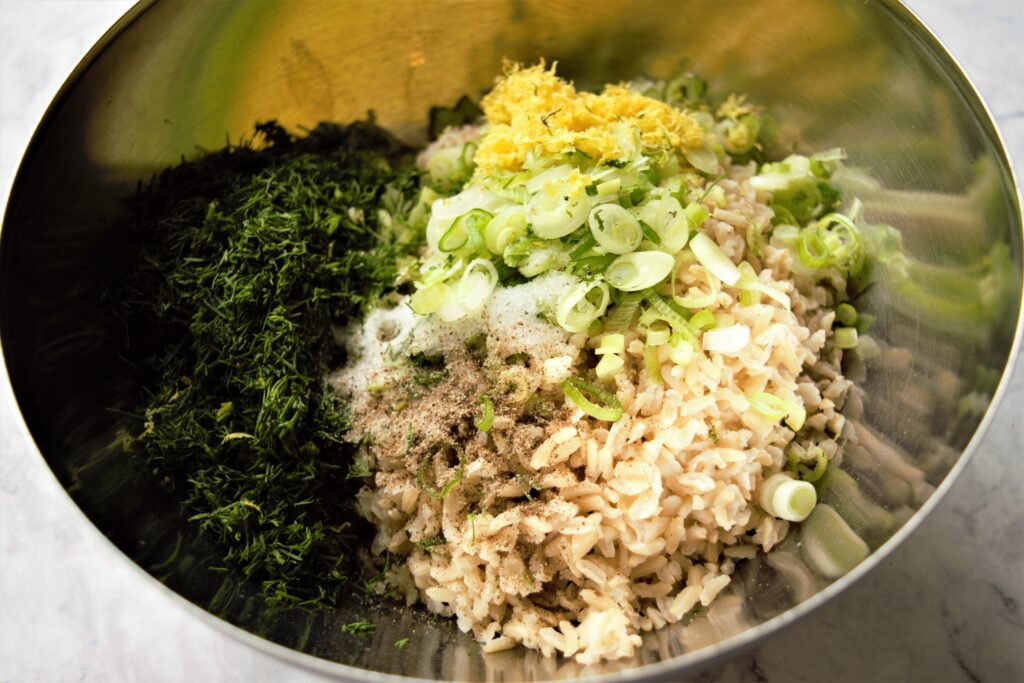 This recipe is very simple and that is why I decided to give it a try. Most recipes for Dolmas have a long list of ingredients that often include beef, pork, or lamb; or a combination of these meats. This recipe is only rice, and the steps are so easy and straightforward that there is need to be intimidated.
Any variety of rice may be used in the stuffing. But I prefer fragrant brown Basmati rice. You can also add marinated tempeh, TVP (textured vegetable protein), seitan or tofu. I am definitely making this recipe again and add my favorite tofu feta recipe!
tips on how to roll dolmas
Grape leaves are very thin and delicate, so you might be gentle when folding and rolling. The leaves are different sizes, so you should adjust the amount of filling accordingly. Start with one tablespoon, and if there is enough space around the leaf, add some more filling.
Place the filling towards the bottom so you can have plenty of the leaf left to roll.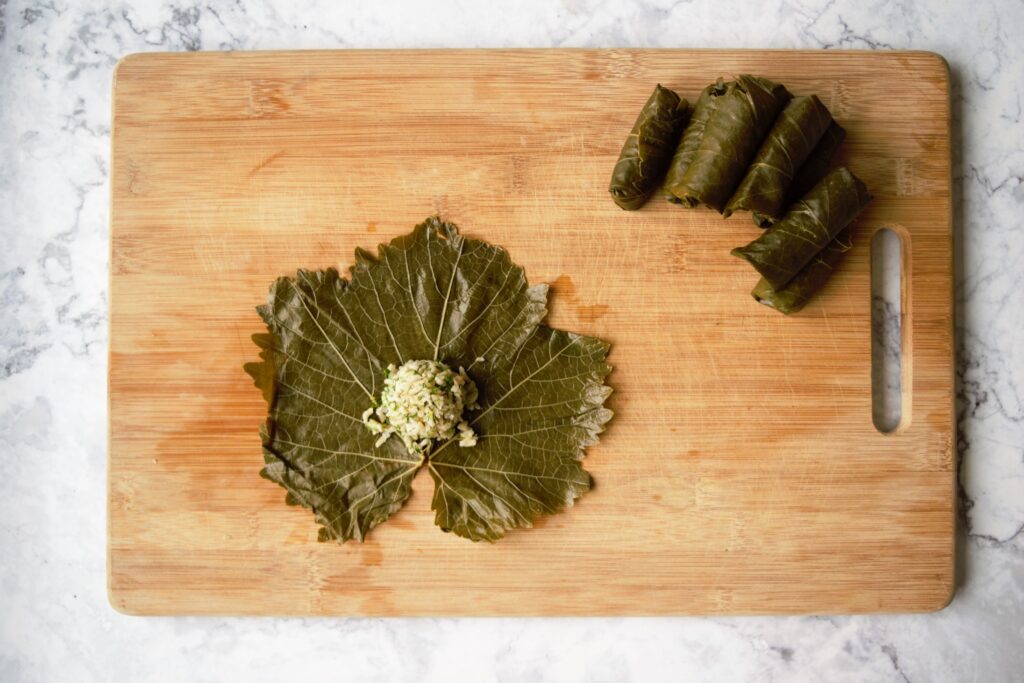 Start by folding the sides towards the center.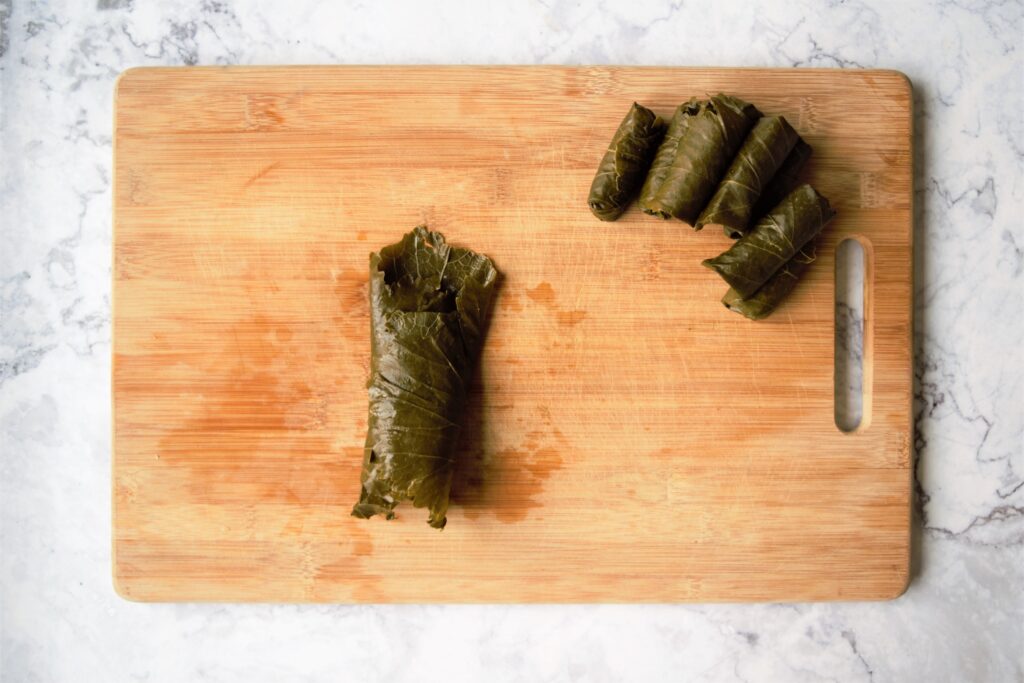 Gently fold the bottom and start to roll, making sure it is tight and secure. The first few attempts might be unsuccessful but it gets easier and you will have plenty to practice!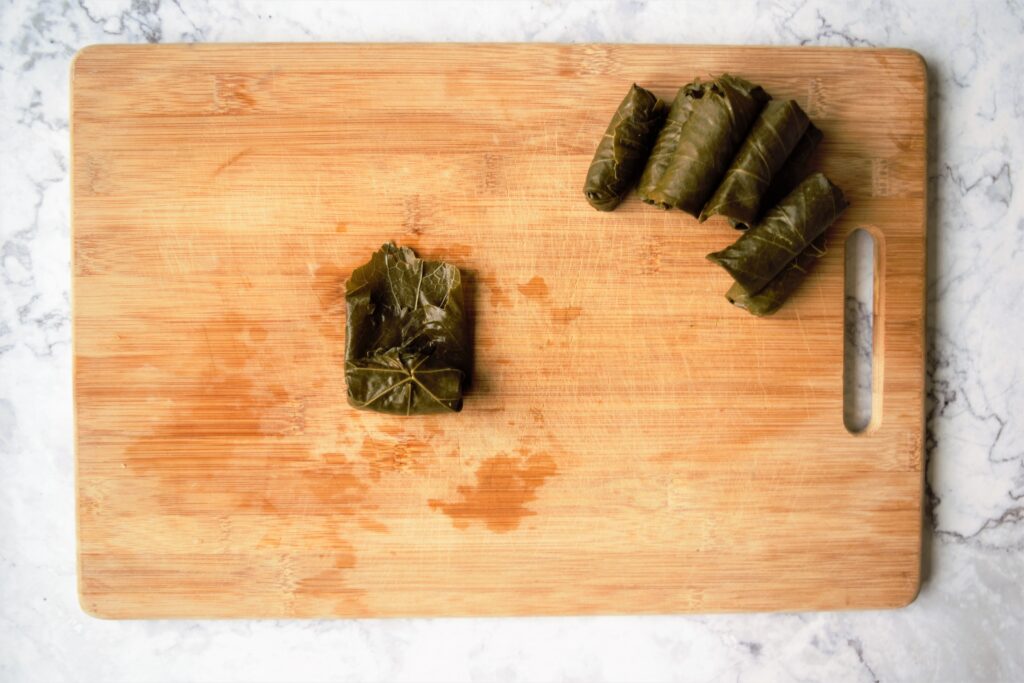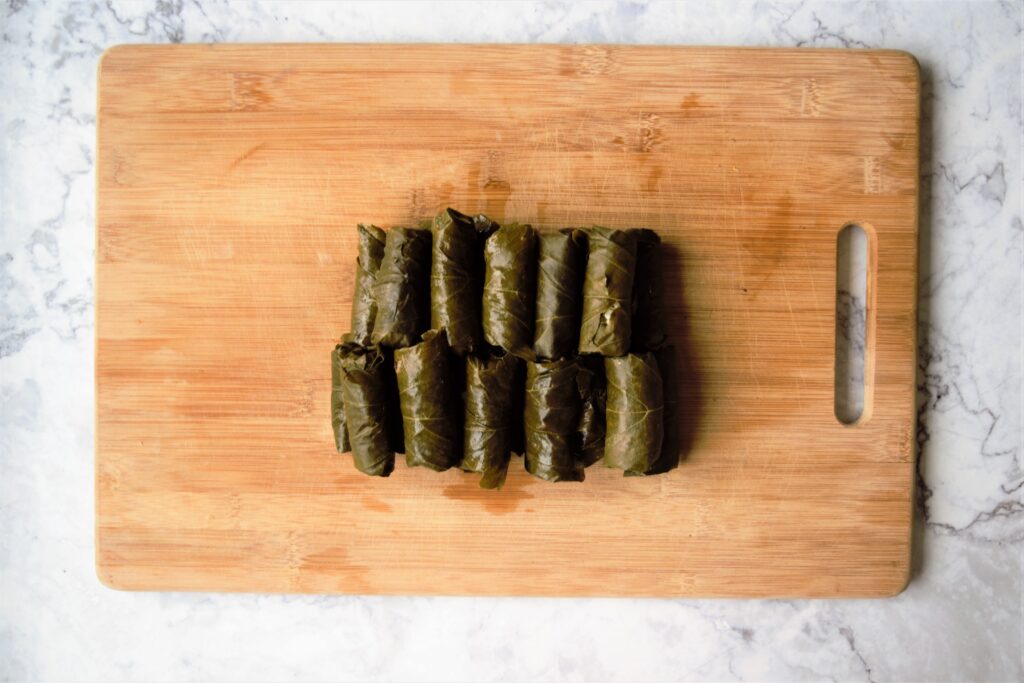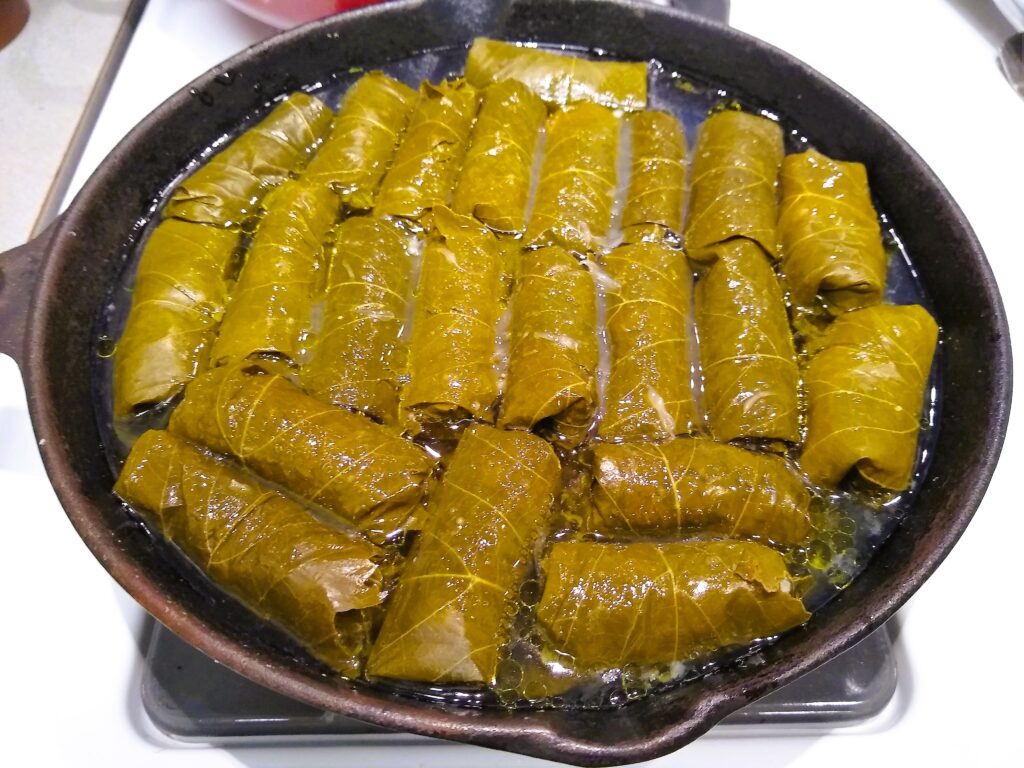 Fill a sauce pan with the rolled Dolmas, and add the oil, lemon juice, and just enough water to cover. Even though I made this recipe with oil, it is optional.
Dolmas are great chilled, in salads or on their own, paired with tzatziki sauce, hummus, or babaganoush. If you want to enjoy them warm, try serving them with tahini-lemon sauce.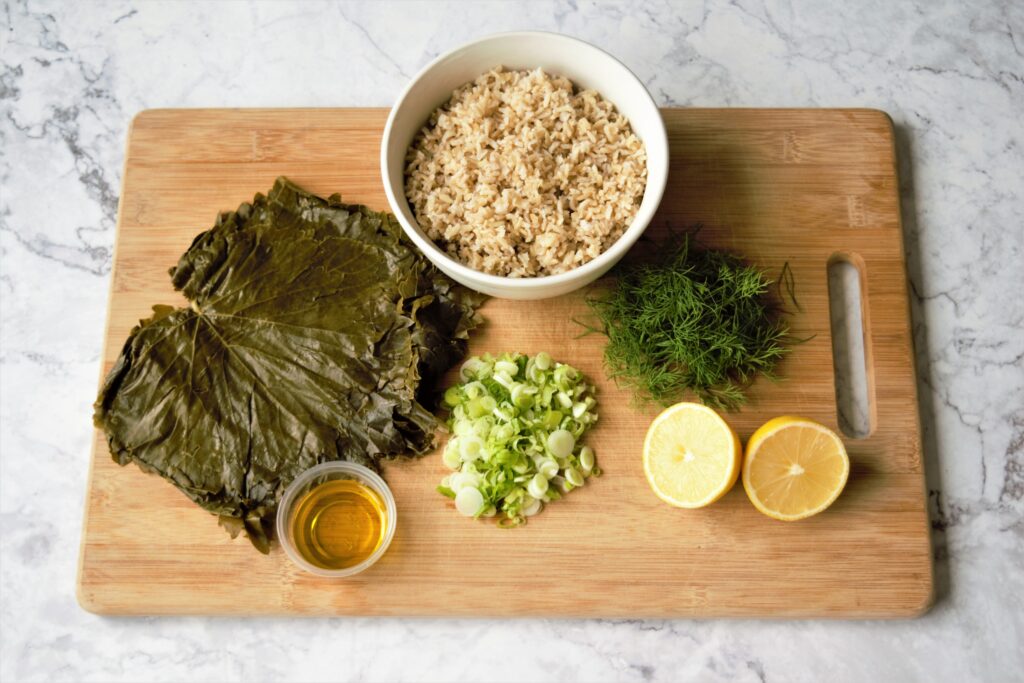 Vegan Lemony Stuffed Grape Leaves – Dolmas
Ingredients
2

cups

cooked brown rice

or other rice

3

tablespoons

finely minced scallions

3

tablespoons

fresh lemon juice

1

teaspoon

lemon zest

2

tablespoons

dill

minced

Sea salt to taste

1/4

teaspoon

freshly ground black pepper

1

16-ounce jar grape leaves, drained, rinsed, and patted dry

2

tablespoons

extra-virgin olive oil
Instructions
In a large bowl, combine the rice, scallions, 1 tablespoon of the lemon juice, lemon zest, dill, about 1/2 teaspoon of salt (less if your rice was well seasoned), and pepper. Mix well.

Trim the stems from the grape leaves. Place one grape leaf at a time on a work surface, shiny side down. Place about 1 tablespoon of the rice mixture near the stem end and fold the sides of the leaf over the filling. Beginning at the stem end, roll up the leaf firmly into a neat roll. Repeat with the remaining ingredients.

Place the stuffed leaves in a large skillet. Add the oil, remaining 2 tablespoons of lemon juice, and just enough water to come about halfway up the stuffed leaves. Cover and heat to simmer. Cook over low heat until tender, 20 to 30 minutes. Uncover, remove from the heat, and set aside to cool. Use a slotted spoon to transfer to a platter. Serve at room temperature.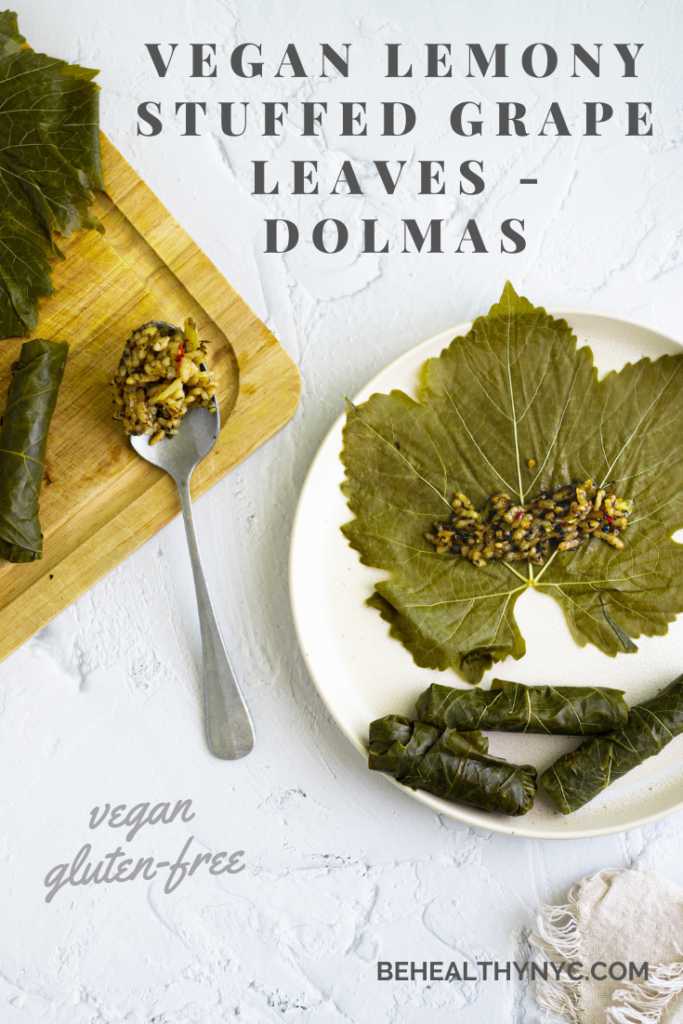 ---
more recipes you might like
---