The Best Vegan Greek Potato Salad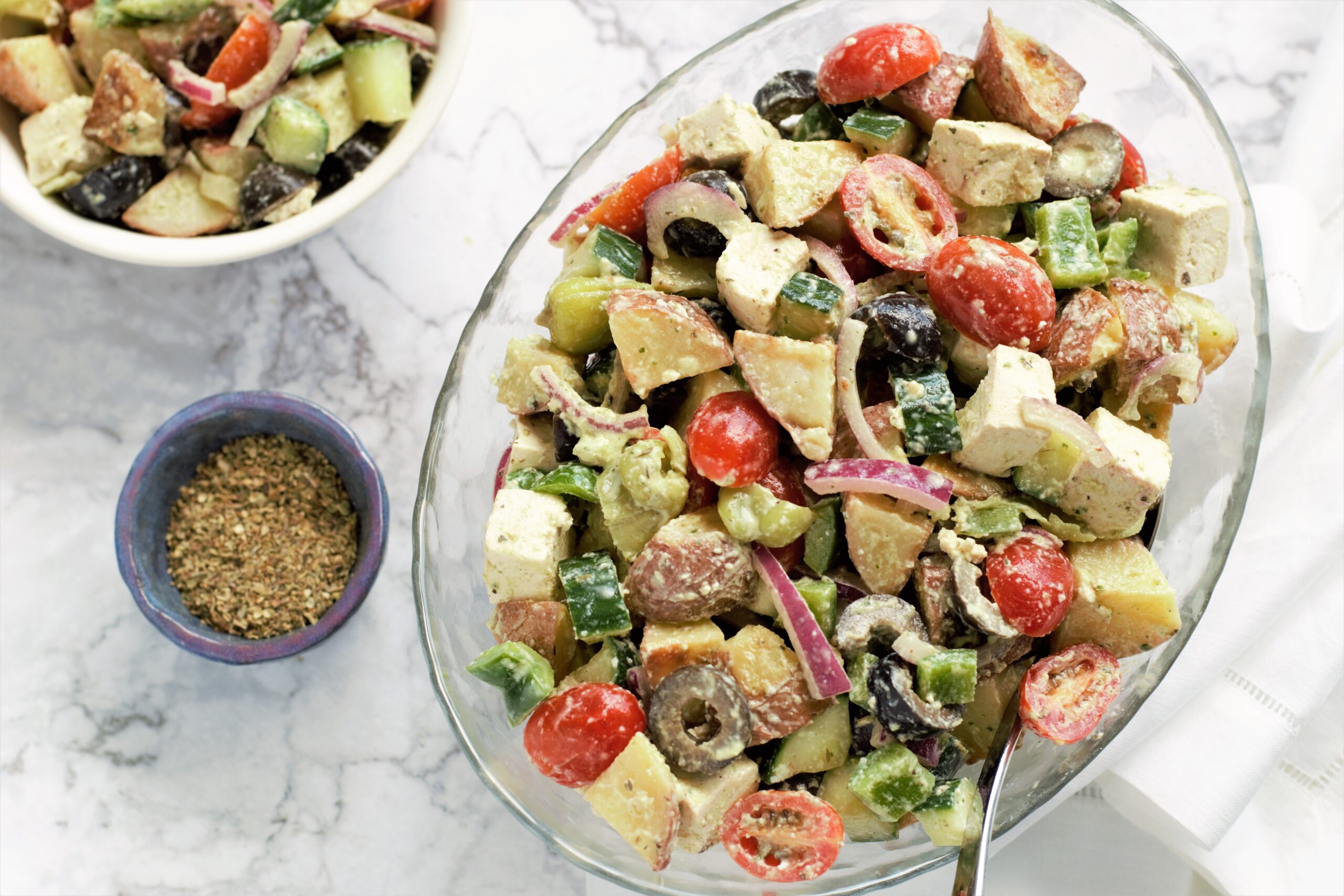 I have never had a better potato salad. This vegan Greek potato salad is for sure the best there is! It is full of flavor, and perfect to bring to a party, picnic, or barbeque, or even as a side dish to a festive buffet. I am sure everyone will be impressed and even convert to veganism! I found this recipe in the VegNews Magazine.
The best thing about this recipe is that it has a good balance of macronutrients which makes it a complete meal: protein from tofu, carbohydrates from potatoes and all the vegetables, and fats. I followed the recipe without changing a single ingredient, but as I don't use oil for cooking, next time I will substitute the vegan mayonnaise for my favorite homemade tofu mayonnaise. Tofu in itself already has a lot of fat (one 14 oz package contains about 4g of fat). So if you are trying to lose weight, is shredding, or follow a low fat diet this recipe should be adjusted. What I do is substitute the vegan mayonnaise for a silken tofu mayo.
vegan greek potato salad – the steps
This recipe is easy and the only time consuming thing is roasting the potatoes. There are some chopping to do, but I always get this step done while the potatoes are in the oven. The instructions don't mention cutting the tomatoes and olives, however, I prefer halving the tomatoes and olives, and cubing the cucumbers after removing the seeds (which makes the salad creamier and less juicy).
Also, the tofu and dressing require more time than I expected, but they can be made the day before, saving you about one hour in the kitchen. So, start by pre heating the oven while washing and cutting the potatoes. Once they are in the oven, start preparing the vegetables.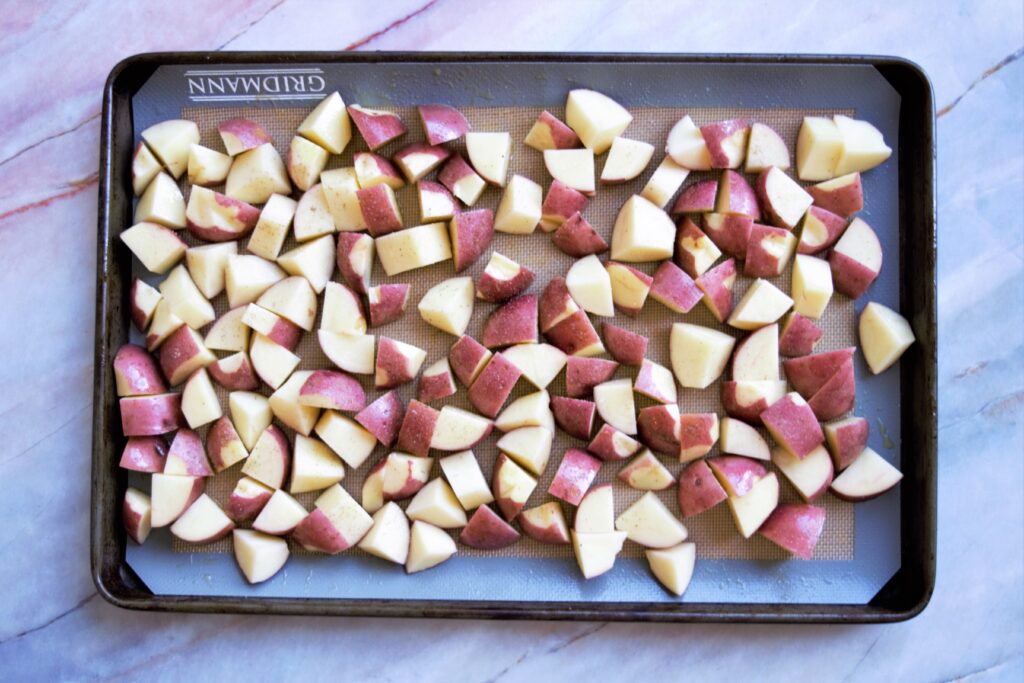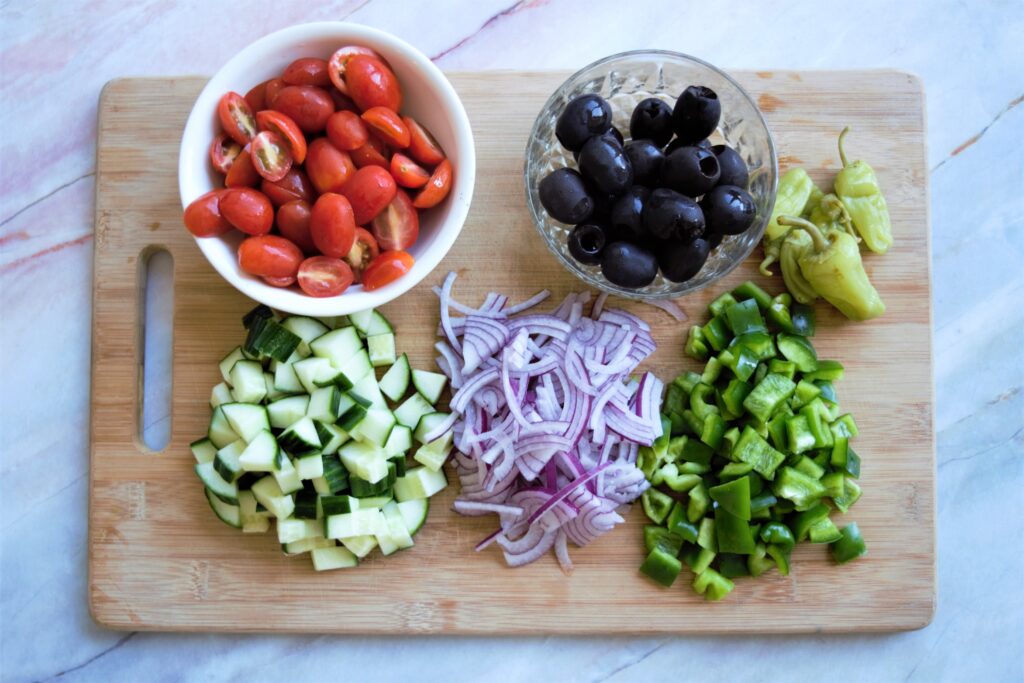 Once the potatoes are cooked and golden brown remove them from the oven and let them cool for a few minutes and then mix them with the chopped vegetables.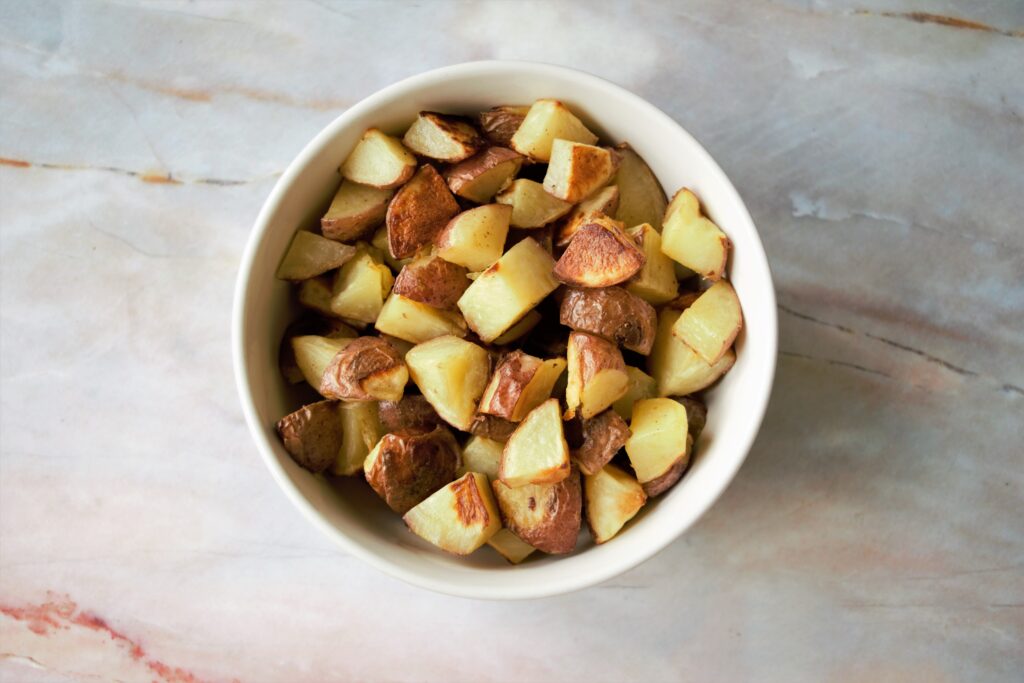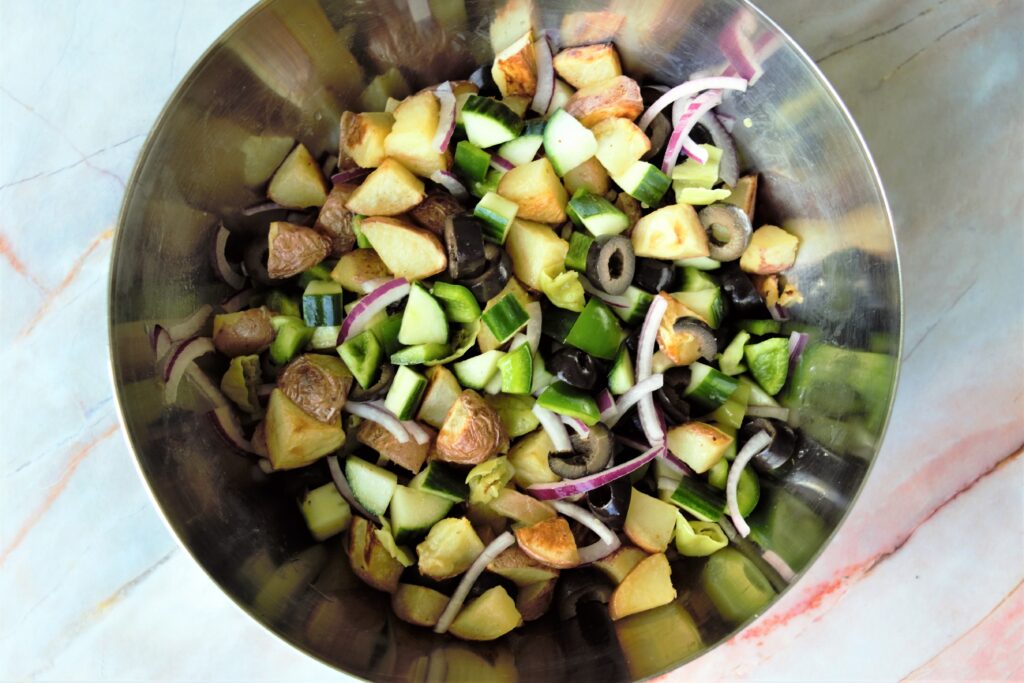 how to prepare the tofu feta
The delicious, tangy tofu marinade is the star of this salad. In fact, it is so good you will want to make this tofu feta recipe over and over again! It can be added to anything you would use feta: serve it as a table cheese sprinkled with oregano, alongside with olives and crackers, in pastries like spanakopita, salads, pita sandwiches, and many other dishes.
First, press the tofu really well for at least 30 minutes. I use a colander and a heavy cast-iron pot. Cut the tofu into cubes and let it marinade as long as you want. I always marinade tofu overnight.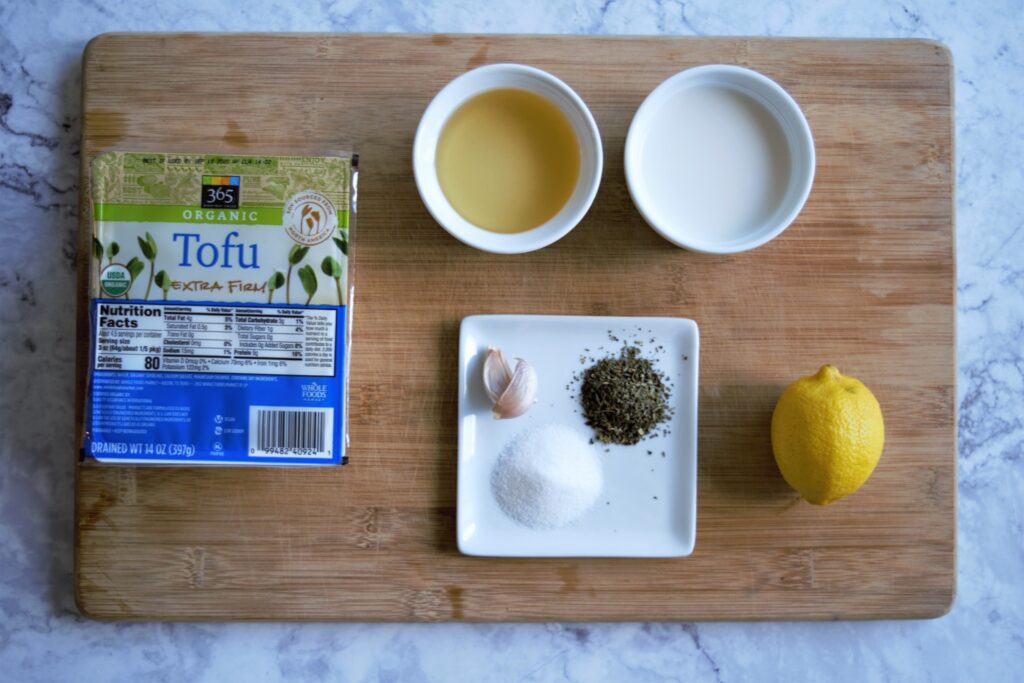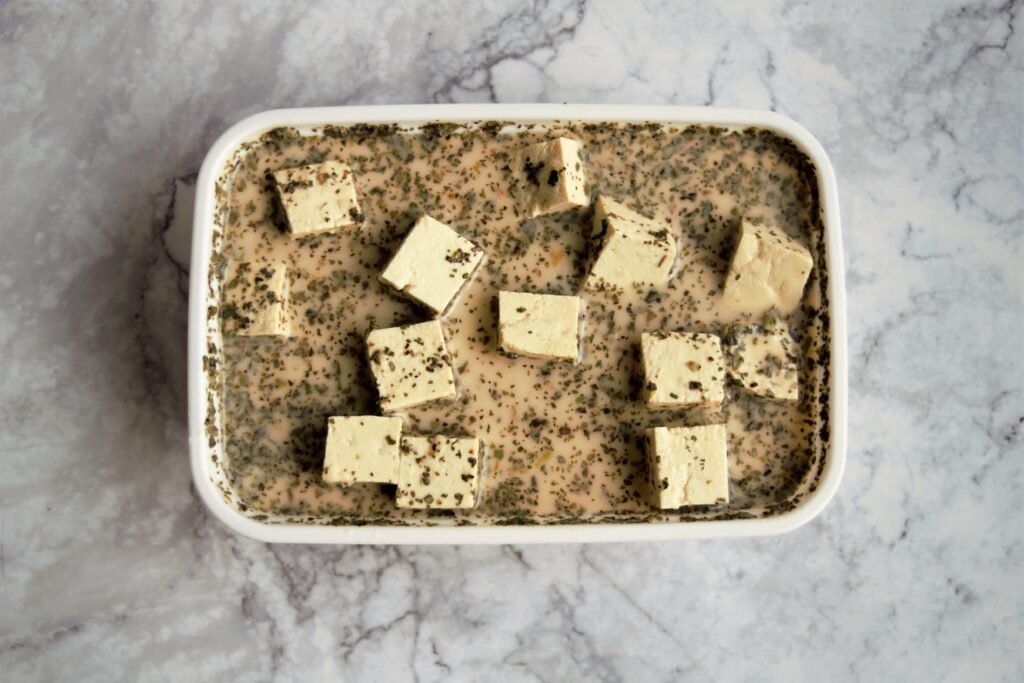 the dressing
This dressing is what makes the salad so creamy and tasty. It is very similar to Tzatziki but vegan mayonnaise is used instead of yogurt. It is so flavorful that can enjoyed as a dip, or even as a spread for sandwiches or wraps. The only thing to remember is to drain the cucumber really well, otherwise it will make a less creamy dressing. I use the cucumber juice to flavor my water, it is a fantastic and refreshing drink that will cool a hot summer day.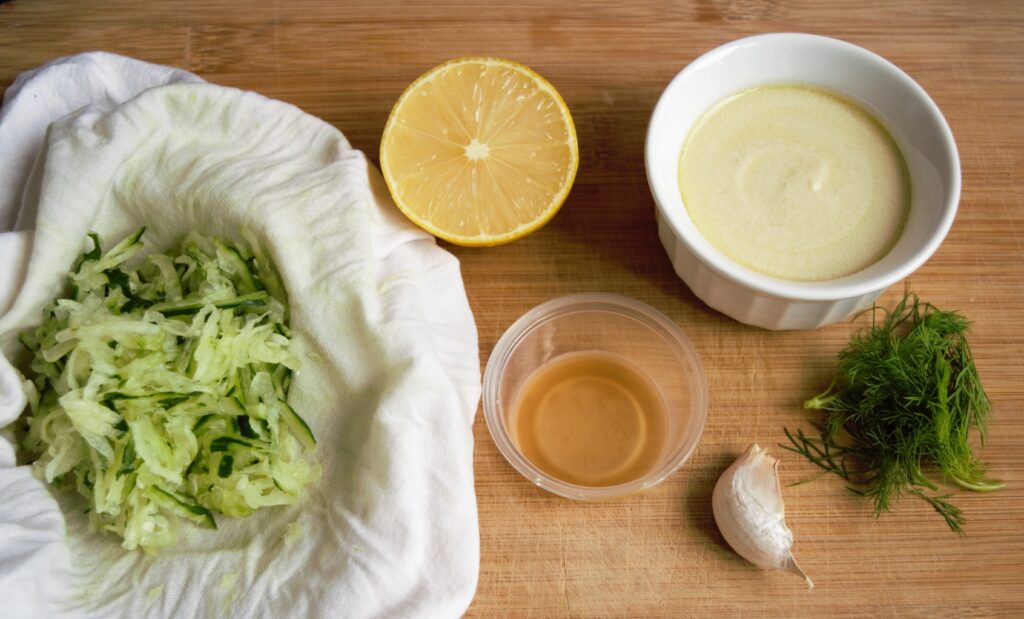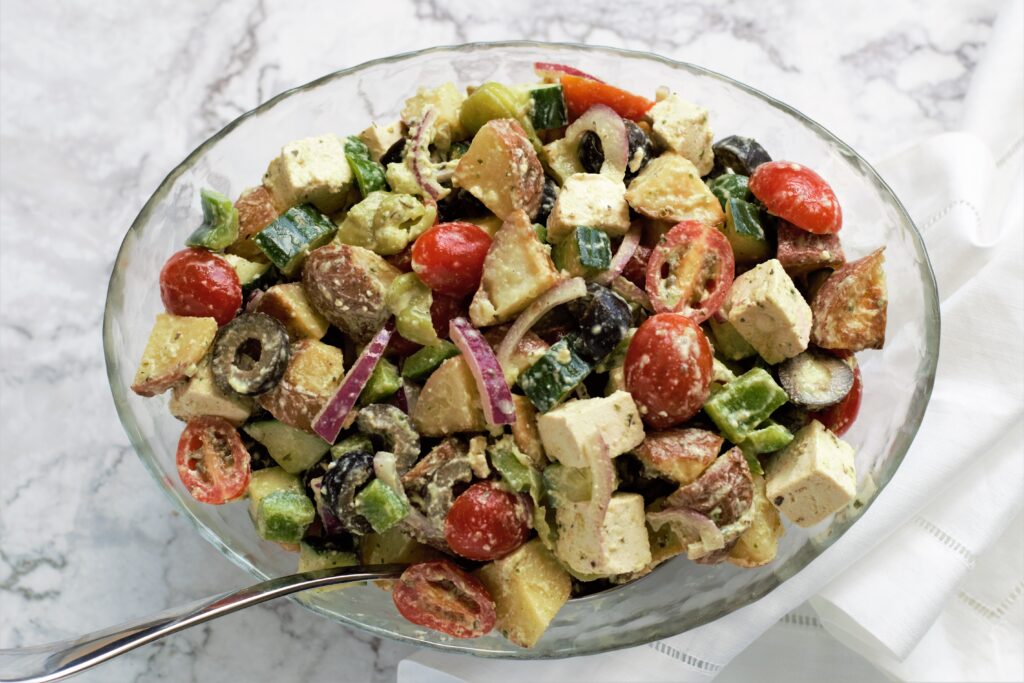 THE BEST VEGAN GREEK POTATO SALAD
Ingredients
For the Tofu Feta
1

14-ounce brick extra-firm tofu

1

⁄2 cup white wine vinegar

1

tablespoon

lemon juice

1

⁄2 cup unsweetened vegan milk

1

teaspoon

dried basil

2

garlic cloves

minced

2

teaspoons

sea salt
For the creamy cucumber dressing
About 3-inch English cucumber

1/2

cup

vegan mayonnaise

1

tablespoons

lemon juice

1

garlic cloves

1

teaspoons

apple cider vinegar

1

teaspoon

finely chopped fresh dill

Sea salt and freshly ground pepper to taste
For the Salad
2

pounds

small red potatoes

halved

1

tablespoon

olive oil

1

teaspoon

dried oregano

1/2

teaspoon

sea salt

1/2

teaspoon

black pepper

2

cups

diced English cucumber

2

cups

diced green bell pepper

2

cups

cherry tomatoes

halved

2

cups

diced red onion

1/2

cup

pitted kalamata olives

6 to 8

pepperoncini peppers

Dried oregano

for serving
Instructions
For the tofu feta, drain excess water from tofu and press it between paper towels to dry.

Cut tofu into ½-inch cubes. Whisk vinegar, lemon juice, milk, basil, garlic, and salt in a glass container with a fitted lid. Submerge tofu cubes in mixture, place lid on container, and refrigerate.

Marinate tofu for 3 hours or overnight for a stronger flavor.

For the creamy cucumber dressing, shred cucumber. Place in a sieve or double layer of cheesecloth and squeeze out excess water. Place cucumber and remaining ingredients in a high-powered blender and blend until very smooth. Set aside.

For the salad, preheat oven to 400 degrees. In a baking dish, toss potatoes with olive oil, oregano, salt, and pepper. Bake for 45 minutes, tossing once halfway through, until roasted and golden brown. Toss warm potatoes with cucumber, bell pepper, tomatoes, onion, olives, pepperoncini, and tofu feta. Drizzle with creamy cucumber dressing, sprinkle with black pepper and oregano, and serve immediately.
Recipe Notes
Note: Be sure to dress only the amount that will be consumed. If not eating it right away, do not toss potatoes with veggies, as cucumber and tomatoes will get soggy.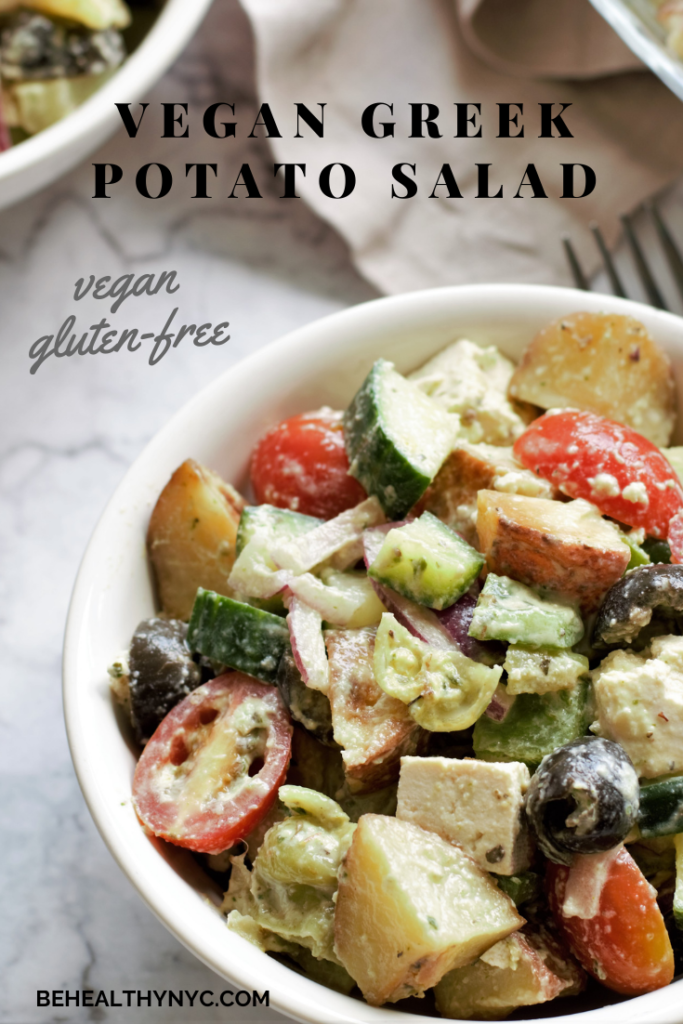 ---
more recipes you might like
---