How to make Homemade Dried Apples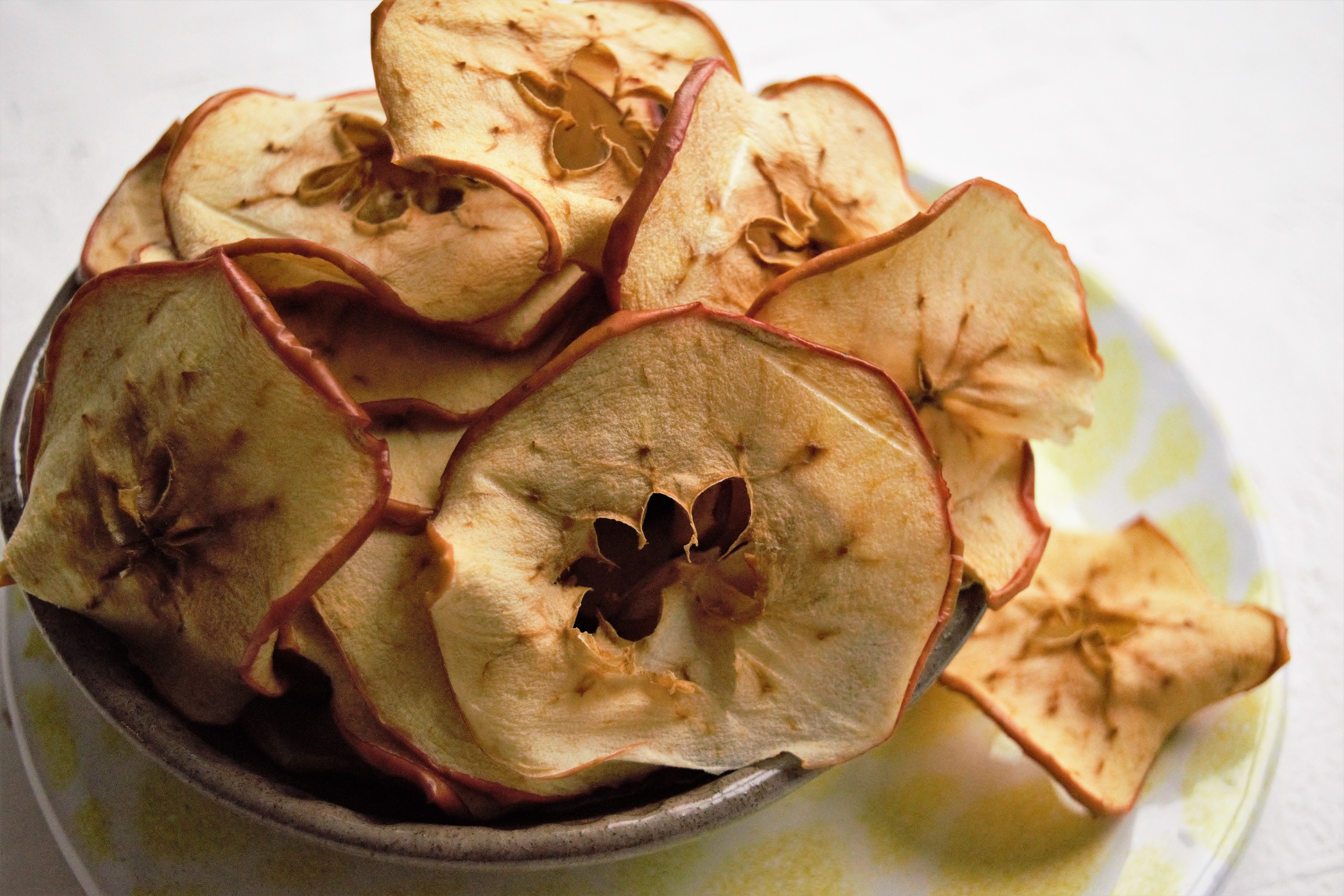 I don't know why it took me so long to start making my own homemade dried apples. It is the easiest thing in the world! In my neighborhood, there is a small market that sells $1 bags of ugly fruits and vegetables, which is a great incentive for me to try new foods and recipes.
A couple of days ago they had bags of apples. The first thing that came to mind was to make a pie o a crumble, but I make these dishes all the time. So I decided to make a muffin recipe that had dried apples as one of the ingredients. I immediately knew what to do with my enormous bag of apples! Three bags had about seven apples, so with only $3 I bought more than twenty!
The method I use for drying was my oven. A dehydrator is a great option, but as I don't dehydrate fruits and vegetables often I rather use my oven. Other than homemade dried apples, maybe I'll try drying tomatoes when summer comes.
It is easy to dehydrate apples in the oven if you place the slices on a cooling rack. The first time I dried apples I found out that they would stick to the rack, so I now lightly rub some coconut oil to avoid breaking the slices when I remove them from the rack.
it is so easy to make homemade dried apples!
If you prefer slicing your apples with a mandolin, make sure it is set right otherwise you will get apple chips instead. I love the mandolin because it is super fast and you always get the same thickness. Also, cutting the apples in a circle is so much prettier!
Before you start the drying process, try sprinkling some spices such as cinnamon, masala, or pumpkin spice. These spiced slices makes a great snack!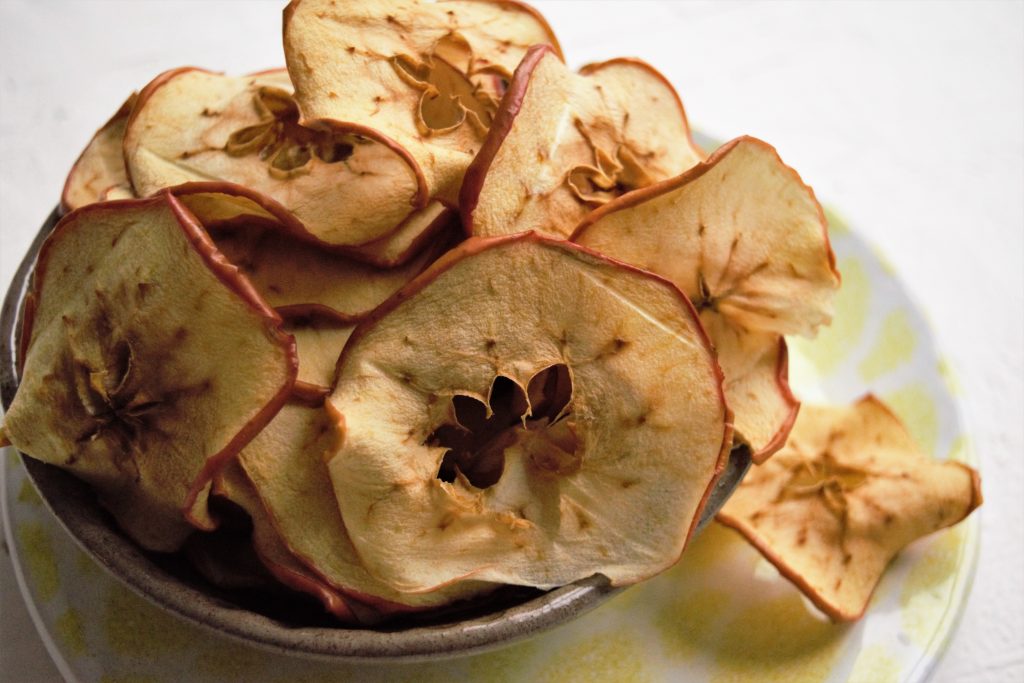 I love how tart the apples get after they dry. The lemon prevents them from turning brown and adds an extra citrus flavor that contrasts with the enhanced sweetness of the apples. It is so tasty! I kept my homemade dried apples in an airtight container in the fridge. The whole batch was finished in a week! I used them on my tea and my oatmeal.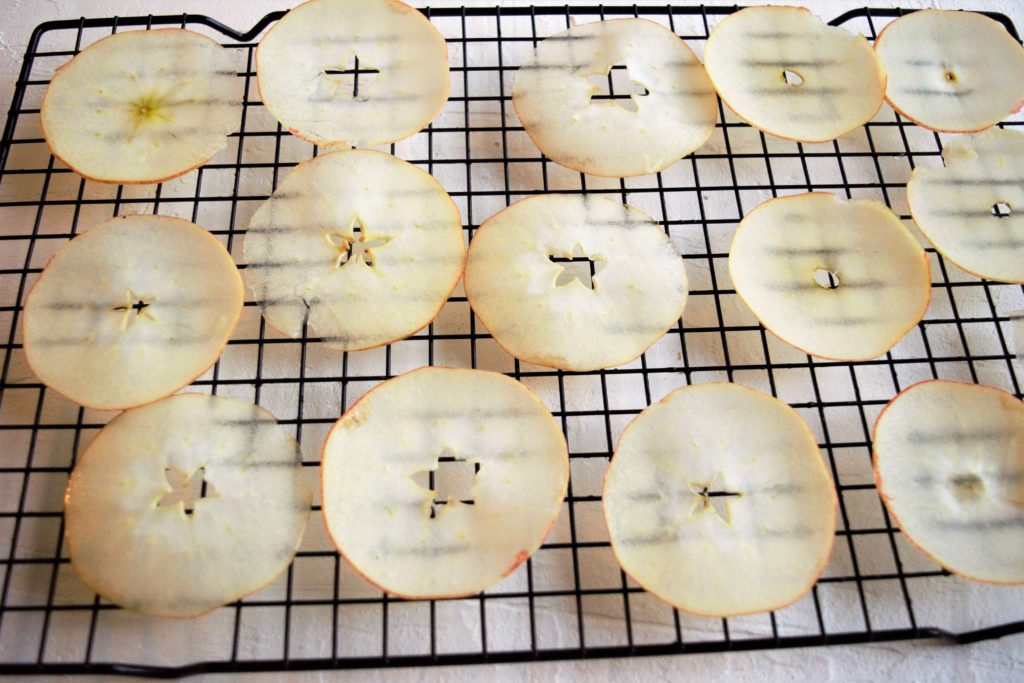 Homemade Dried Apples
Total Time
1
hour
10
minutes
Ingredients
2

apples

1/4

cup

lemon juice (about 2 lemons)
Instructions
Slice apples using a mandolin (adjust the setting to a 1/4 thick), or use a sharp knife. Peeling is optional. Slice the apples on top of a bowl or large pan filled with water and lemon juice, to avoid browning.

Spread the slices to a couple of cooling rack. Put the racks in the oven, and set the temperature to 180° F. Let it dry for about 1 hour, checking from time to time to see if the slices are ready. The baking time depends on your oven.

When the apple slices look dehydrated remove them from the oven and let them sit to cool completely. Store them in an air-tight container for a month.
---