Vegan Tofu Pad Thai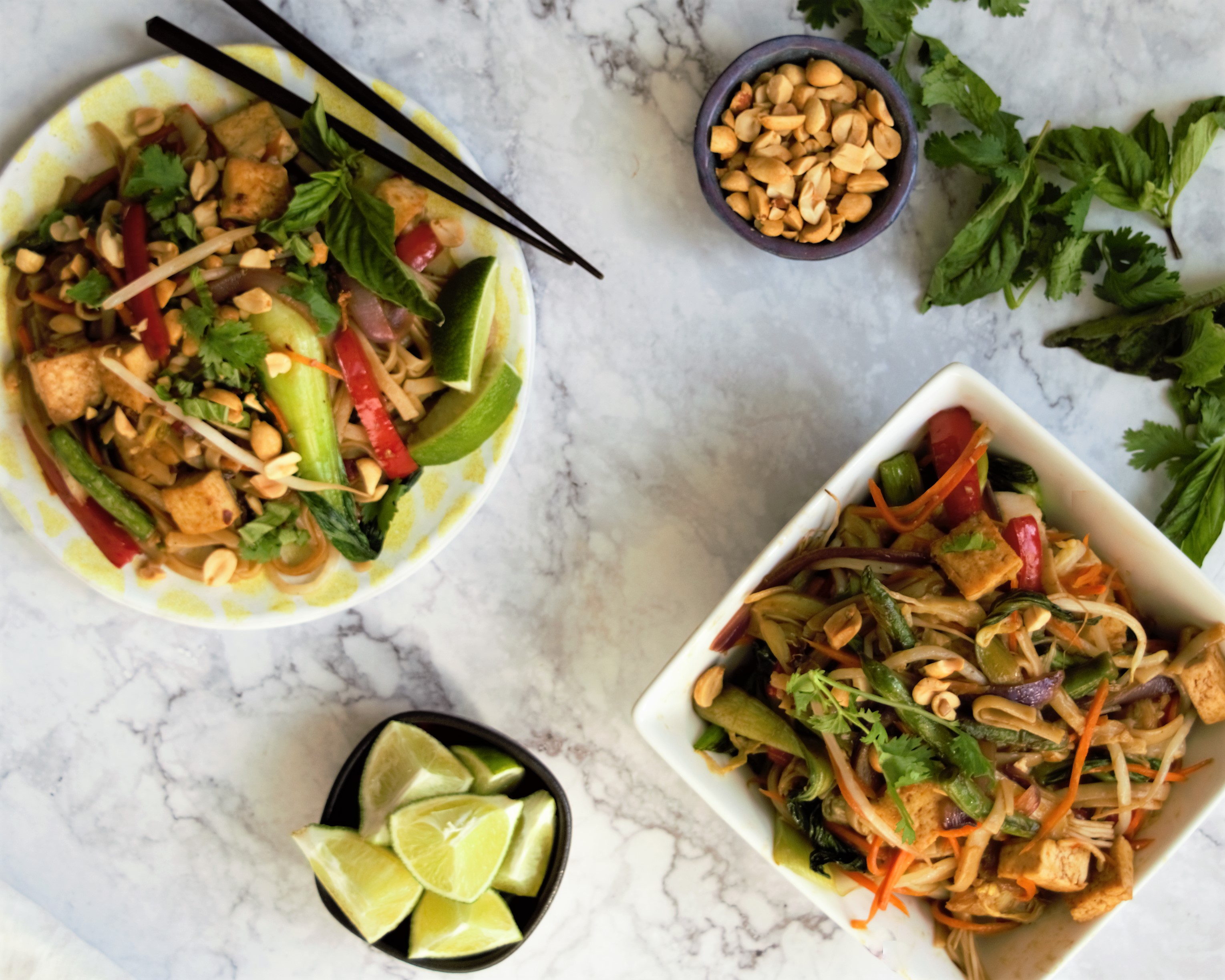 This recipe is the best recipe for vegan tofu pad thai I have tried. I found this recipe online a long time ago; I believe it was from the New York Times. Since then, I have made it countless times. It is one of those recipes that you can never get tired of it. The amount of vegetables and sauce is very much up to you. I like my Pad Thai with lots of crispy veggies and having lots of extra can always come in handy when you want to improvise a lunch or snack.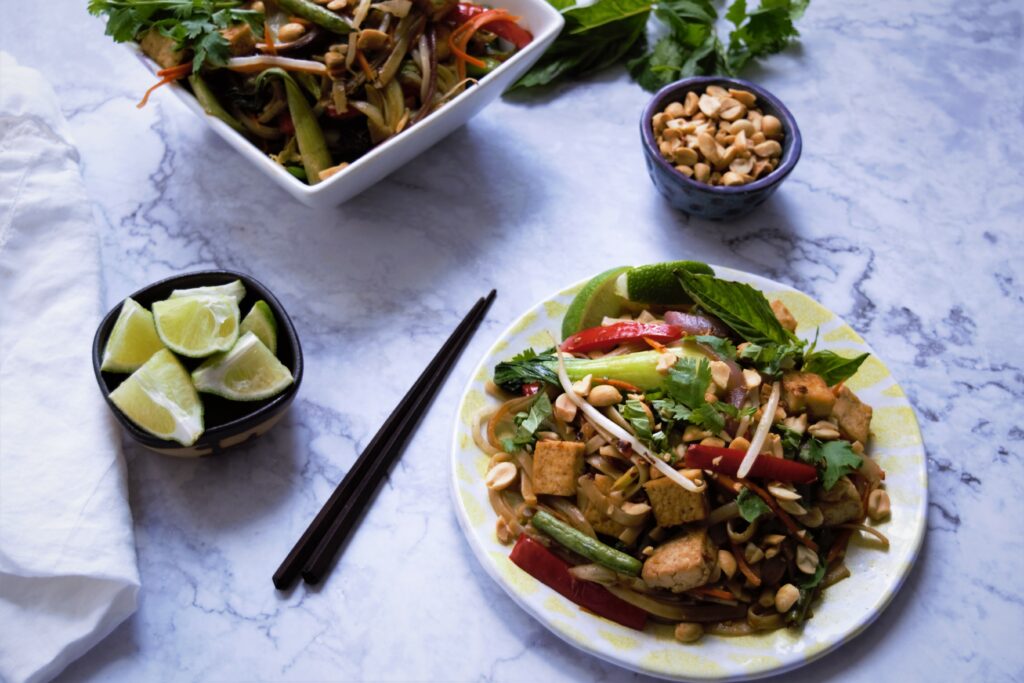 What I love about this recipe is the variety of vegetables. There are so many! Which makes this dish super healthy and delicious. And it can be a bit intimidating at first, as there's a lot of prep involved. But I developed a system that makes the whole process super easy!
I do all the chopping the day before, and also prep the sauce as well. So when it's time to cook, I stir-fry the veggies and set them aside, make the pasta, combine everything, and add the sauce last.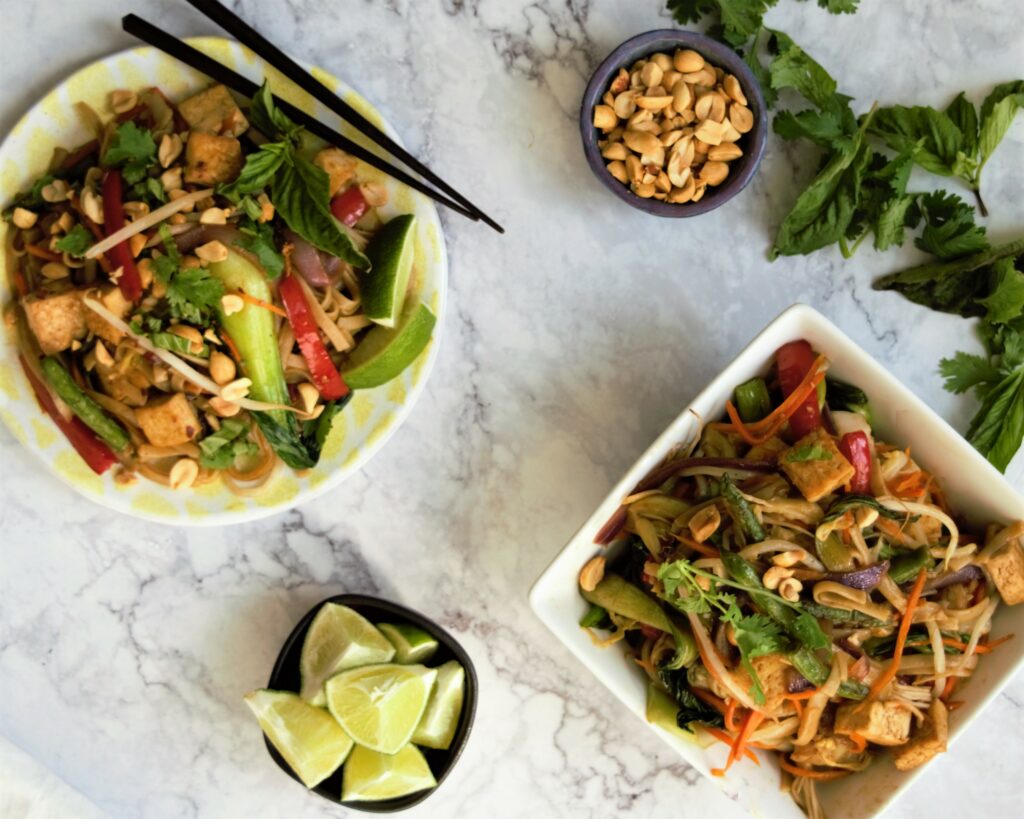 And because I love stir-fry veggies, I always make a huge batch so I can have it with rice, top some pizza, or have a spaghetti Puttanesca or egg noodles. Vegetables are the best thing to have stocked in the fridge! My fridge is always full of bell peppers, onions, carrots, cabbage, broccoli, cauliflower, Brussels sprouts, and zucchini.
lOTUS FOODS NOODLES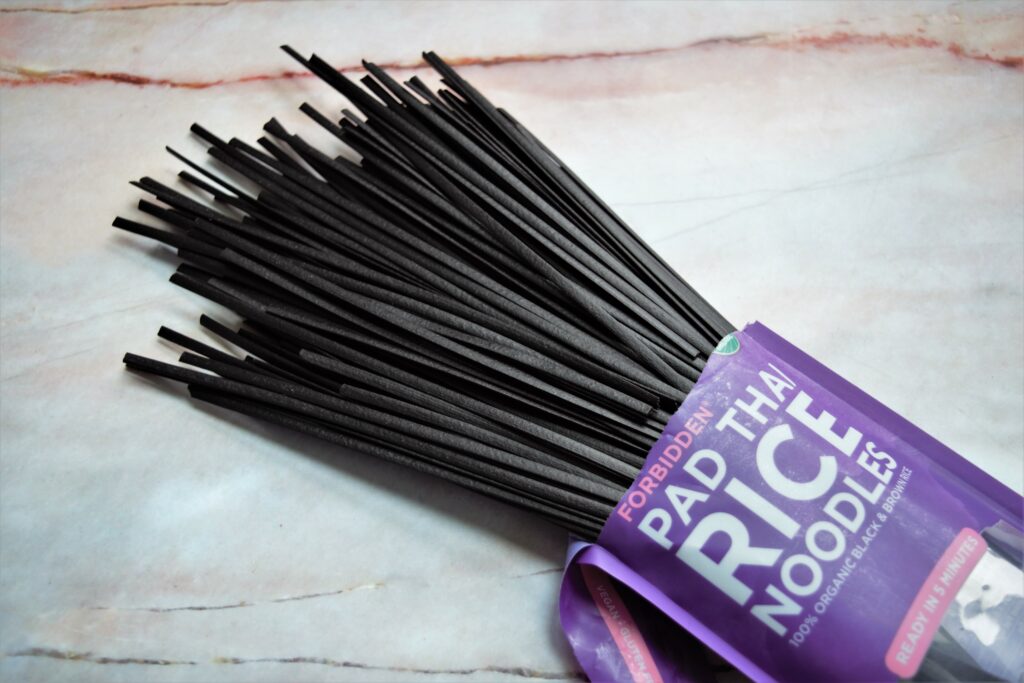 The rice noodles I used in this vegan tofu pad Thai is whole grain, and it is so tasty! I bought it at my local supermarket (Brooklyn Fair). They have white, brown and wild rice noodles. The flavor and consistency are the same, but the wild rice is my favorite by far! It is so gorgeous and so black, which creates a stunning contrast with all the colors of the vegetable stir-fry. I'm obsessed with black pad Thai!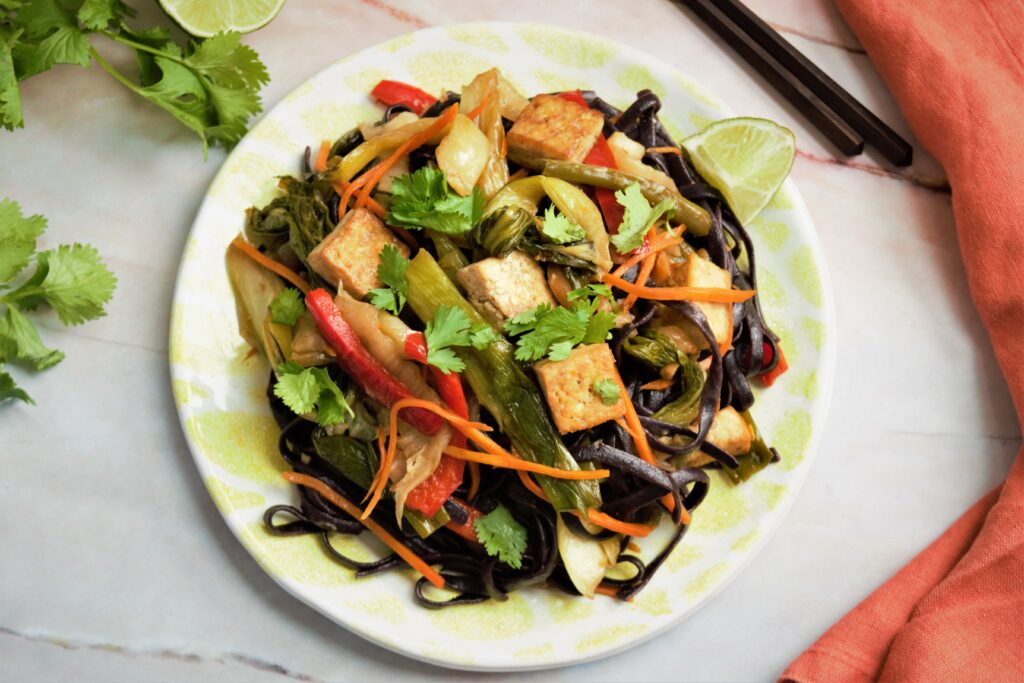 Vegan Tofu Pad Thai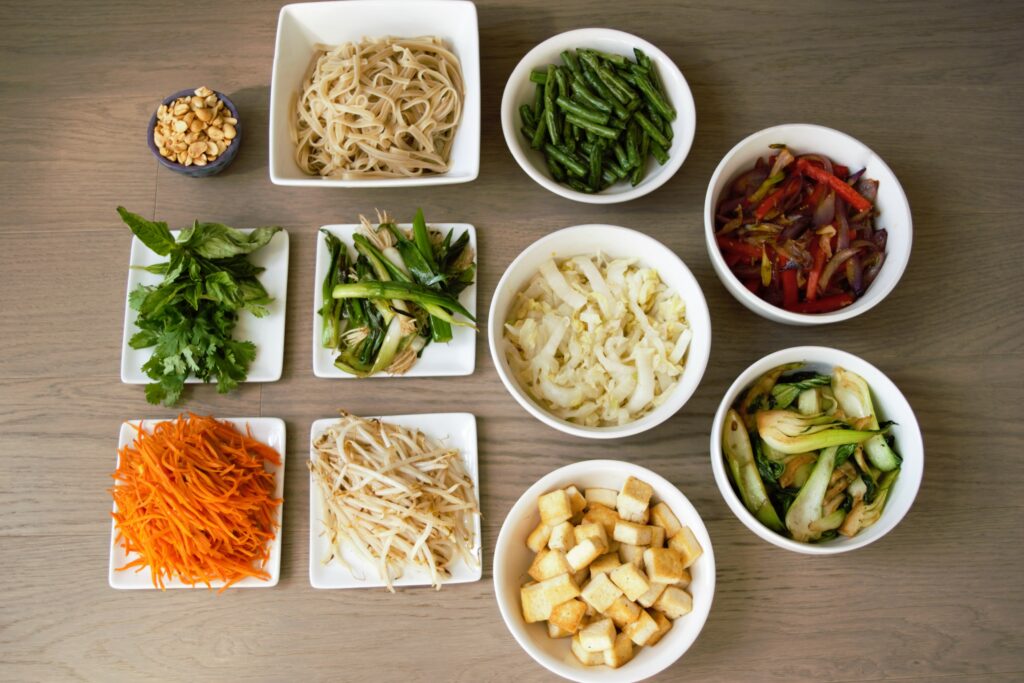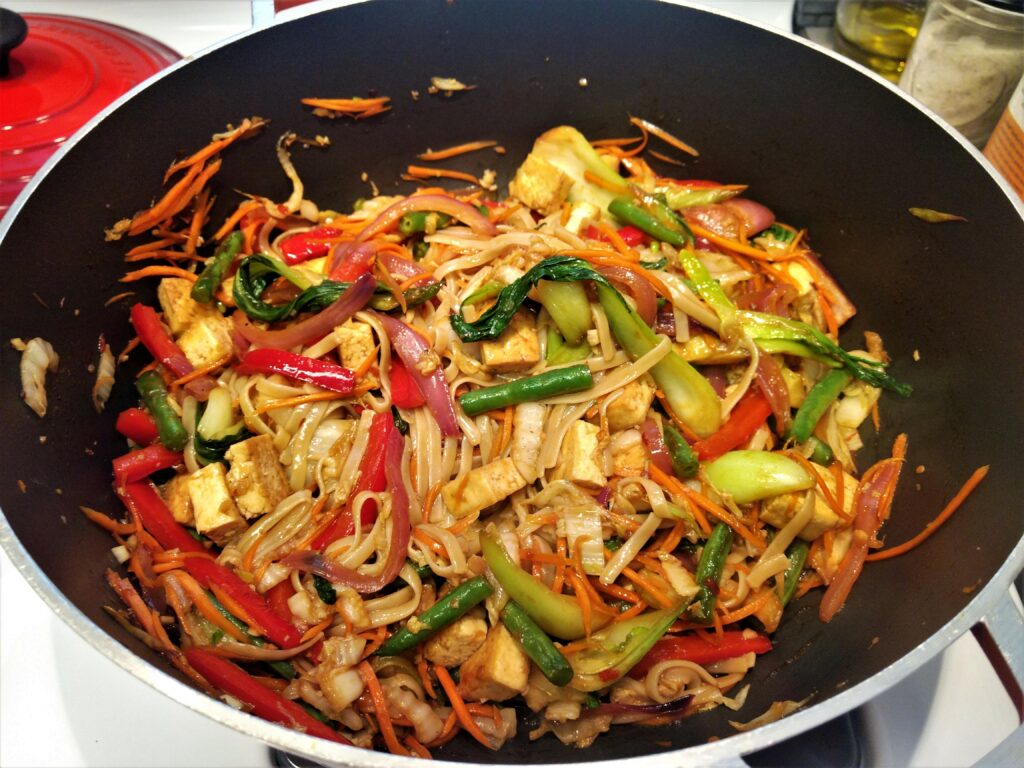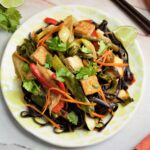 Vegetable Pad Thai
Ingredients
5 ⅓ 

ounces

dried pad Thai rice noodles 

see note

2 

tablespoons

freshly squeezed lime juice

2 

lime wedges for garnish

1 

tablespoon 

light brown sugar

½ 

teaspoon

ground red Thai chilies or cayenne pepper

½ 

teaspoon 

paprika

2 

tablespoons 

sweet Thai chili sauce

2 

tablespoons 

soy sauce

1 

cup 

peanut oil

8 

green beans

trimmed

¼ 

cup

finely diced red onion

2 

baby bok choy

quartered lengthwise

¼ 

large red bell pepper

cut into julienne

1 

cup

lightly packed thinly sliced Napa cabbage

2 

scallions

halved crosswise and quartered lengthwise

½ 

cup

finely diced firm tofu

¼ 

cup

plus 1 tablespoon pad Thai sauce 

see note

¼ 

cup

mixed chopped fresh basil and cilantro leaves

½ to ¾ 

cup

fresh bean sprouts

2 to 4 

tablespoons

coarsely chopped roasted salted peanuts
Instructions
Place noodles in a bowl and cover with very hot tap water. Allow sitting for 30 minutes. Meanwhile, in a small bowl combine the lime juice, brown sugar, ground chilies, paprika, Thai chili sauce and soy sauce; reserve. Drain noodles well, rinse with cold water and set aside.

Place oil in a wok over medium-high heat, and heat to 325 degrees. Add green beans and fry until wrinkled, about 1 1/2 minutes. Transfer beans to a plate, and discard all but 3 tablespoons of oil. Return to medium-high heat and add egg, stirring quickly to set it and scramble it slightly. Transfer to a plate and set aside.

To the wok add red onion, bok choy, red bell pepper, Napa cabbage, and scallions, tossing for 1 to 2 minutes. Add noodles and toss until coated with oil and almost softened. Add tofu, wrinkled beans, and pad Thai sauce; toss until thoroughly heated.

Drizzle in reserved lime juice mixture and toss for 5 seconds. Remove pan from heat immediately, then add scrambled egg, basil and cilantro mixture, and bean sprouts. Transfer to a heated serving platter, and garnish with peanuts and lime wedges. Serve immediately.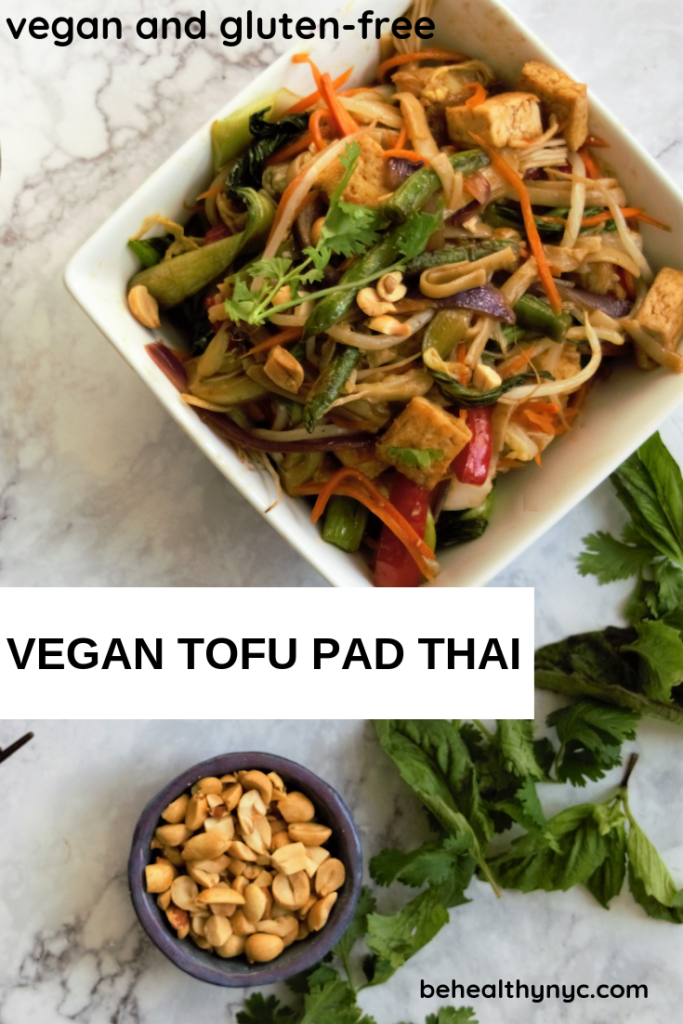 ---
more recipes you might like
---