Vegan and Gluten-Free Strawberry Crostata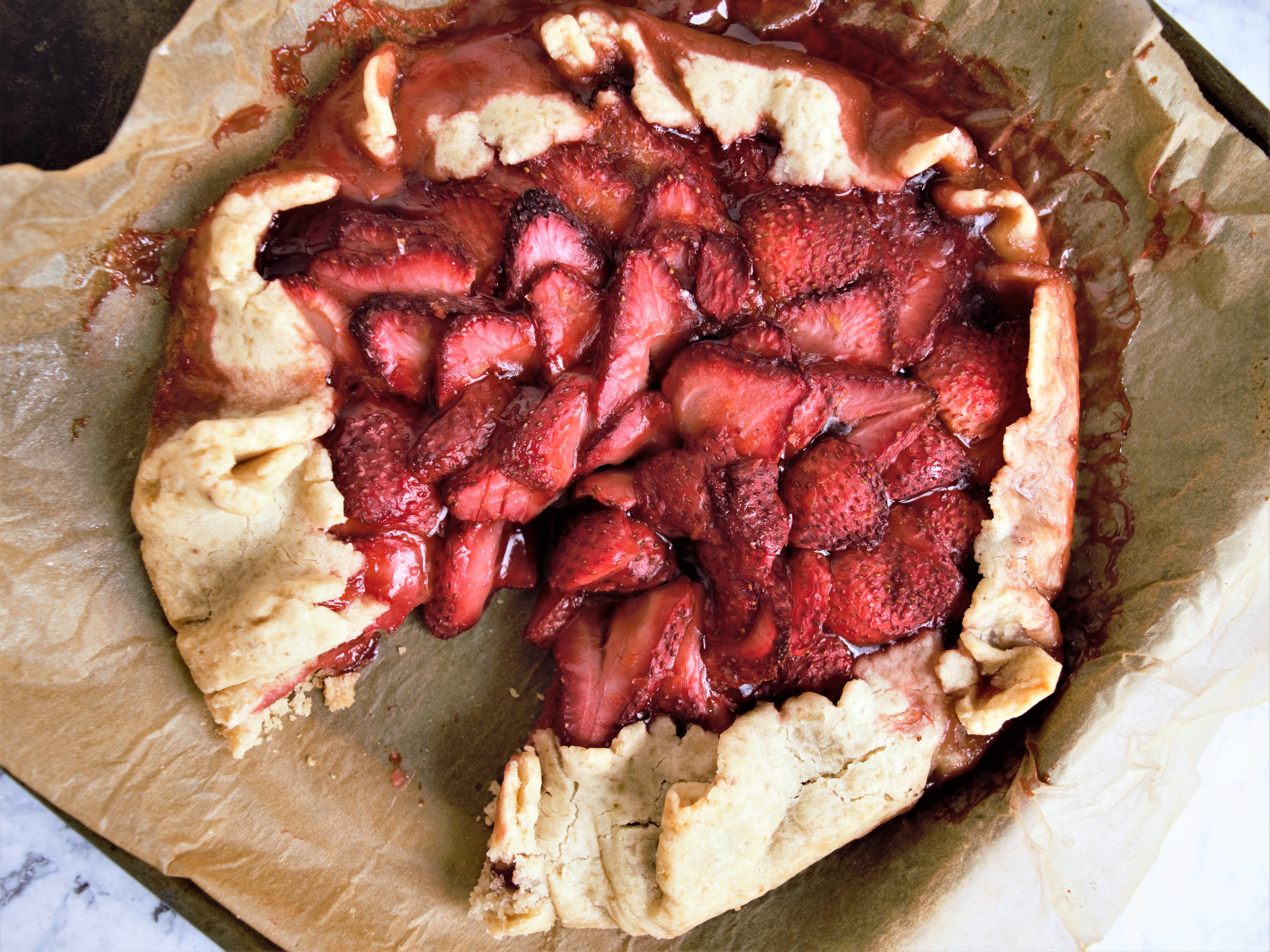 There are many delicious and easy desserts, but this vegan and gluten-free strawberry crostata is my favorite. I love everything about it!
It is gorgeous! I love the bright color of the strawberries, the texture of the crispy crust, and the messy congealed and sticky juice. It is a work of art. Every time I make a crostata it comes out looking different than what I expected. What it never changes, and never disappoints, is its deliciousness.
It is super easy to make! After making this recipe a couple of times, you won't need to follow instructions. It has only a few ingredients, and the filling is the most fun part, where you can do whatever you want. Instead of strawberries, you can use any other berries or a mix of your favorite ones.
Are peaches in season? They make a beautiful peach crostata.
The crust is incredibly flaky, and it is hard to believe it is gluten-free. I thought it would look and taste like cardboard the next day, but it holds its shape, flavor, and texture perfectly.
This all-purpose flour mixture is perfect, and I have used several times before. The other day I made almond-raspberry cookies using this flour, and they came out fantastic!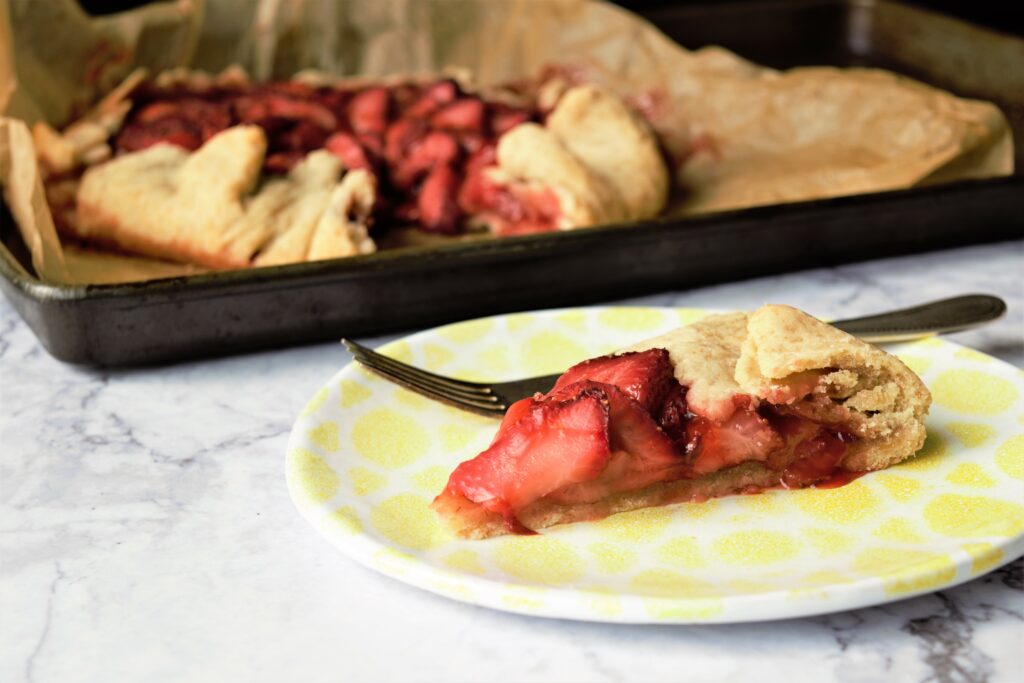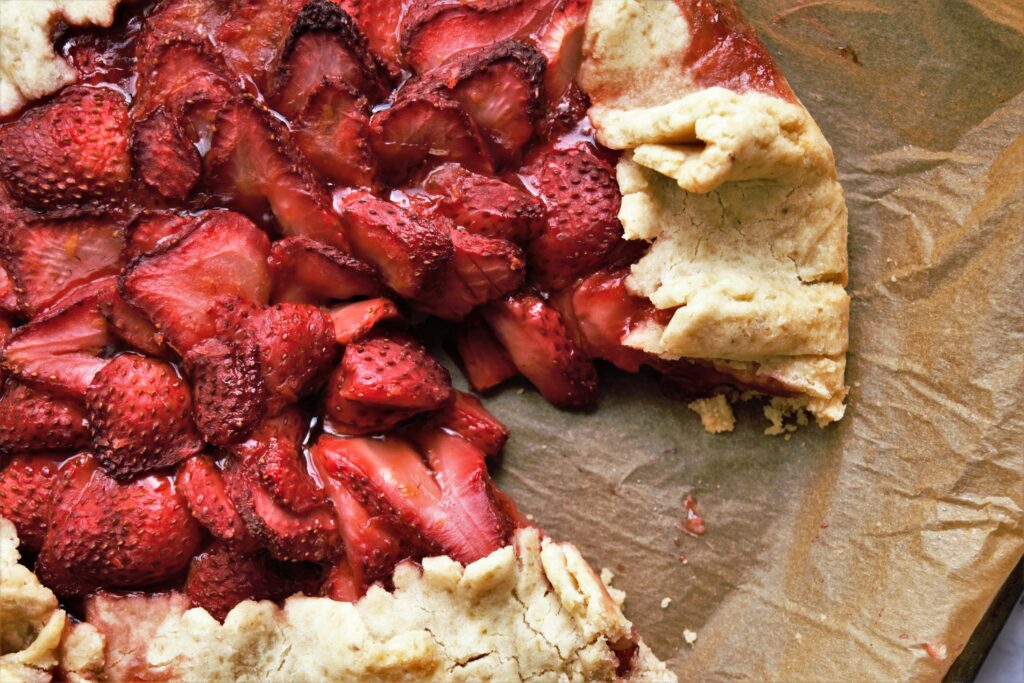 Vegan and Gluten-Free Strawberry Crostata
This recipe is from a newsletter I received from the Gluten Free and More Magazine. They are excellent! And now they merged with another gluten-free magazine and became Simply Gluten Free. The new site looks amazing!
---
Mary's All-Purpose Gluten-Free Flour Blend
MAKES 6 CUPS
A combination of white and brown rice flour lightens the texture of baked goods. For a more nutritious mix with a lower glycemic index, use all brown rice flour (a total of 4 cups flour).
2 cups brown rice flour
2 cups white rice flour
1⅓ cups potato starch (not potato flour)
⅔ cup tapioca starch/flour
1. Mix ingredients together. Store in a tightly covered container in the refrigerator until used.
Each cup contains:
564 calories
2g total fat
0g saturated fat
0g trans fat
0mg cholesterol
4mg sodium
127 g carbohydrate
4 g fiber
7 g protein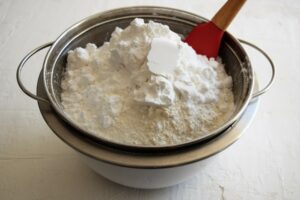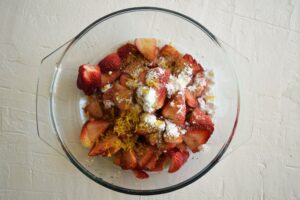 Gluten-Free and Vegan Strawberry Crostata
Makes one 8-inch crostata
Ingredients
Filling
2

cups

fresh or frozen strawberries

hulled and sliced

3

tablespoons

sugar

1

tablespoon

potato starch

1

teaspoon

lemon zest
Sweet Pastry Crust
1

cup

All-Purpose Flour Blend or blend of choice

2

tablespoons

tapioca starch/flour

3

tablespoons

sugar

¼

teaspoon

salt

6

tablespoons

unsalted butter or dairy-free substitute

well chilled

1

flax egg

combine 1 tablespoon ground flax seeds with 3 tablespoons warm water

1

tablespoon

or more ice water
Instructions
In a small bowl, mix together berries, sugar, potato starch, and zest. Set aside.

To make the crust, in a food processor or large bowl, mix together first four dry ingredients. Cut in butter or butter alternative just until mixture resembles a coarse meal. Add egg or egg alternative and ice water and mix until dough forms a ball. Place dough between two pieces of parchment paper and flatten dough to about a 4-inch disk. Refrigerate for 30 minutes.

Preheat oven to 350 degrees. Lightly grease a 9-inch pie pan.

Roll out dough between two sheets of parchment paper to a 9- to 10-inch circle. Peel off the top sheet. Transfer crust to prepared pie plate, dough side down. Peel off remaining sheet of parchment.

Place strawberry mixture on crust and gently fold pastry up and over the edge of the filling, pleating it as you go. You will end up with about an 8-inch crostata.

Place pan in preheated oven and bake for 30 to 35 minutes until crust is a golden brown. Cool before serving.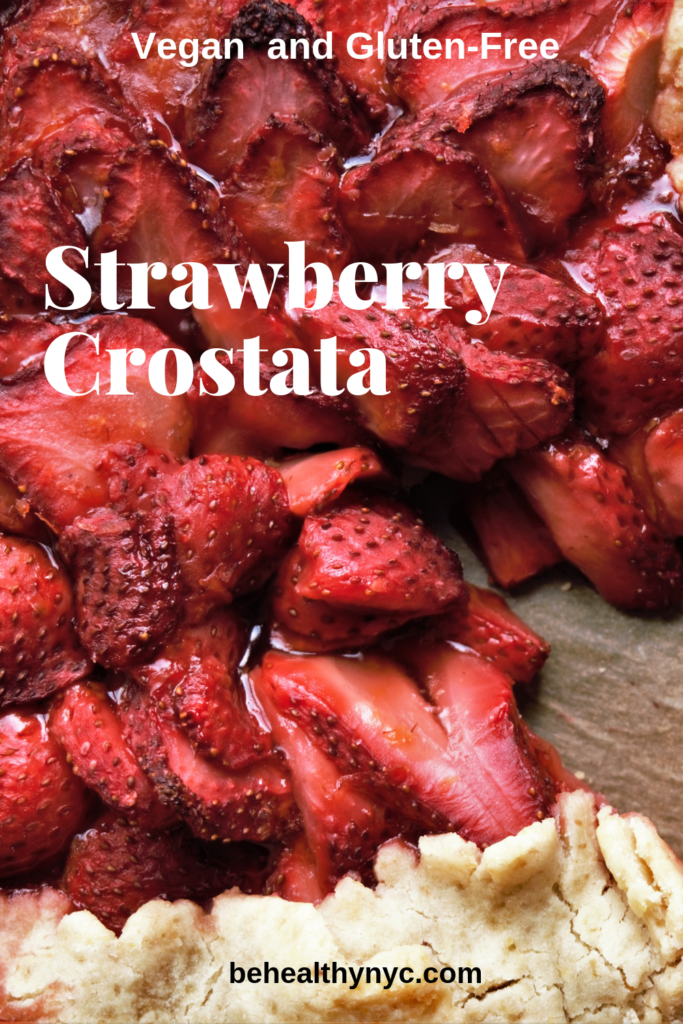 ---
more recipes you might like
---