Vegan Energy Bowl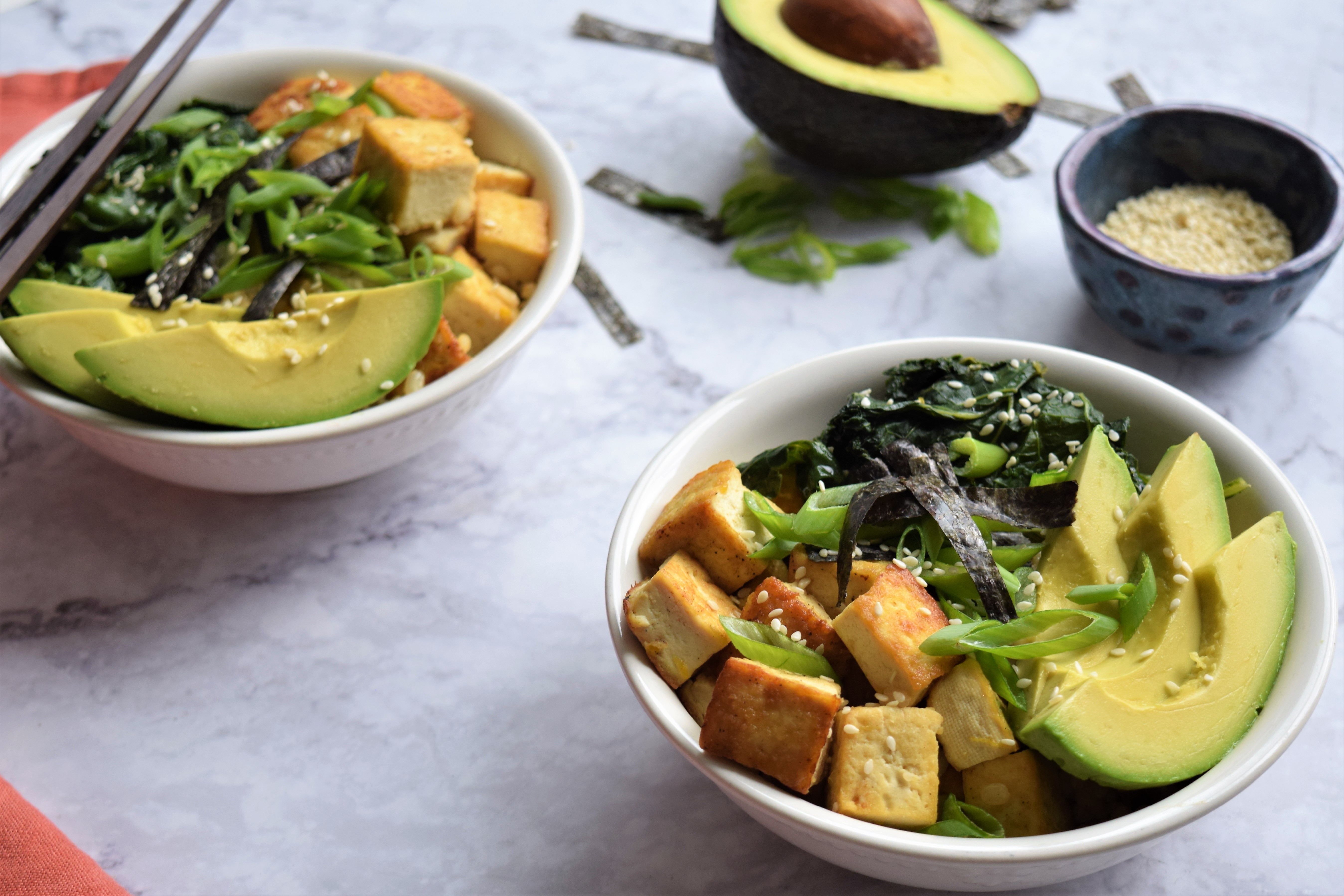 The moment I saw this vegan energy bowl recipe on a Yoga Journal Magazine I knew it was exactly what I needed: a highly nutritious and delicious dish.
I love having bowls for lunch and dinner. You can change the ingredients and add different vegetables and it will always result in a delicious meal. The secret ingredients are the dressing and the seaweed, as they add nice citrus and sweet flavor to the dish.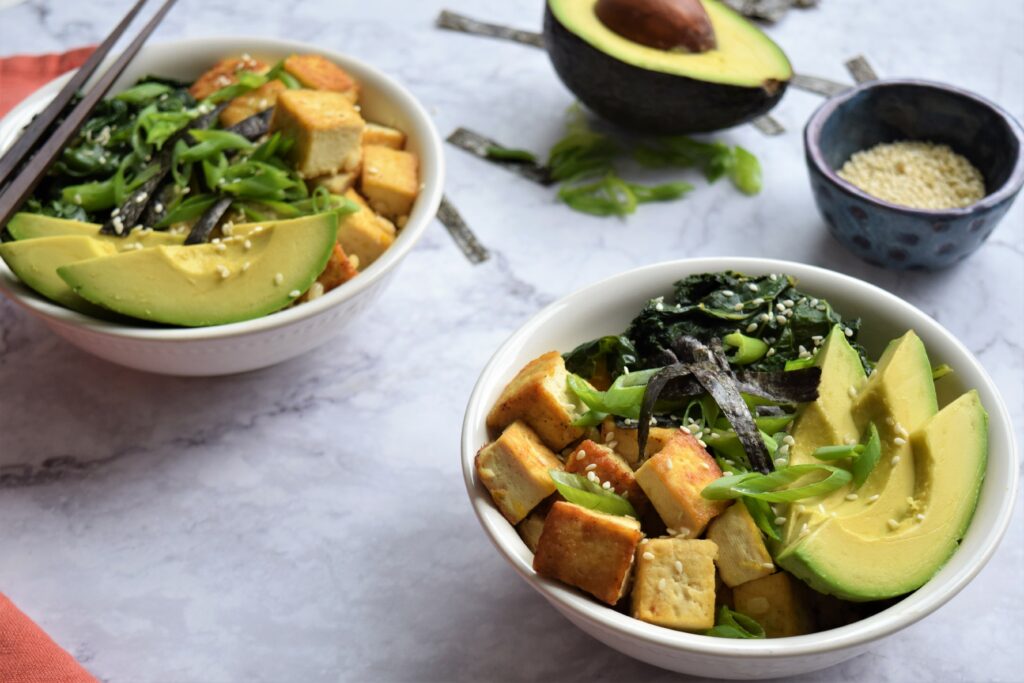 This easy vegan energy bowl has everything you want in a complete meal. It is filling and satisfying, has lots of protein from the tofu and brown rice. It has lots of fiber, vitamins, and mineral from the nori seaweed. Nori is the star of this dish for its incredible health benefits. And it tastes amazing!!
One way I like to enjoy this dish is by making a giant sushi roll. All the ingredients are perfect for as vegan sushi! I don't find necessary to cut into small rolls. I have a big sushi "burrito" and take it with me as a snack. The dressing can be substituted by a soy sauce dressing using minced garlic, toasted sesame oil, and grated ginger. Super convenient to carry with you, and it doesn't require utensils.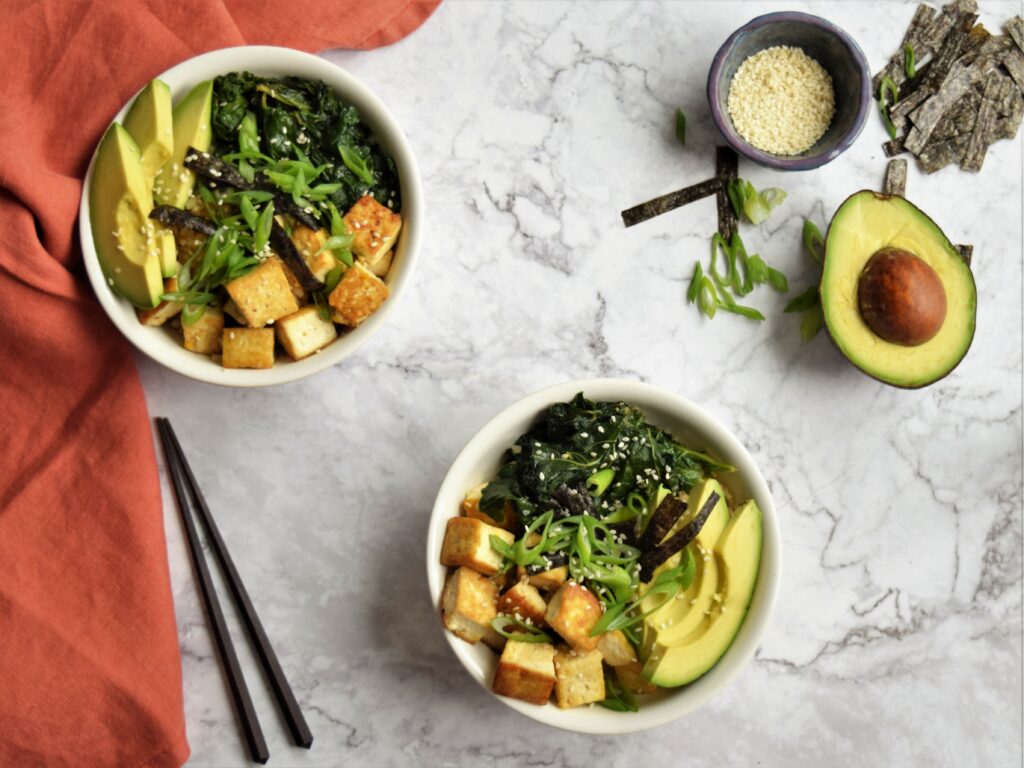 making your own vegan energy bowl
The best thing about bowls is how easy it is to modify the recipe to your taste. It is incredibly fun and rewarding to improvise with a bunch of veggies, grains, and legumes, and savor a unique combination of ingredients that was is 100% yours. Experiment with different dressings, they can transform your meal, and you will never get bored.
Adaptations of any recipe are great and it is important to write down all ingredients!
I tried this recipe substituting the tofu for tempeh, and the kale for dandelion sauteed with shallots and lots of garlic.
Vegan Energy Bowl
Ingredients
1

cup

short-grain brown rice

1/2

teaspoon

sea salt

1

block firm tofu

1/3

cup

coconut oil

1

bunch kale

de-stemmed

1/2

orange

juiced

1/2

lemon

juiced

1

tablespoon

natural sugar of choice

coconut, maple, Succanat, etc

1

tablespoon

soy sauce

1

tablespoon

mirin

1

tablespoon

brown rice vinegar

1

avocado

thinly slice

2

scallions

thinly sliced

2

sheets toasted nori

sliced into strips

2 to 4

tablespoons

sesame seeds

toasted
Instructions
Soak rice in a bowl of water, at least 1 hour. Drain, then rinse rice to remove debris. In a heavy pot, combine rice, 1 3/4 cups water, and salt, and bring to a boil. Cover and reduce heat to a simmer and cook, 30 minutes. Turn off heat and let rest on the burner without lifting the lid, 15 minutes.

Place tofu on a cutting board and press it for 15 to 30 minutes. Slice tofu lengthwise into 1-inch-thick strips. In a skillet over medium-high heat, warm until browned, 3 to 4 minutes per side. Carefully remove tofu from skillet and let cool. You can also slice tofu into thinner 1/4-inch strips.

In a pot with a steamer basket, boil water. Add kale, and steam, 2 minutes. Remove from heat.

In a saucepan, bring orange juice, lemon juice, and sugar to a gentle boil, then simmer on low heat, 1 minute. Remove from heat; add soy sauce, mirin, and vinegar. Return to a gentle boil and cook until mixture thickens, 2 minutes. Remove from heat.

When the rice has cooled, transfer to a bowl. Pour dressing over rice, and mix until grains are coated. Serve in individual bowls topped with tofu, steamed kale, avocado, green onions, toasted nori, and sesame seeds.
Recipe Notes
nutritional info: Calories: 640 per serving; fat: 31 g; (17 g saturated); carbs: 87 g; fiber: 11 g; protein: 15 g; sodium: 667 mg
---
MORE RECIPES YOU MIGHT LIKE
---