Vegan Watermelon Niçoise Salad
Vegan tuna? Made with watermelon? When I saw the picture of this salad, I thought it was real tuna! It looked so "fleshy" I had to try!
Everything in this salad is fantastic, so I decided to give it a try; it is watermelon season after all!
Vegan Watermelon Niçoise Salad
VegNews is the best vegan magazine on the market. Hands down. I am a subscriber of the digital magazine and to their newsletter which I highly recommend not just for the fantastic and delicious vegan recipes, but also for the most up to date health information, events all over the world, the latest on vegan products, and so much more!
I have been noticing that many people are experimenting with watermelon lately, which is lovely because this gorgeous fruit is packed with nutrients and has many health benefits. The Food Network Magazine had a few recipes featuring watermelon in their latest issue. I recently had a "tuna" sashimi at The Butcher's Daughter, which inspired me to make my own version!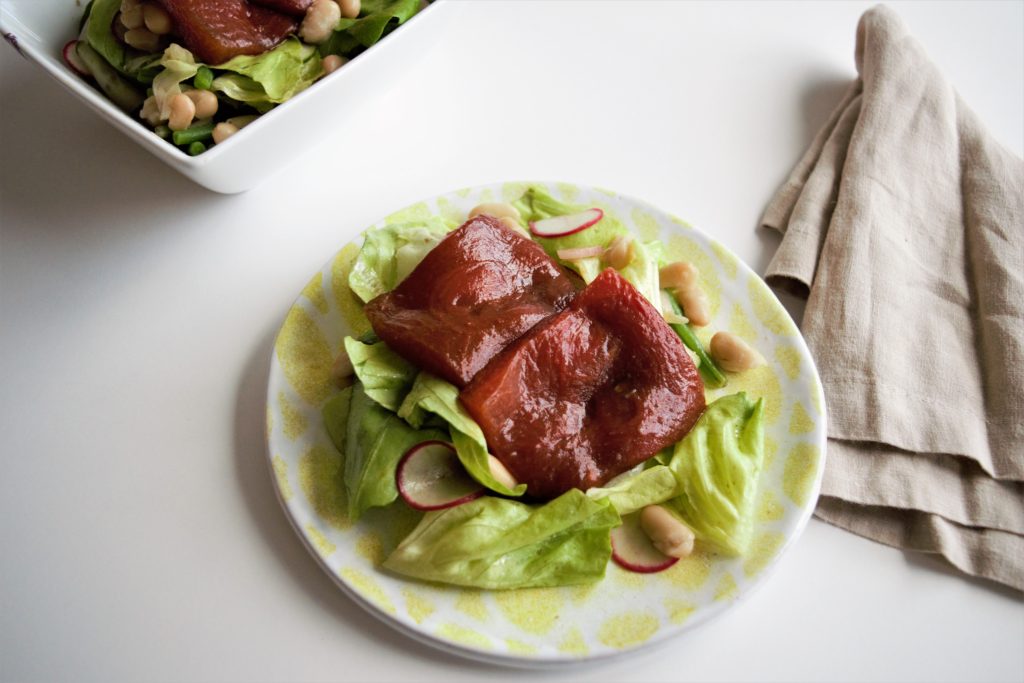 The Fight Over Originality
A Niçoise salad is traditionally made with tomatoes, hard-boiled eggs, Niçoise olives, anchovies, and dressed with olive oil. There are many variations of this salad, and tuna (fresh or canned) is often used. There is a lot of debate about what makes a salad be "Niçoise," and many chefs have a different recipe for this classic French salad, that can include potatoes and artichokes.
But regardless of what the original recipe is, it is not vegan! That's for sure. Like all recipes from VegNews, this one didn't disappoint. It has a beautiful combination of flavors and textures, the sweetness of the cooked watermelon mix so well with the vinaigrette, the crunchiness of the green beans contrasts perfectly with the cannellini beans.
One of the greatest things about this vegan watermelon niçoise salad is how much protein it has from the cannellini beans and the green beans! It is also low in carbs and calories, making it a perfect light dinner.
I can have this salad all year round because even without the watermelon it is fabulous!
So here is the recipe unaltered. I hope you will try it and enjoy it as much as I did!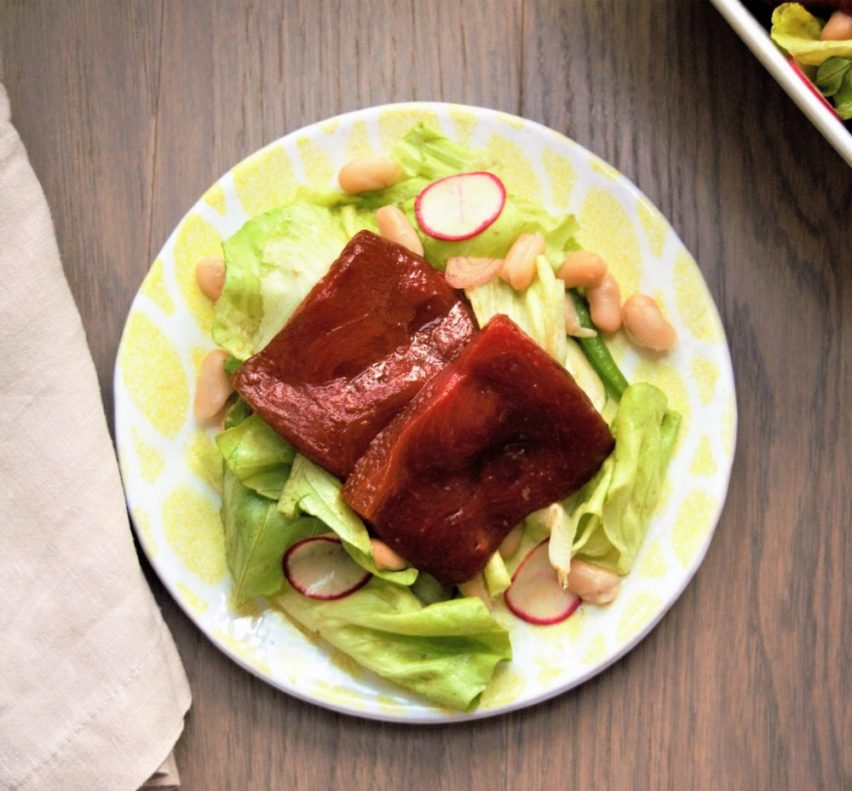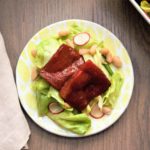 Vegan Niçoise Watermelon Salad
Ingredients
For the Watermelon Tuna
2

tablespoons

extra-virgin olive oil

4 3-inch

squares seedless watermelon, approximately 1-inch thick
For the classic vinaigrette
1

tablespoon

finely minced shallot

1

clove

garlic finely minced

1/4

cup

extra-virgin olive oil

2

tablespoons

lemon juice

1

tablespoon

Dijon mustard

1/4

teaspoon

sea salt

freshly ground black pepper to taste
For the Niçoise Salad
1

head butter or Bibb lettuce

1

cup

haricot verts, raw or blanched

1

-pint

grape or cherry tomatoes, halved

1/2

cup

pitted Niçoise olives

6

small

radishes, thinly sliced

1

cup

cooked Cannellini beans

1

seedless

Persian cucumber, thinly sliced

1/4

cup

fresh basil, roughly chopped
Instructions
1. For the seared watermelon tuna, into a medium skillet over high heat, add olive oil. When on the verge of smoking, carefully add watermelon, standing back to avoid being splattered. Cook watermelon slices, pressing firmly with a spatula to compress 2 to 3 minutes or until caramelized on one side. Flip and repeat on the other side.
2. For the classic vinaigrette, into a small bowl, add all ingredients whisk, slowly streaming in oil last to emulsify.
3. For the Niçoise salad, lay down a base of roughly torn or lightly chopped lettuce on a large serving platter and arrange green beans, tomatoes, olives, radishes, beans, and cucumber in rows. Top with seared watermelon tuna, drizzle with vinaigrette, and top with basil. Serve immediately.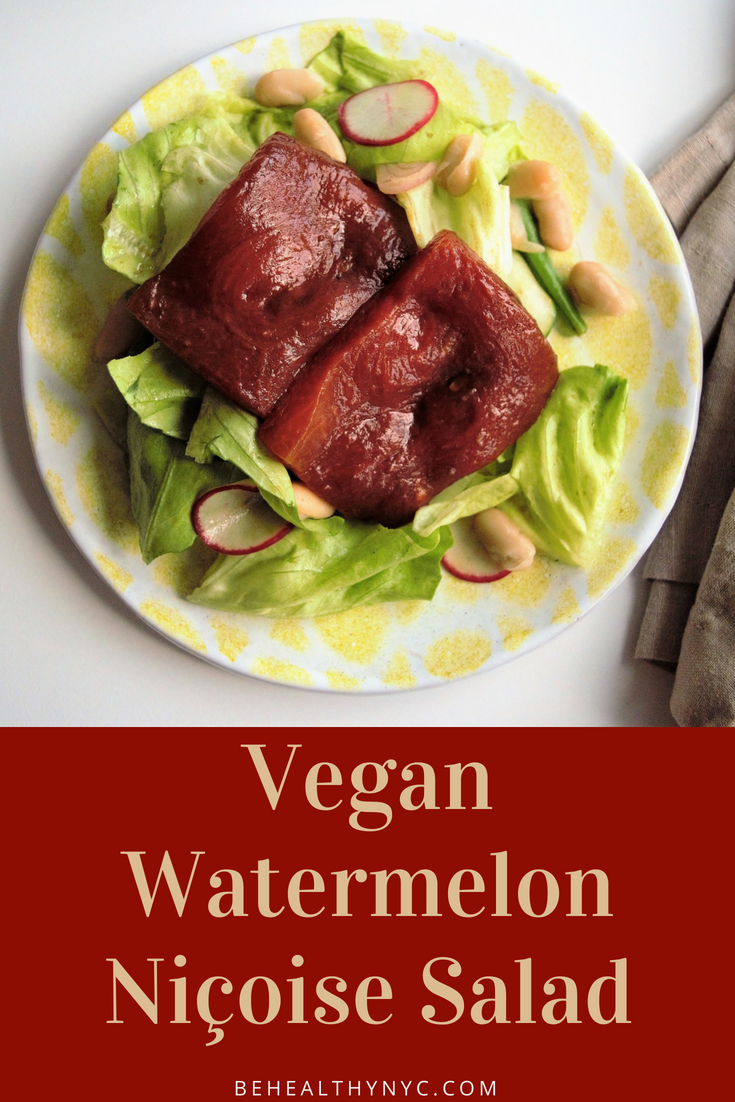 ---
more recipes you might like
---