Brussels Sprouts With Peanut Sauce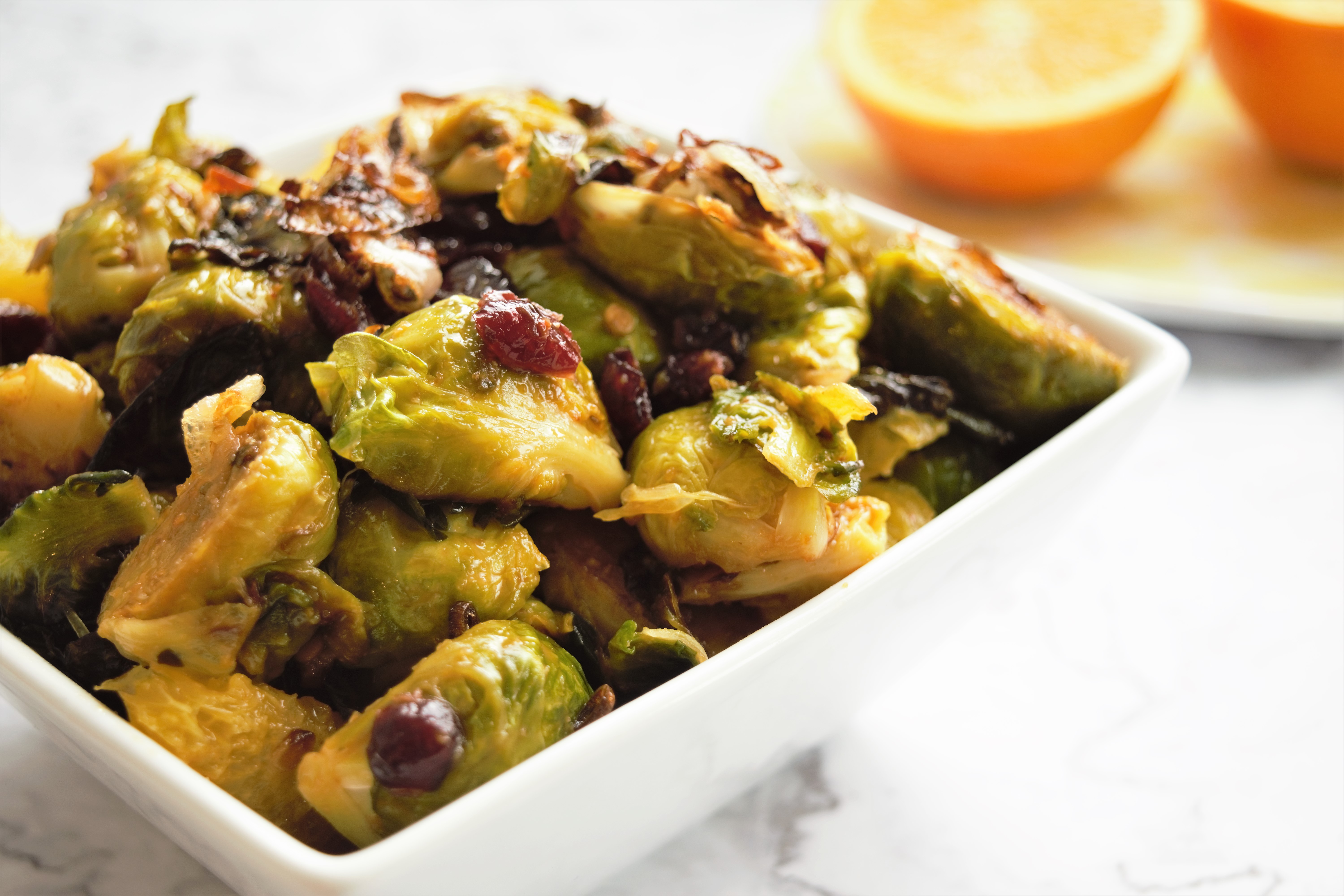 This Brussels sprouts with peanut sauce recipe is incredibly tasty. I receive newsletters with recipes from many sites, and this delicious Brussels sprouts with peanut vinaigrette is from The Times. It was one of those you can get access without a subscription. And I'm so glad I didn't delete the email like I often do! I worship Brussels sprouts. It's one of my favorite vegetables and one of the reasons I love Autumn and Winter.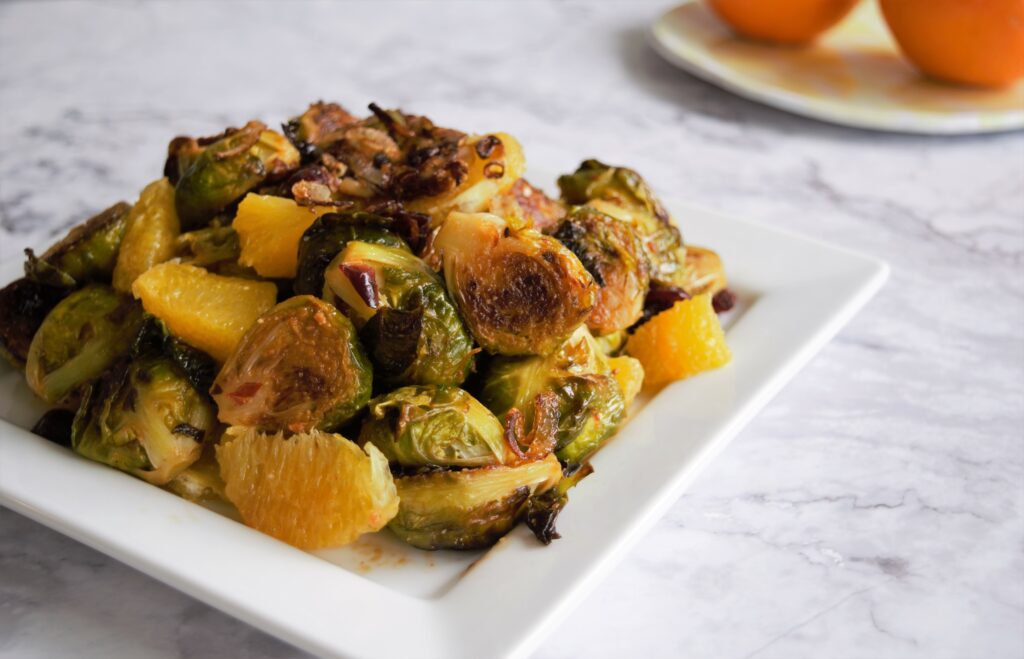 In Love with This Brussels Sprouts Recipe
So I had to try this recipe. At first, I thought the combination of peanut butter, Brussels sprouts, and oranges odd. But I love them all so why not trying it? And just the thought of crispy shallots made me fall in love with it immediately. How happy I was with how it turned out! I had the whole 2 pounds in one day. Perhaps it's because my servings are definitely much larger than what is considered normal, or maybe it's because I am obsessed with this dish. If you are a "normal" person and have a strong will and self-control, then this recipe will give you four servings. But I now double the recipe.
Especially the sauce, as I use a very similar recipe for baked tofu and tempeh, and it's always a great idea to have an extra batch of sauces, dressings, and marinades ready to go in the freezer. The only thing that might be difficult about this dish is to supreme (or section) the orange. But it's totally fine if you slice them instead. If you choose to supreme, squeeze the juice from the pulp into the sauce before discarding! As always, allow enough space for Brussels sprouts to baking. If necessary use two baking sheets. If they are on top of each other, they won't roast well. You probably will find there are lots of leaves, you can remove them once you think they are brown enough and incorporate them later. So here's the recipe! Enjoy!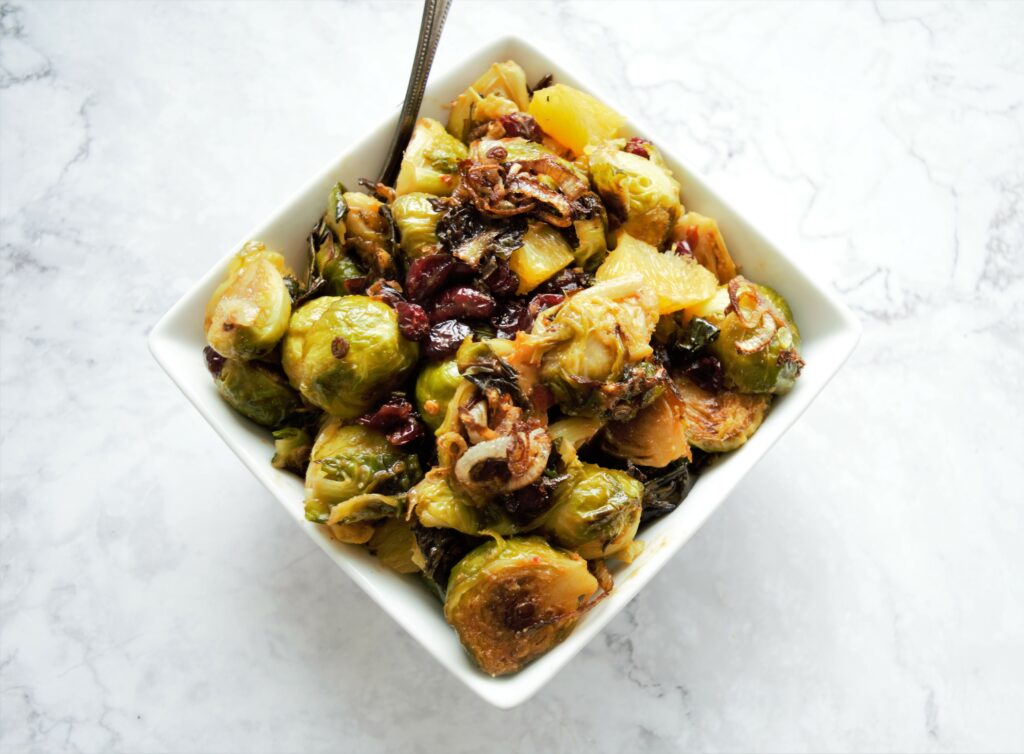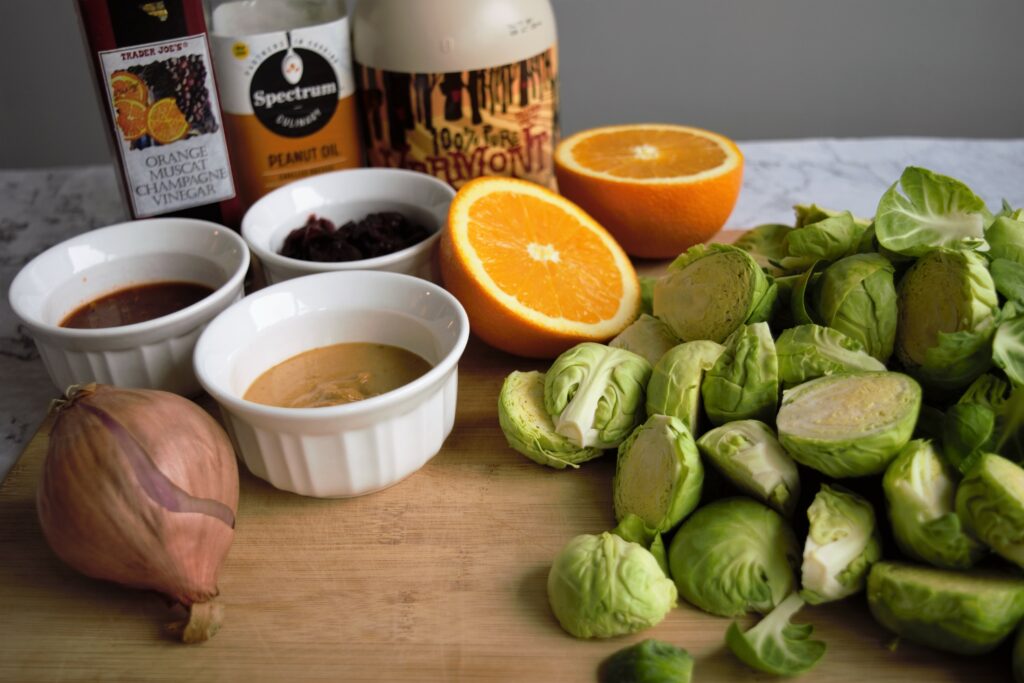 Brussels Sprouts with Peanut Vinaigrette
Roasted Brussels Sprouts With Peanut Vinaigrette
Ingredients
Ingredients
2 

pounds 

brussels sprouts

trimmed, halved and rinsed in cold water

¼ 

cup 

peanut oil

Salt

4 

teaspoons

champagne vinegar

2 

teaspoons

maple syrup

2 

tablespoons

unsweetened peanut butter

creamy or chunky

Hot sauce or chili oil

optional

1 

large navel orange

3 

tablespoons

dried tart cherries or cranberries

plumped in warm water, drained and coarsely chopped

Crispy fried shallots

for garnish (optional)

Chopped fresh mint

for garnish (optional)
Instructions
Instructions
Heat oven to 400 degrees and place a pan of hot water in the bottom, to help prevent the sprouts from becoming tough. Turn on convection if you have it.

Toss sprouts with peanut oil, sprinkle with salt and spread out on one or two baking sheets. Roast 15 minutes. Stir and continue cooking 10 to 20 minutes more, until browned and crisp. Check sprouts every 5 minutes or so; if they are browning too fast, reduce heat by 25 degrees and turn off convection.

Meanwhile, make the dressing: In a bowl, whisk together vinegar and honey. Whisk in peanut butter until thick and creamy. Add water until consistency is like creamy salad dressing. Season to taste with hot sauce, if using.

When sprouts are tender and browned, remove from oven, transfer to a large bowl and sprinkle with salt. Add half the dressing and toss well.

Take the orange and cut a thick slice off the bottom and the top to make flat surfaces. Rest bottom on a cutting board and use a small, sharp knife to carve off all the peel and pith, cutting from top to bottom and following the curve of the fruit. When all the orange flesh is exposed, cut out each segment by slicing along the white membranes. Gently loosen from the orange and set aside.

Add half the orange and half the cherries to a bowl and toss. Taste. Adjust with more dressing, orange, and cranberries until flavors are balanced. Serve warm or at room temperature, topped with fried shallots or fresh mint, or both, if using.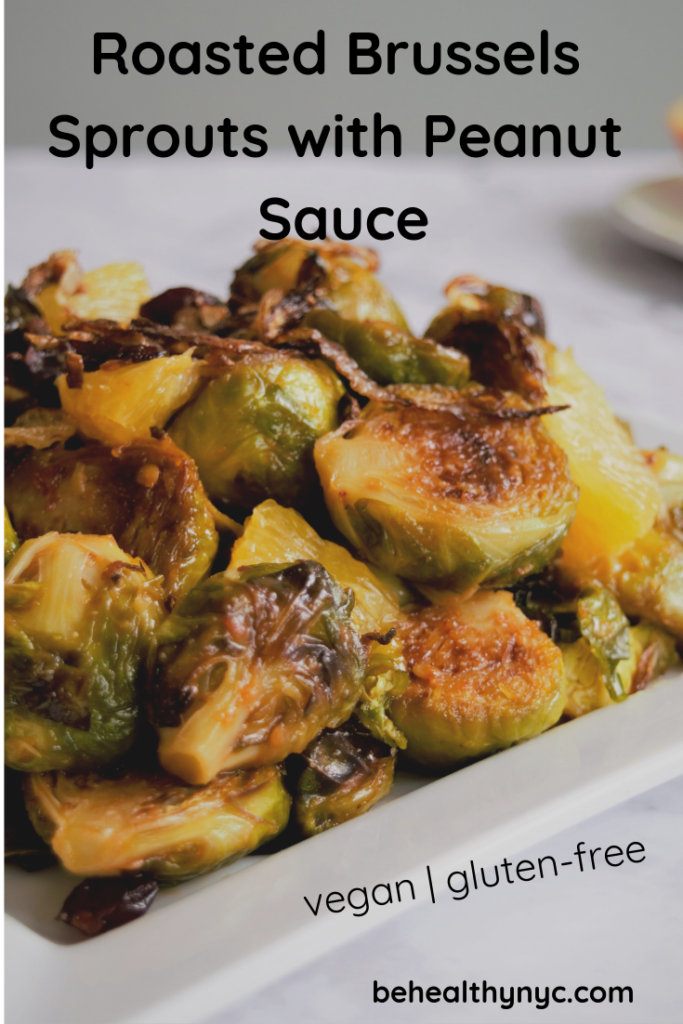 ---