Vegan Corn and Coconut Soup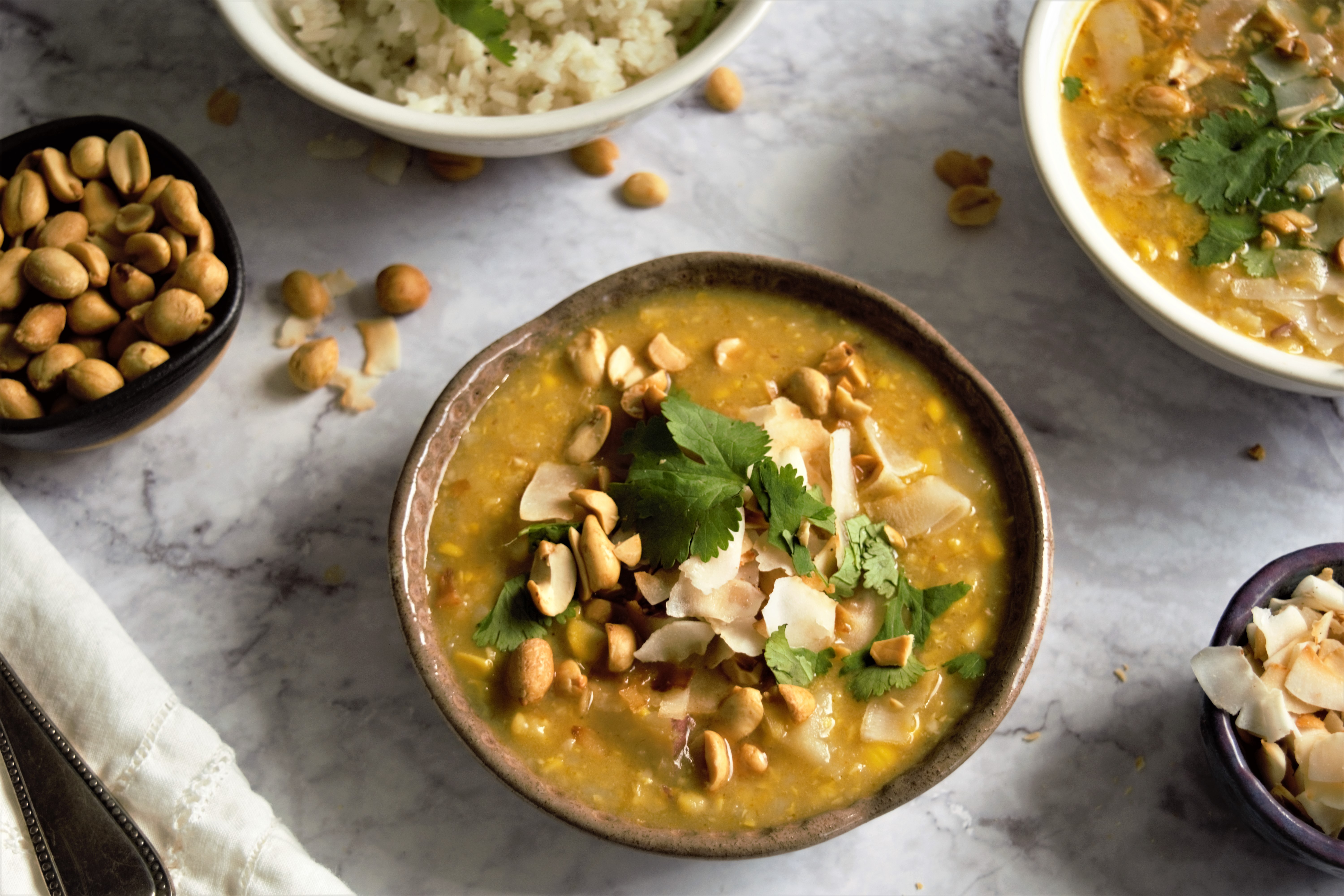 I had this soup several times now, and I can't have enough of it! It has the perfect blend of flavors and textures.
It is creamy, sweet, and it is just spicy enough. The delicate and fresh aroma takes over the house when you are cooking!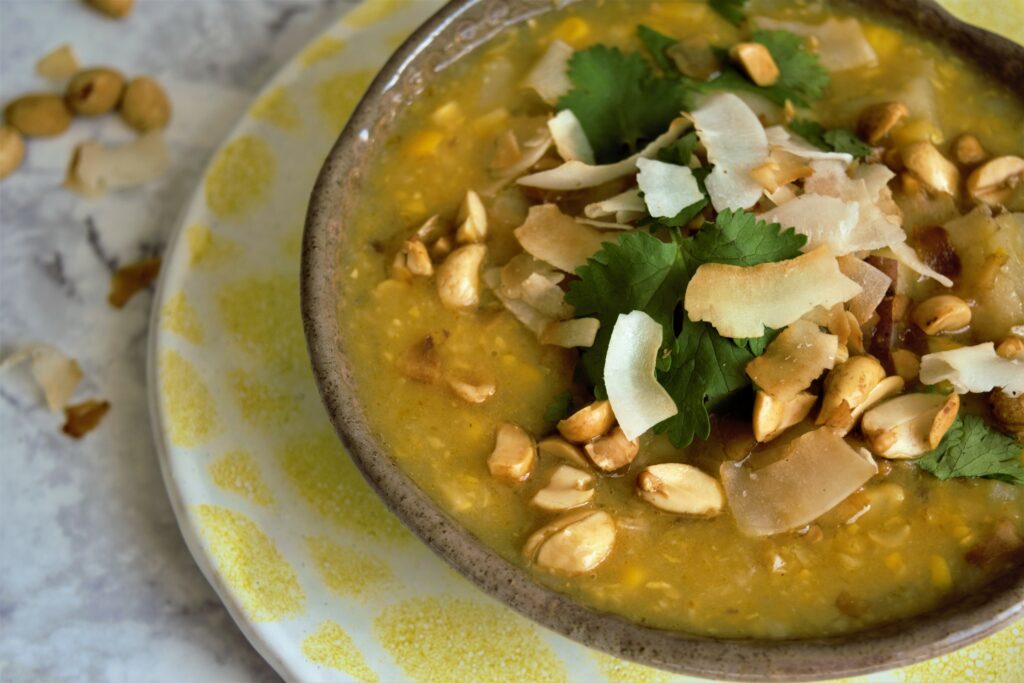 The first time I made this delightful corn and coconut soup, I had it on its own. You don't need to add anything else, as it is filling and perfect alone. But of course the next few times I made it I prepared a bowl of delicious jasmine rice. On another occasion enjoyed it with steamed escarole on the side.
Make it your own way!
My favorite part is the toppings. I go crazy with the fresh chiles, cilantro, scallions, coconut flakes, and peanuts! I like adding lots of chiles, and I blend it just a little, so it doesn't get too creamy, this way the rice absorbs all the flavorful and velvety broth. Divine!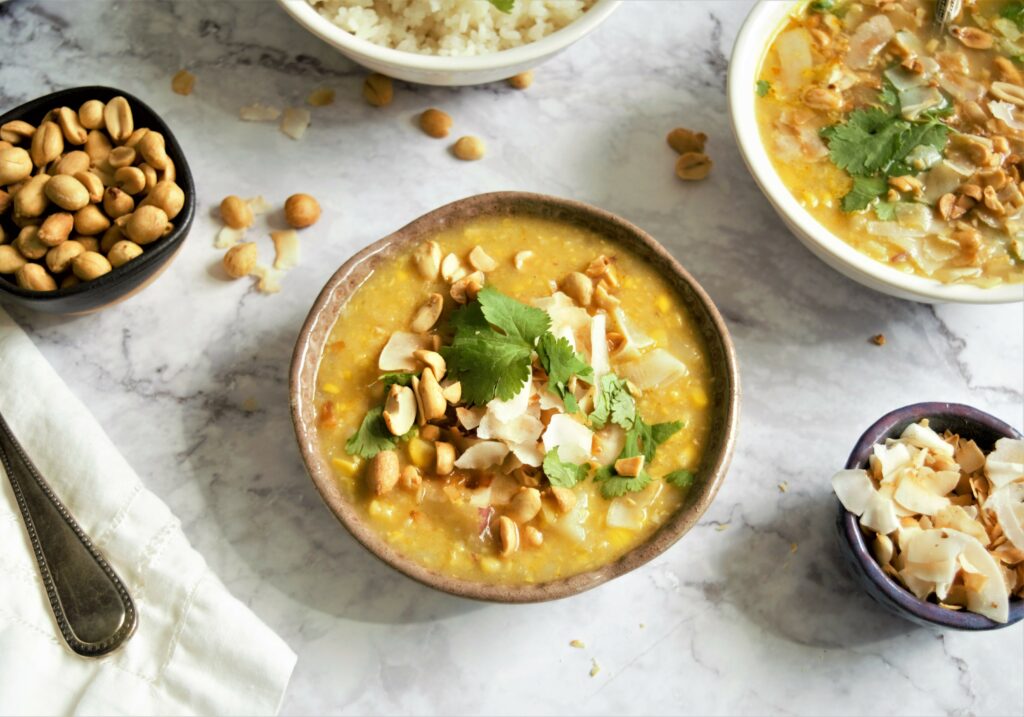 There is no way to mess up this recipe. It is super easy to make and perfect as it is, but as always, the more you make it, the more you can add your flavor to it.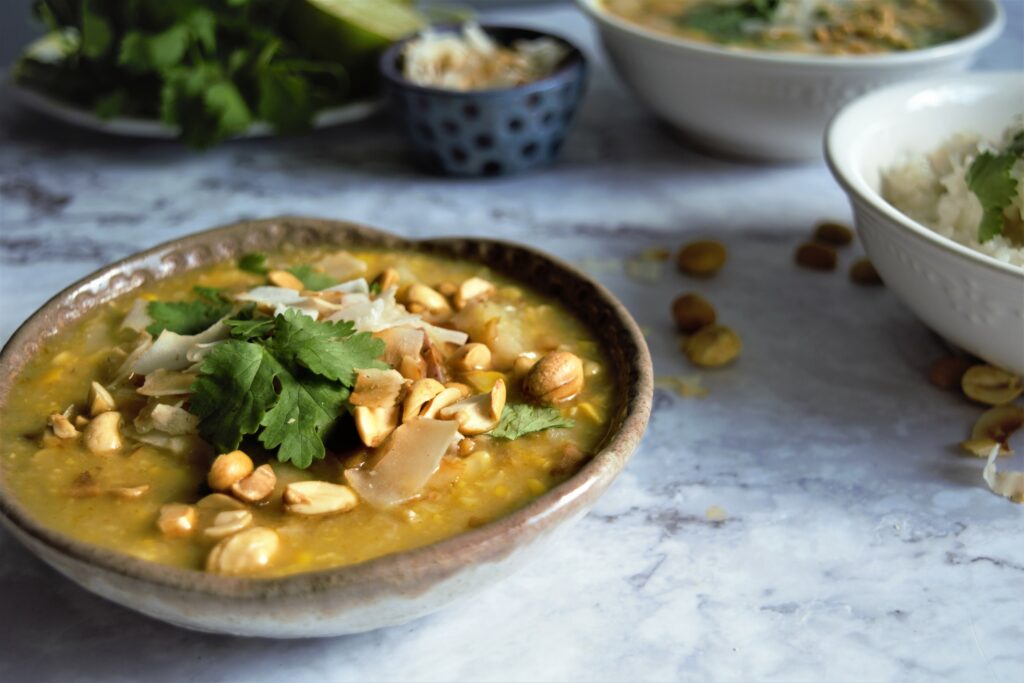 I always use fresh corn from the farmer's market at Union Square. The sweetness of local, seasonal, and sweet corn makes a massive difference in any dish. However, this is the kind of soup that I want to make all year round. Even in the middle of winter. I rarely eat soups in the summer unless it is a cold soup such as gazpacho. But this soup is also fantastic cold.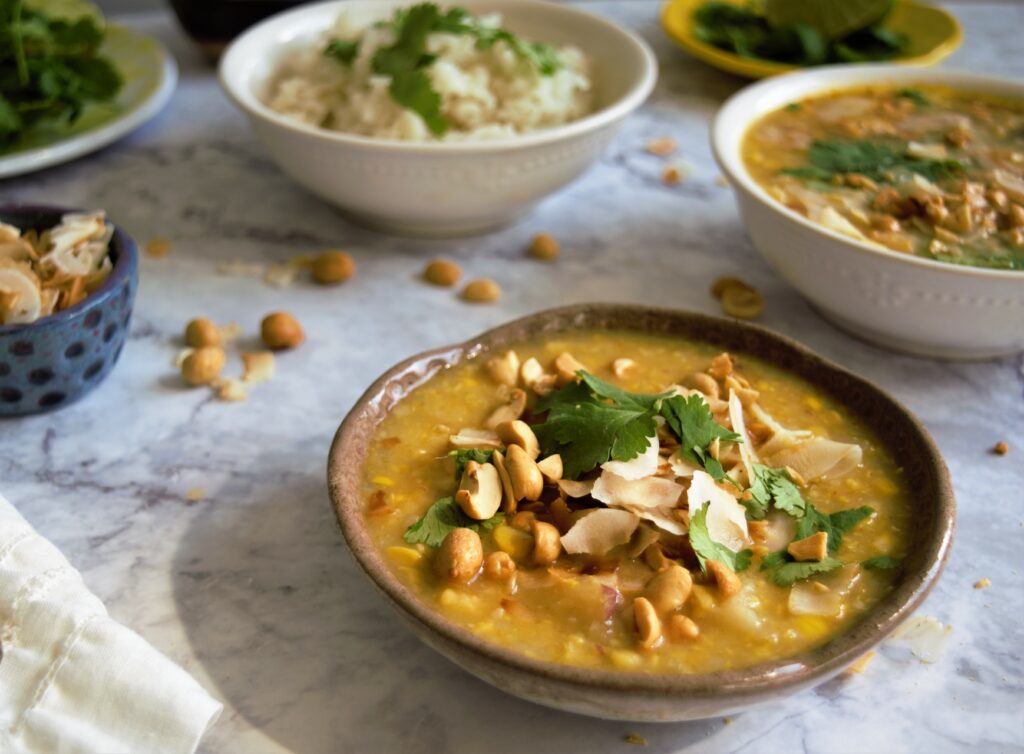 So I freeze all the corn I buy when it is in the season. This way it will last until around February. You can also double the recipe and freeze, and it will preserve its flavor for a couple of months.

Vegan Corn and Coconut Soup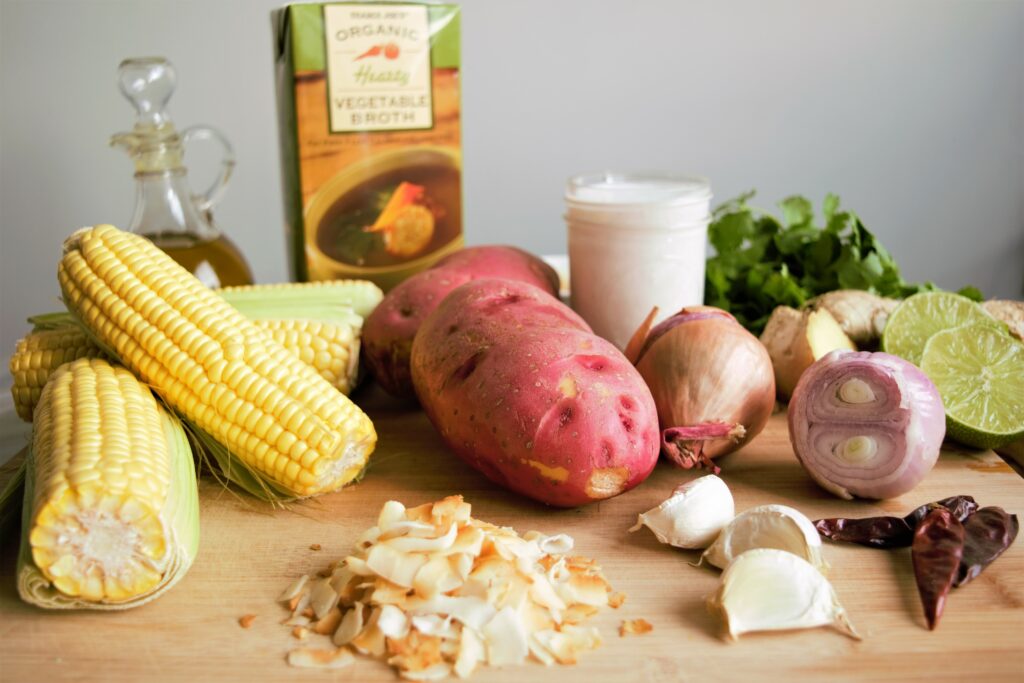 Vegan Corn and Coconut Soup
Ingredients
5

ears yellow or bicolor corn

2

tablespoons

extra-virgin olive oil

2

shallots

thinly sliced into rings

3

garlic cloves

minced

1

1-inch piece ginger, peeled and minced

1

Serrano

or other hot pepper, minced

2

small red potatoes

6 to 8 ounces total, cut into 1/2-inch cubes

2 ½

cups

vegetable broth

or 2 1/2 cups of hot water whisked with 1 1/2 teaspoons jarred bouillon

1

15-ounce can full-fat coconut milk

1

tablespoon

lime juice

from 1/2 lime

Kosher salt

to season

Torn cilantro leaves

toasted coconut flakes, chopped roasted peanuts, crispy fried shallots, lime wedges, more sliced Serrano chiles, to serve (optional)
Instructions
Cut the corn kernels off the cobs and transfer to a bowl. Using the back of a butter knife, scrape the cobs so that all of the milky juices collect in the bowl and the cobs look completely dry, like wrung-out sponges. Set aside.

In a large stockpot over medium heat, heat olive oil. Add shallots, garlic, ginger and chile, and sauté, stirring occasionally, until soft and fragrant, 3 to 5 minutes. Add reserved corn kernels and juices to the pot, and sauté until the corn is softer and brighter, about 3 minutes more.

Add potato pieces, and stir to coat, 1 to 2 minutes.

Now, pour in the vegetable broth and coconut milk. Bring to a boil, reduce to a simmer, cover, and cook for 8 to 10 minutes, until the potatoes are tender all the way through.

Use an immersion blender to roughly purée the soup, so that it's creamy with some kernels of corn, chunks of potato, and chile flecks remaining. (Alternatively, ladle about half of the soup into a blender, blend until smooth, and return to the pot.) Season with lime juice and salt, and mix to combine. Ladle soup into bowls and garnish with toppings of your choice.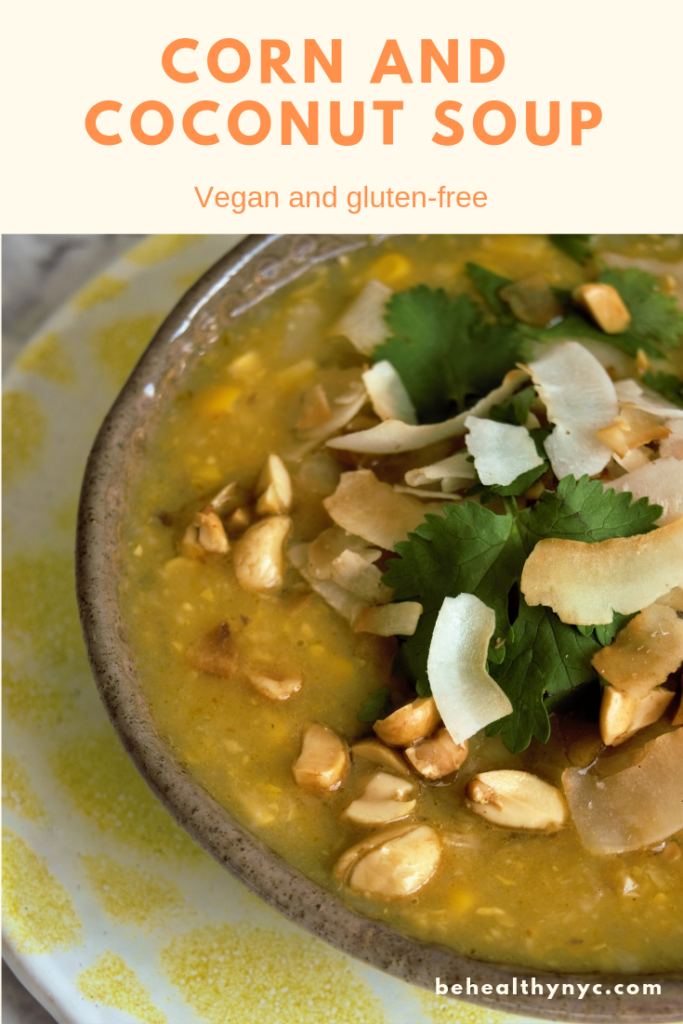 ---