Vegan Lemony Brussels Sprout Slaw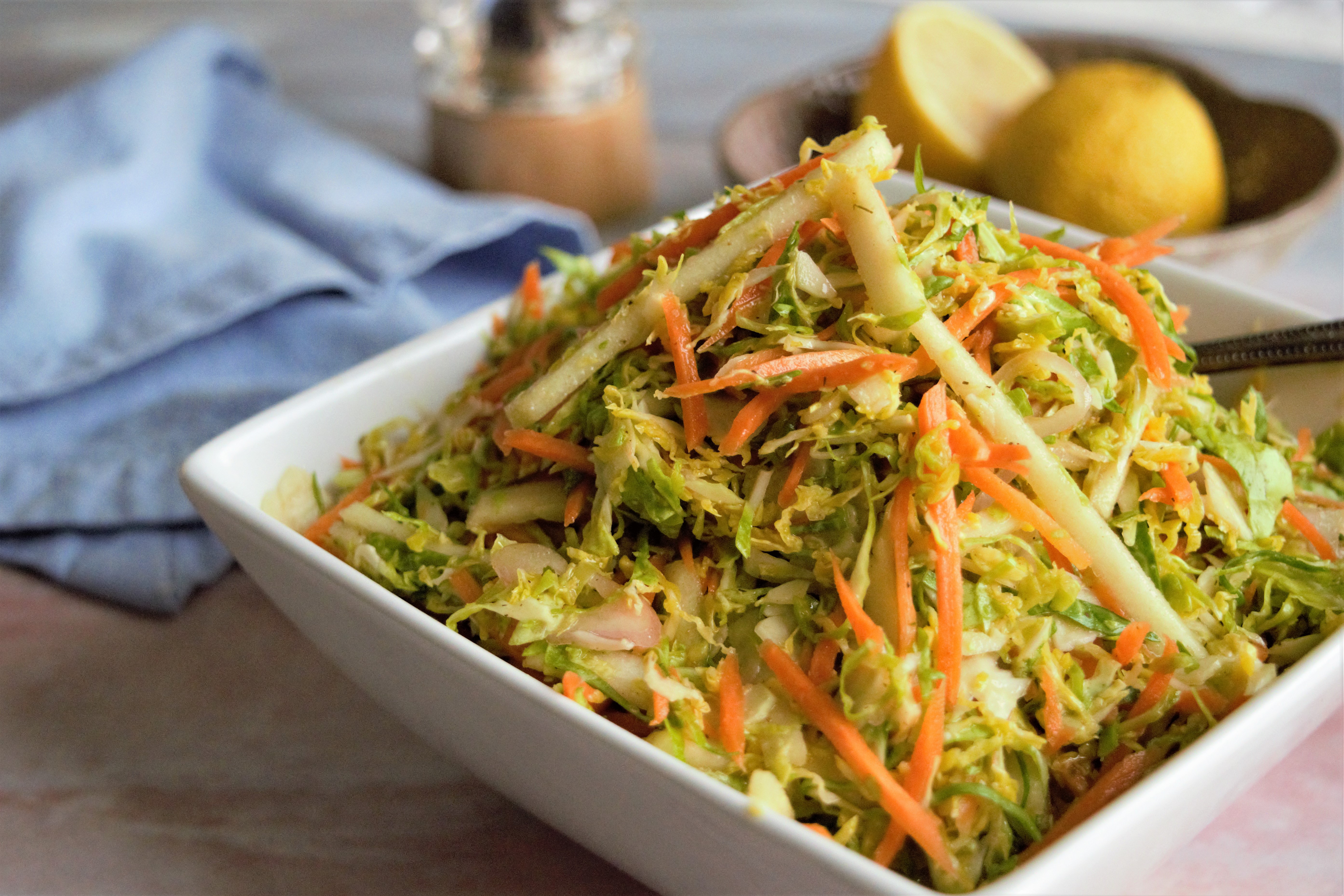 After trying this vegan lemony Brussels sprout slaw, it will become your default slaw! This is a delicious and easy recipe, perfect as a side for anything you would use a slaw.
Like cabbage, raw brussels sprouts do well when shredded and mixed with a tart apple, lemon juice and zest, and a dressing of Dijon mustard and mayonnaise. It's not a traditional slaw, but the concept is the same. Serve this immediately, or give it some time in the fridge to let the flavors meld. (You may want to drain it before serving if it has released a lot of liquid.)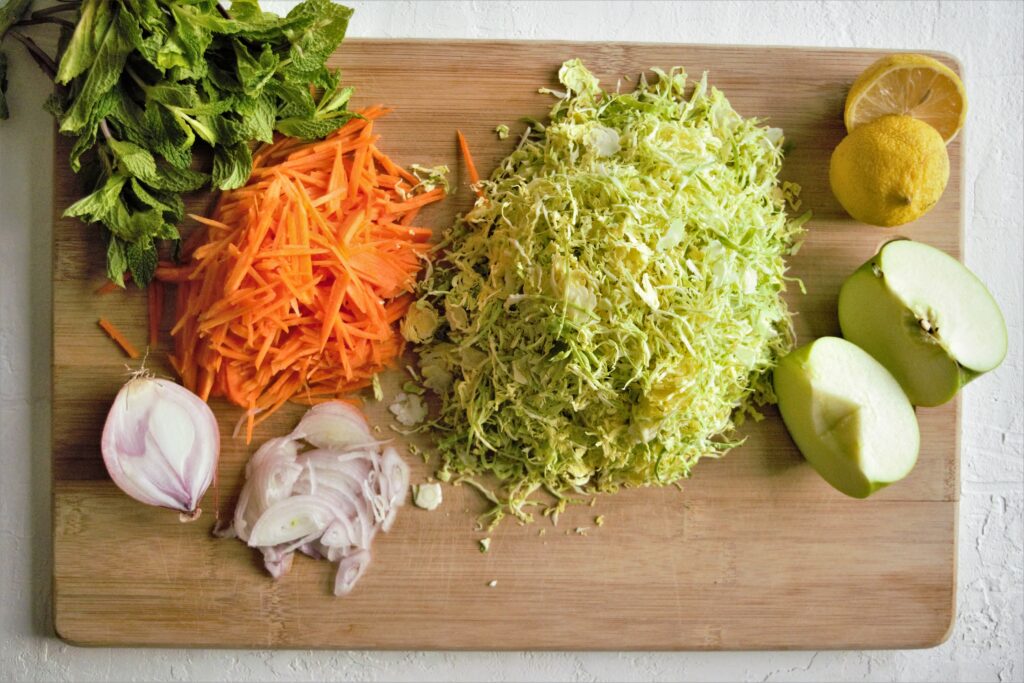 I have made this recipe several times as I love Brussels sprouts and slaw. It is fascinating that it took me so long to make a vegan lemony Brussels sprout slaw! I had this recipe for ages, I don't even remember where I found it.
But once I tried it, I was sold. The longer you marinade the salad the better it becomes. The sauce is incredibly tasty! I have used it for other salads and on roasted vegetables.
The shallots are great for slaw and on salads in general, but red onions work great. I love adding scallions too! And if you are not a fan of mint, substitute for parsley or cilantro.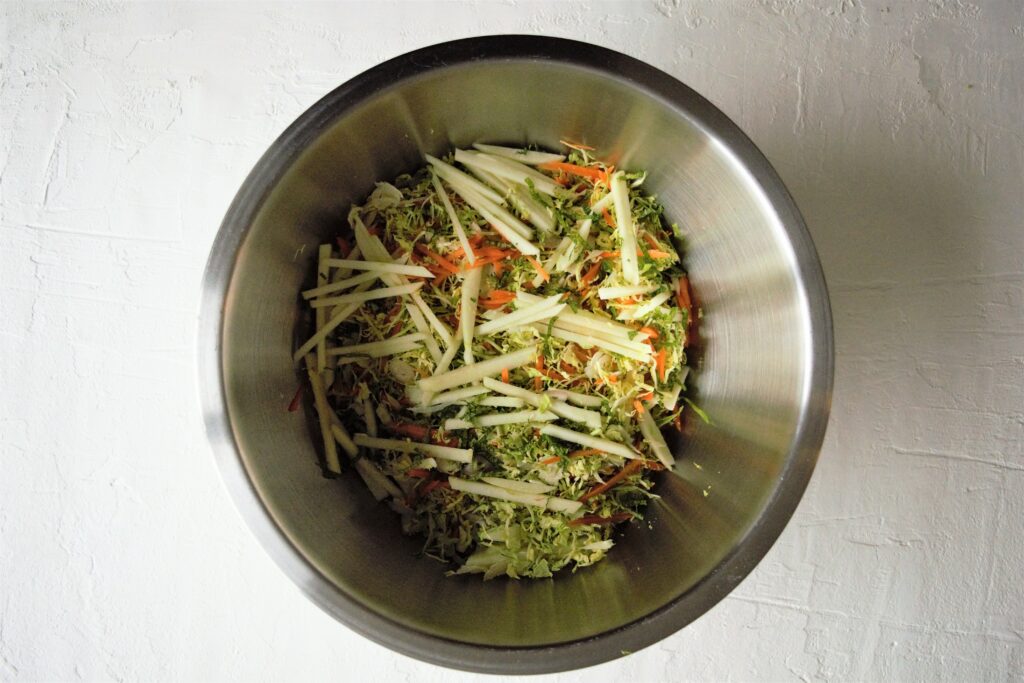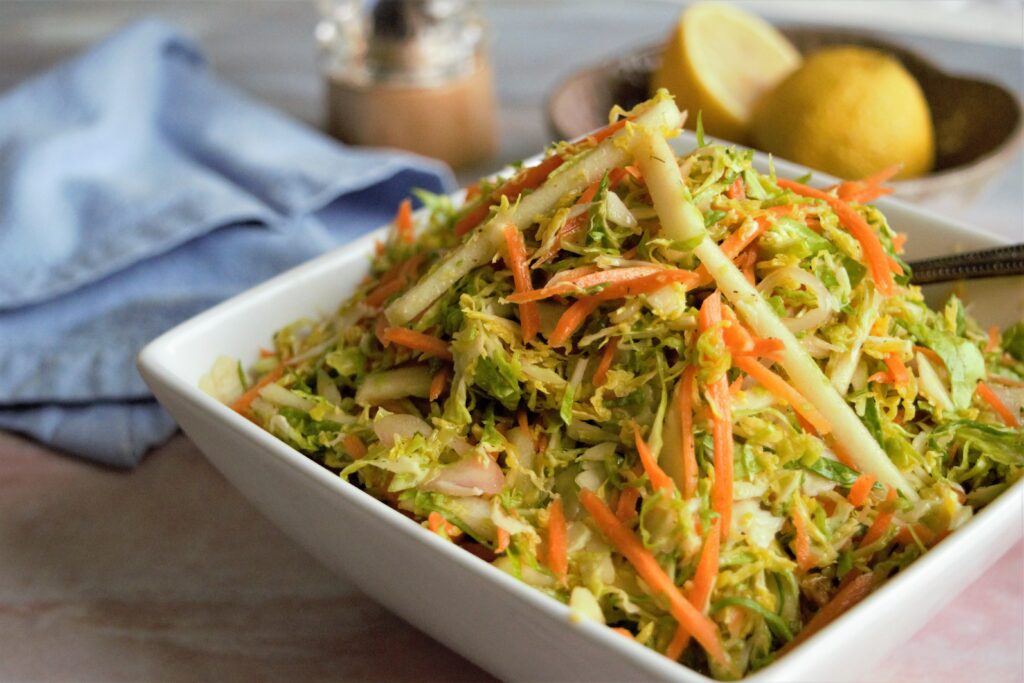 what makes a lemony brussels sprouts slaw vegan
Though this is made with vegan mayo, you can use homemade yogurt instead. I love using cashew cream (blended cashews with water, equal parts). It is so wonderful that supermarkets like Whole Foods and Trader Joe's are carrying all sorts of vegan yogurt and other dairy alternatives. And the quality of these products is great. So if you don't want or have time to make your own, there's always a good alternative just around the corner.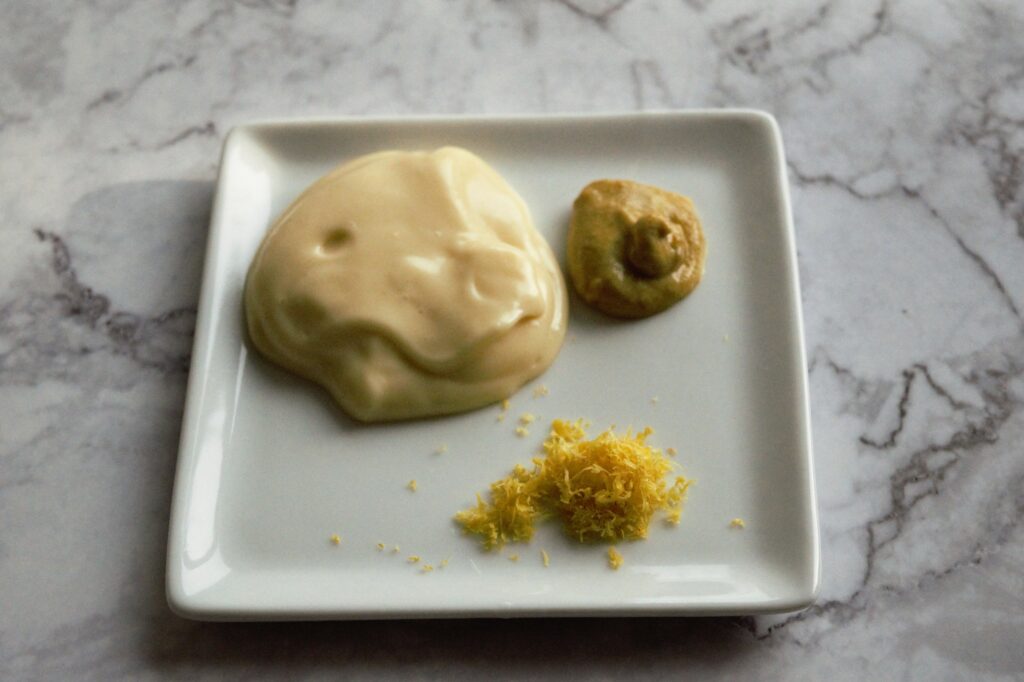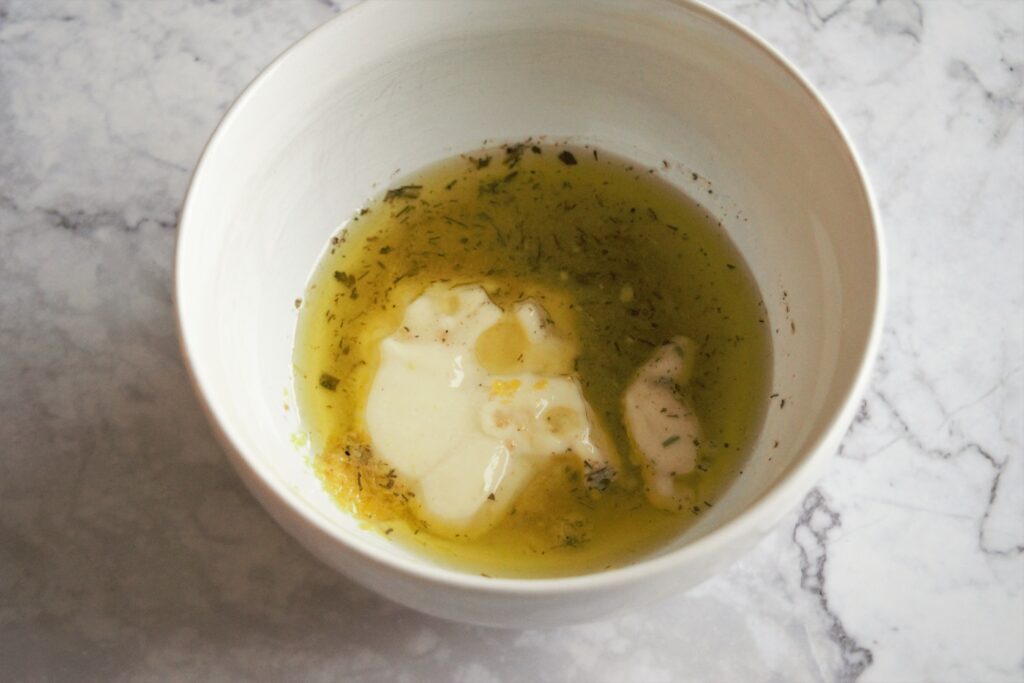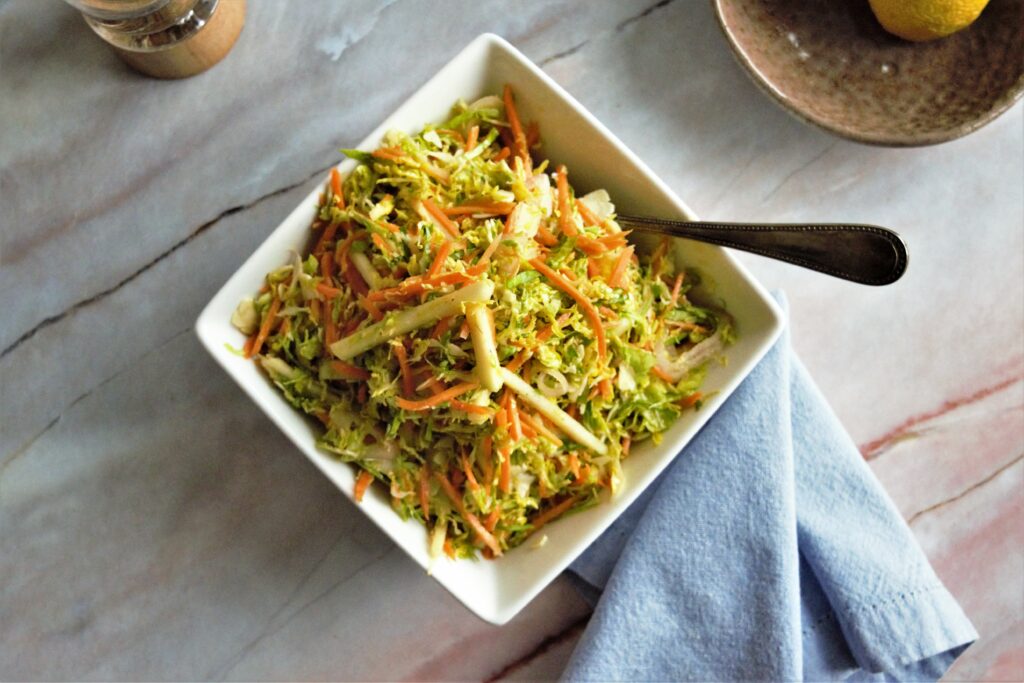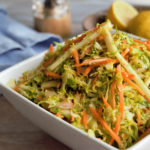 Vegan Lemony Brussels Sprouts Slaw
Ingredients
2 

tablespoons 

vegan mayonnaise

1 

teaspoon 

Dijon mustard

2 

tablespoons

freshly squeezed lemon juice

1 

tablespoon 

lemon zest

¼ 

cup 

olive oil

1 ½ 

pound 

brussels sprouts

trimmed and shredded

1 

medium Granny Smith or another tart apple

peeled, cored and diced or shredded

1 

large shallot

chopped

Salt

Freshly ground black pepper

¼ 

cup

chopped fresh mint leaves
Instructions
To make the dressing, whisk together the mayonnaise, mustard, lemon juice and zest in a small bowl. Add the oil a little at a time, whisking all the while.

Combine the brussels sprouts, apple, and shallot and toss with the dressing. Sprinkle with salt and plenty of black pepper and refrigerate until ready to serve. (It's best to let the slaw rest for an hour or so to allow the flavors to mellow; the sprouts will also soften a bit and exude some juice. You can let it sit longer, for up to 24 hours, if you like. Drain the slaw before continuing.) Just before serving, toss with the mint.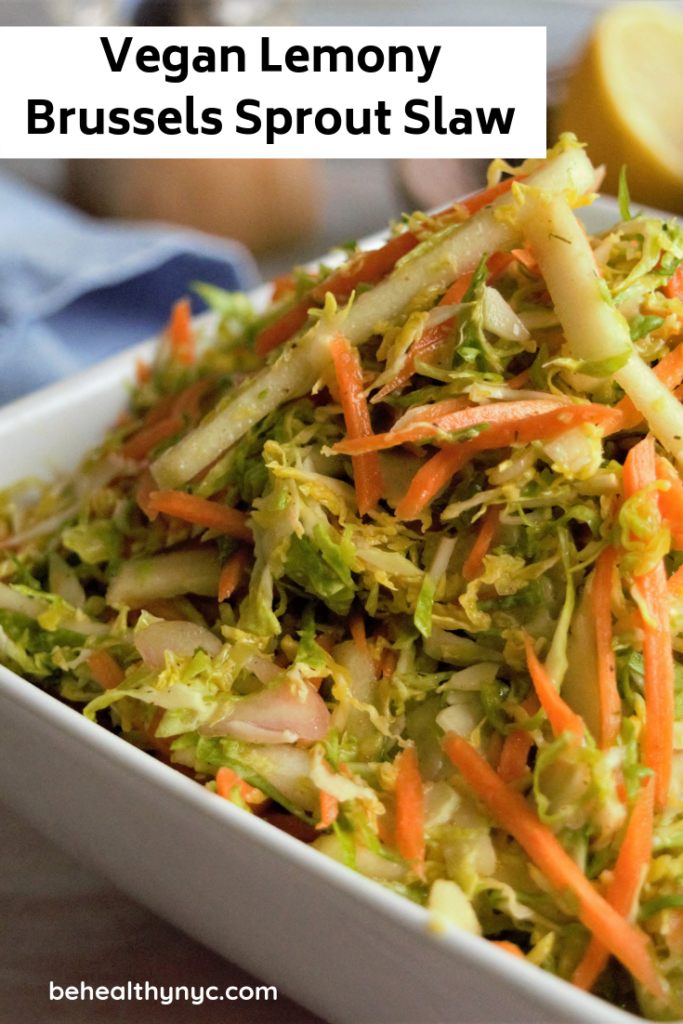 ---
more recipes you might like
---