Vegan and gluten-free Kasha Breakfast Bowl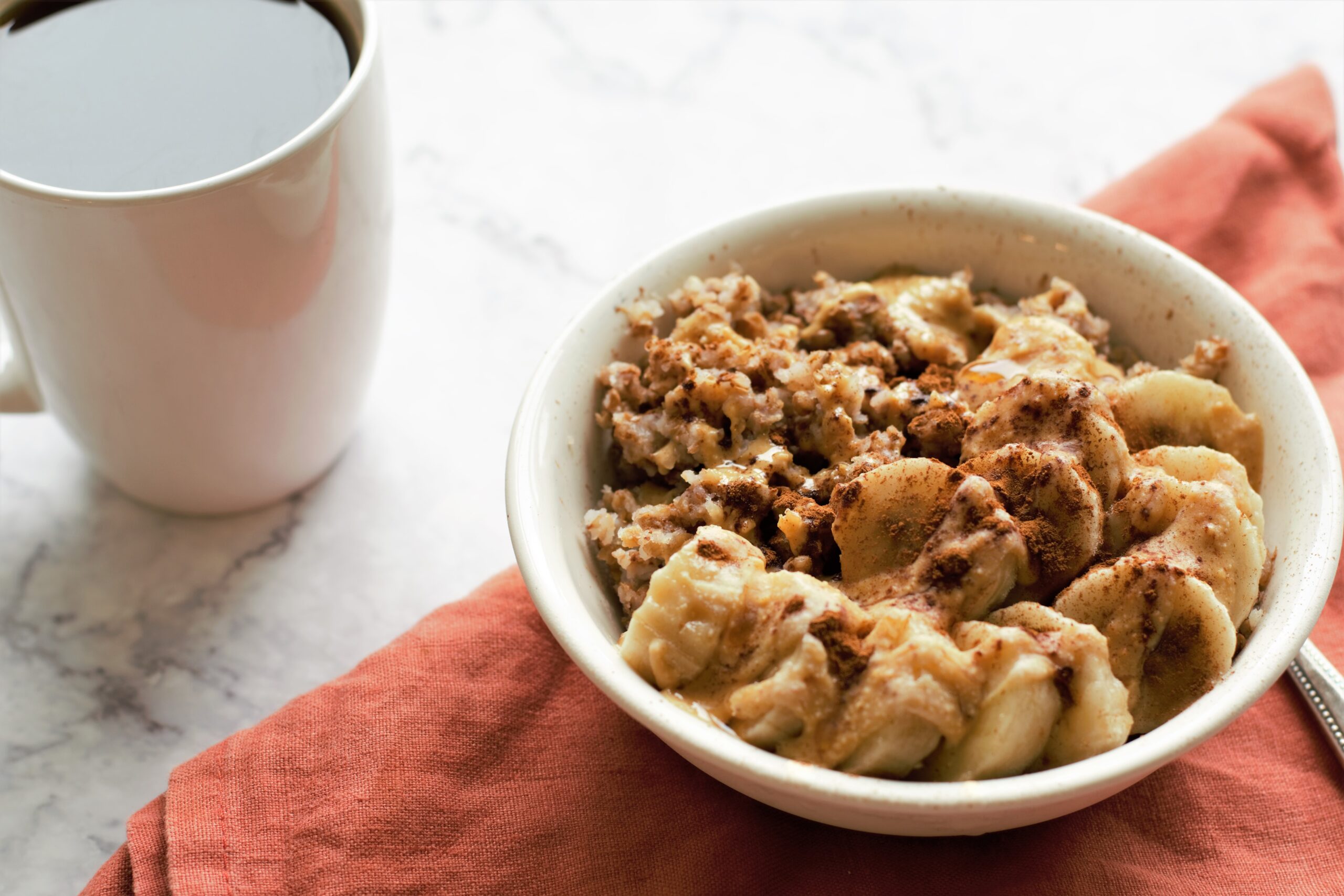 This vegan and gluten-free kasha breakfast bowl is a delicious alternative to oatmeal. It is hearty, flavorful, and super easy to make. I love that it takes no time to cook it, and I can play with the consistency.
When I cook kasha for breakfast I add a little bit of homemade almond milk and maple syrup while it is cooking. I make it very mushy and soft, and towards the end of simmering I sprinkle some extra kasha for a bit of crunch. Every time I make a recipe with buckwheat I make sure to save a cup or two for my breakfast.
This recipe is very versatile! I have tried with all the fruits I love, and different nut butters. You can add chopped nuts or seeds instead of the nut butter, and try different seasonings like pumpkin spice mix which works great with pumpkin puree or yams!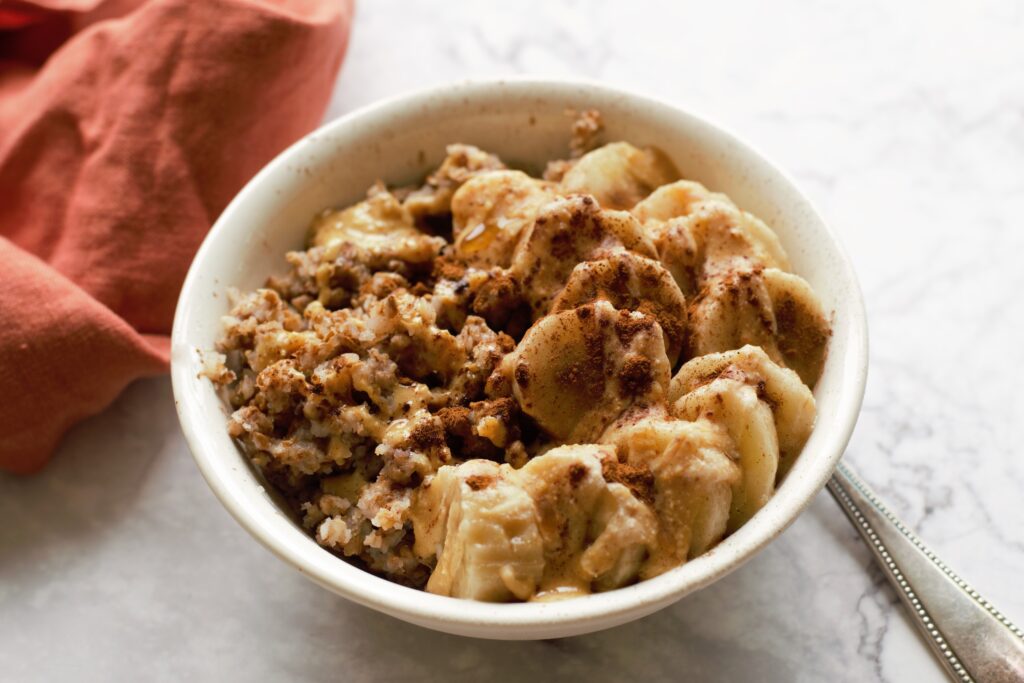 how to cook kasha
If you buy raw buckwheat it is a good idea to toast it for about 15 minutes before cooking. Kasha is already toasted, so you can cook using 1 cup kasha and 1 cup water. Cook in medium-low heat until soft and all water is absorbed, about 15 minutes.
You can add 1/4 to 1/2 cup of plant-based milk towards the end of cooking, stirring to combine, and cooking a few extra minutes to achieve a creamy consistency. Feel free to add other grains to the mix! I love mixing rolled oats or quinoa, it makes a hardy, protein rich breakfast that will give you energy for many hours.

vegan and gluten-free kasha breakfast bowl
These fruits are an excellent alternative to bananas:
apples
berries
mango
papaya
peaches
plums
Also try vegetables such as sweet potatoes, pumpkin puree, and carrots.
Vegan and Gluten-Free Kasha Breakfast Bowl
Ingredients
1

cup

cooked kasha

1

apple or banana

diced

2

tablespoons

almond or cashew butter

2

tablespoons

water

use more if needed

1

teaspoon

cinnamon

Maple syrup
Instructions
Place kasha in a steamer over boiling water. Steam until warm.

Combine warm kasha and apple in a breakfast bowl.

In a separate bowl mix nut butter with 2 tablespoons of water.

Blend with fork until creamy like a sauce. If needed add a bit more water. Mixture should not be too runny.

Pour peanut sauce over kasha and apples and mix well.

Sprinkle with cinnamon and drizzle with maple syrup.
Recipe Notes
Notes: Make kasha for dinner instead and use the leftovers for breakfast. Kasha keeps well with a splash of olive oil in the fridge for 3-4 days.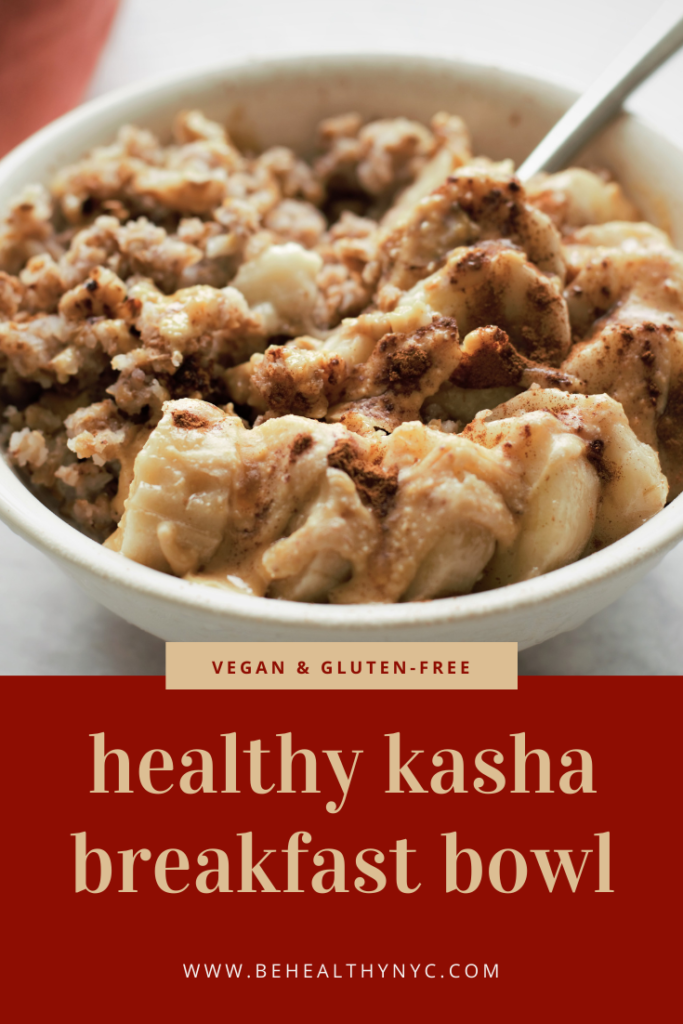 ---
more recipes you might like
---