Vegan Risotto with Peas, Asparagus, and Mint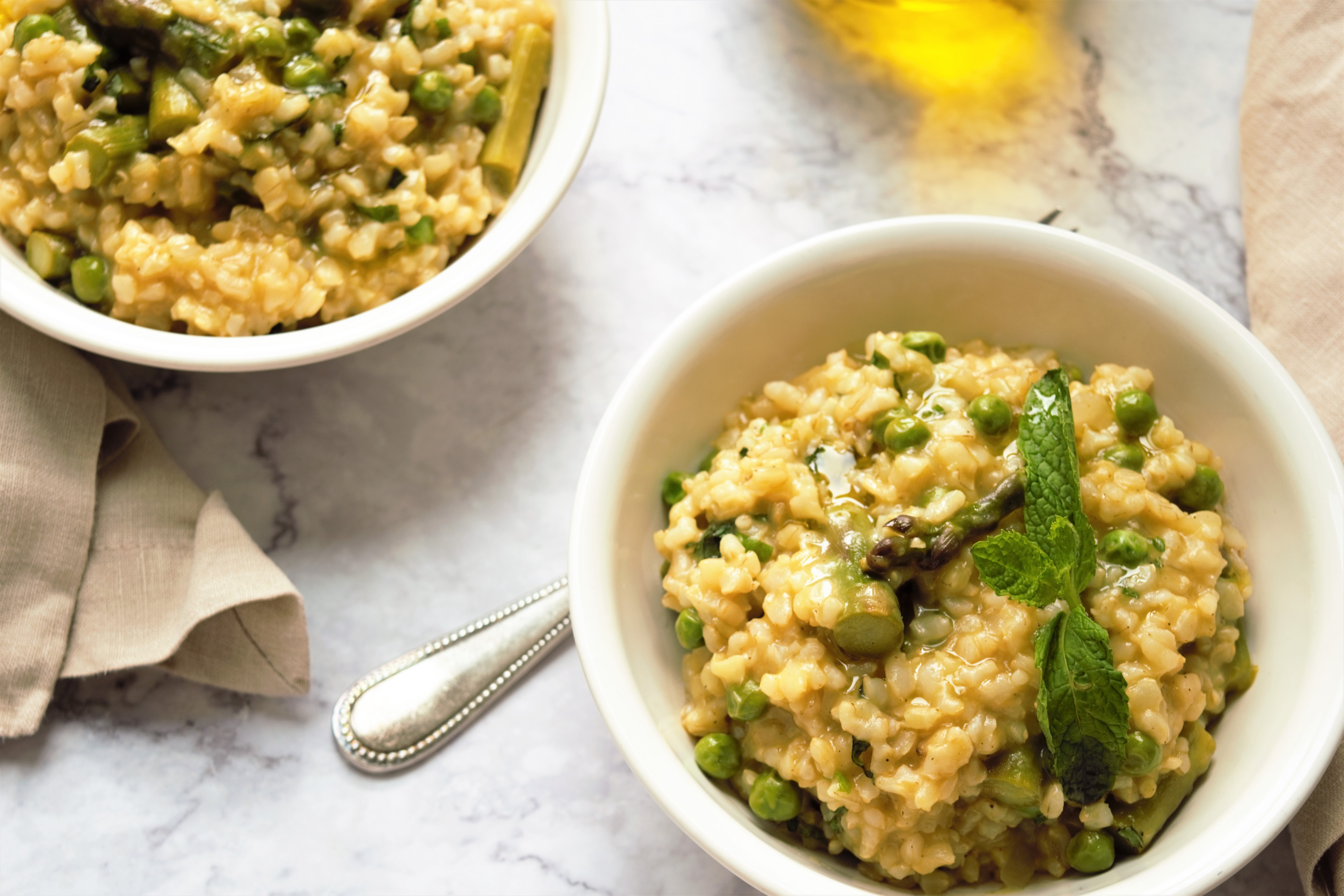 Here it is! A healthy vegan risotto with high protein peas, asparagus, and mint. So perfect! And so good!
I love the traditional risotto rice, and even though I avoid refined grains, from time to time, I make a classic recipe. But this spring-themed whole-grain dish works perfectly! Served as an entrée or as a side dish, paired with some mixed greens salad, or garlicky greens (love broccoli rabe!), this risotto will make you a hardcore fan of brown rice!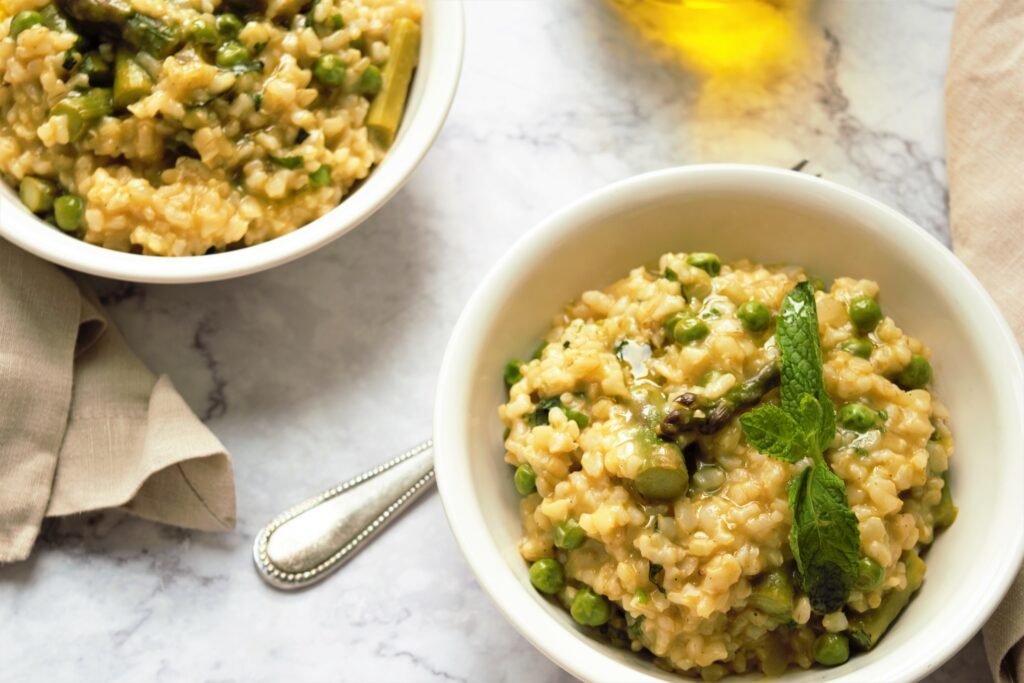 When I saw that coconut butter was one of the ingredients in this recipe, I frowned. I love coconut and use it every day: the oil for cooking, the chips as part of my granolas and soup, and the flakes on my oatmeal, puddings, and smoothies. But in a risotto? I had to try it. And thank Goodness I did!
The coconut butter adds the same creamy texture of cheese. You can taste the coconut, as I expected, but it is very mild. If you can not find coconut butter in your local supermarket (or don't to spend a fortune on it for just one recipe!) use coconut cream instead. Just be careful not to buy the sweetened coconut cream sold on the Latin cuisine aisle of the supermarket's as it is loaded with sugar and is for mojitos and desserts.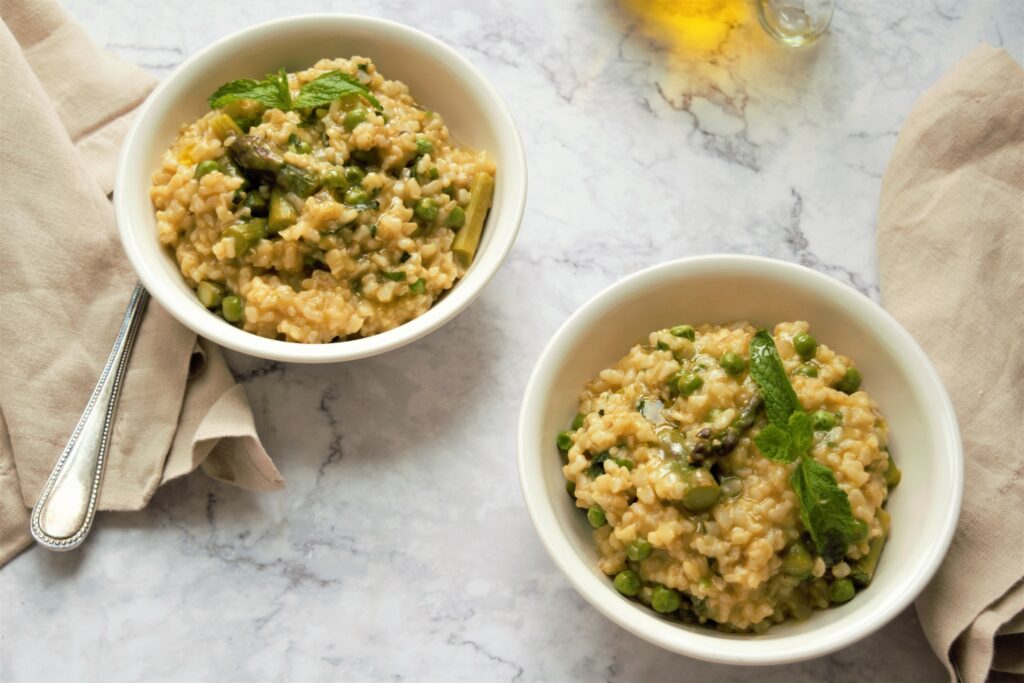 These fresh peas from Trader Joe's are so good. I always buy them as I can't find fresh peas in my local markets. Frozen peas also work, but they are not as crunchy as the fresh ones.
I brought the smoked salt at Fairway. If you can't find smoked salt in your supermarket, add some liquid smoke to regular salt and let it dry. Spread the salt on a baking sheet and put in the oven for a few minutes until it gets dry.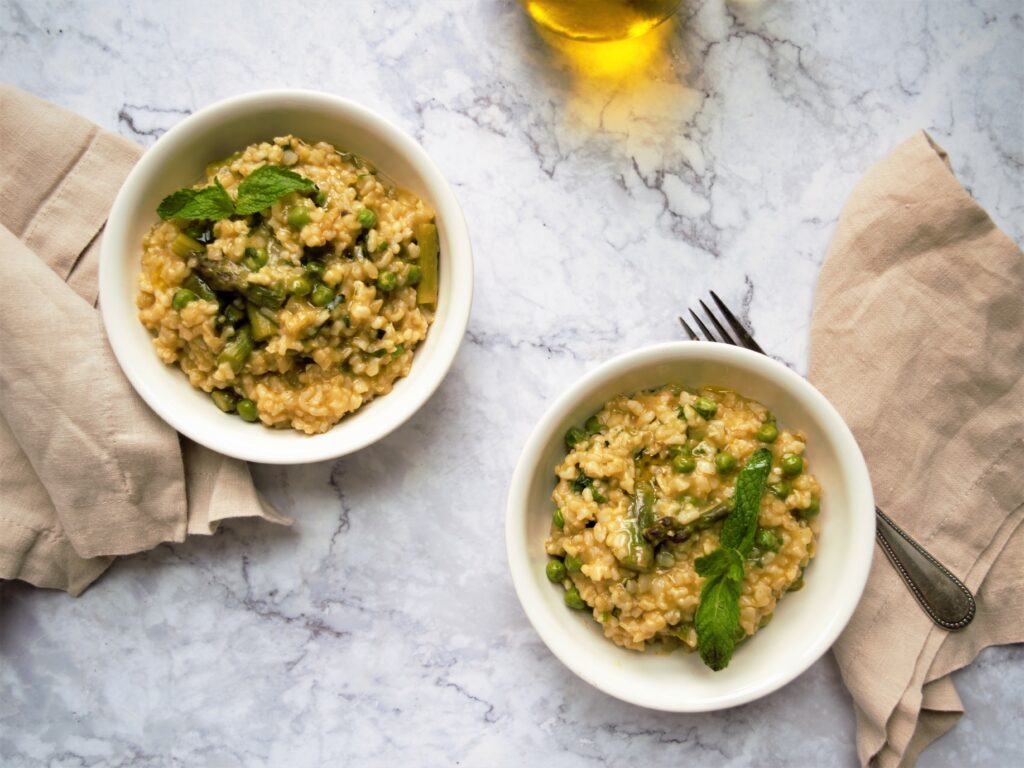 Vegan Risotto with Peas, Asparagus, and Mint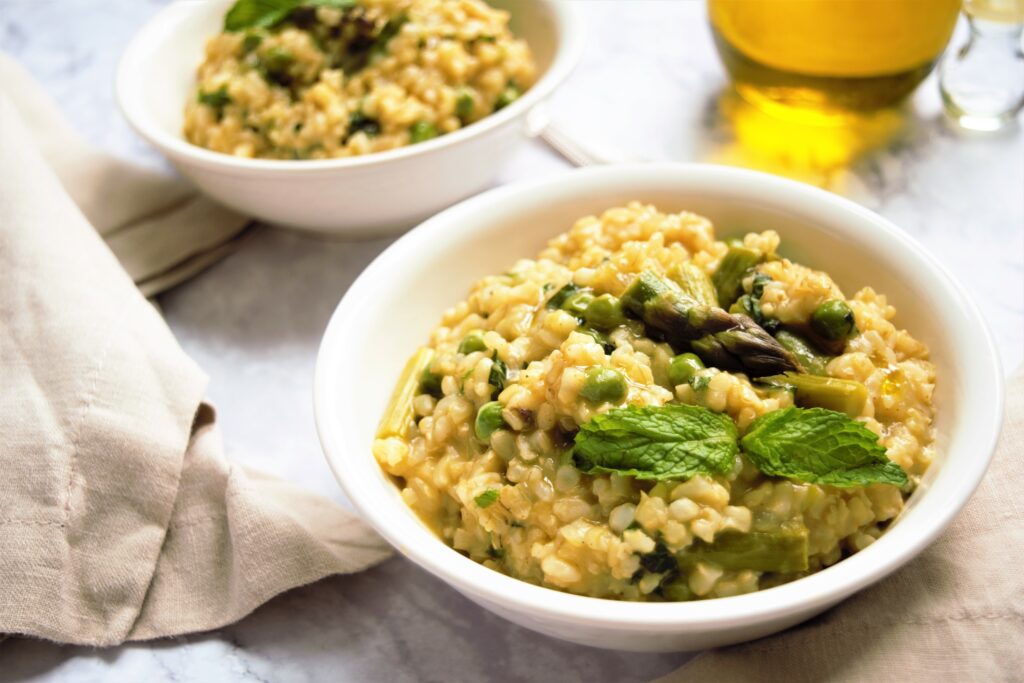 Minted Pea and Asparagus Risotto
Ingredients
1

tablespoon

coconut oil

1/2

cup

onion, small dice

1

cup

short grain brown rice

8

ounces

organic Chardonnay

4

cups

vegetable stock

1/2

cup

(about 4 to 5 stalks) asparagus

cut into 1-inch pieces

1/2

cup

frozen (thaw or freshly shucked) peas

1/2

teaspoon

smoked sea salt

2

teaspoons

sea salt

1/2

teaspoon

fresh black pepper

2

teaspoon

fresh chopped mint

2 to 3

tablespoons

coconut butter
Instructions
Heat a 2-quart sauce pot over medium-high heat. Melt the coconut oil, then add the onion, cook until translucent, about 2 minutes. Reduce the heat to medium, stir in the rice and cook for an additional 2 minutes. This toasts the rice and gives it a wonderful nutty flavor. Pour in the white wine and allow it to reduce by half before adding 12 ounces of stock. Stir often and allow the rice to absorb most of the liquid before adding more. Continue cooking the rice, adding the liquid in 4-ounce increments and remembering to stir often.

When the rice feels just about fully cooked add the asparagus and continue to cook. At this point, the rice should be thick and creamy. Add the peas, stir to combine, and heat through. Season with the salts, black pepper, and stir in the mint and coconut butter. Serve immediately.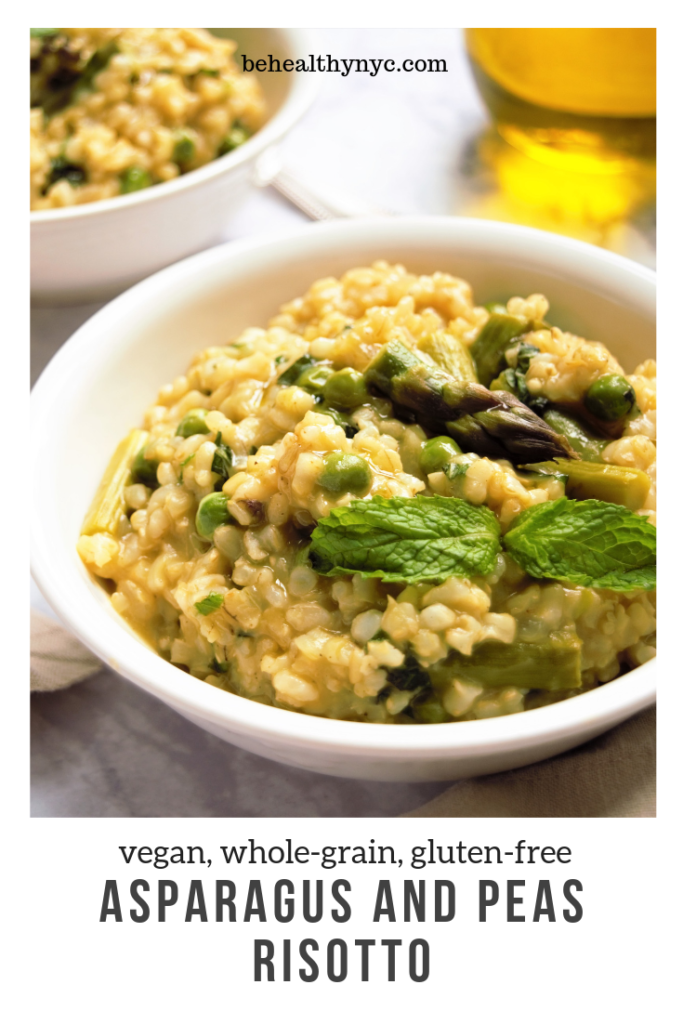 ---
more Recipes you might like
---