Vegan and Gluten-Free Almond-Raspberry Cookies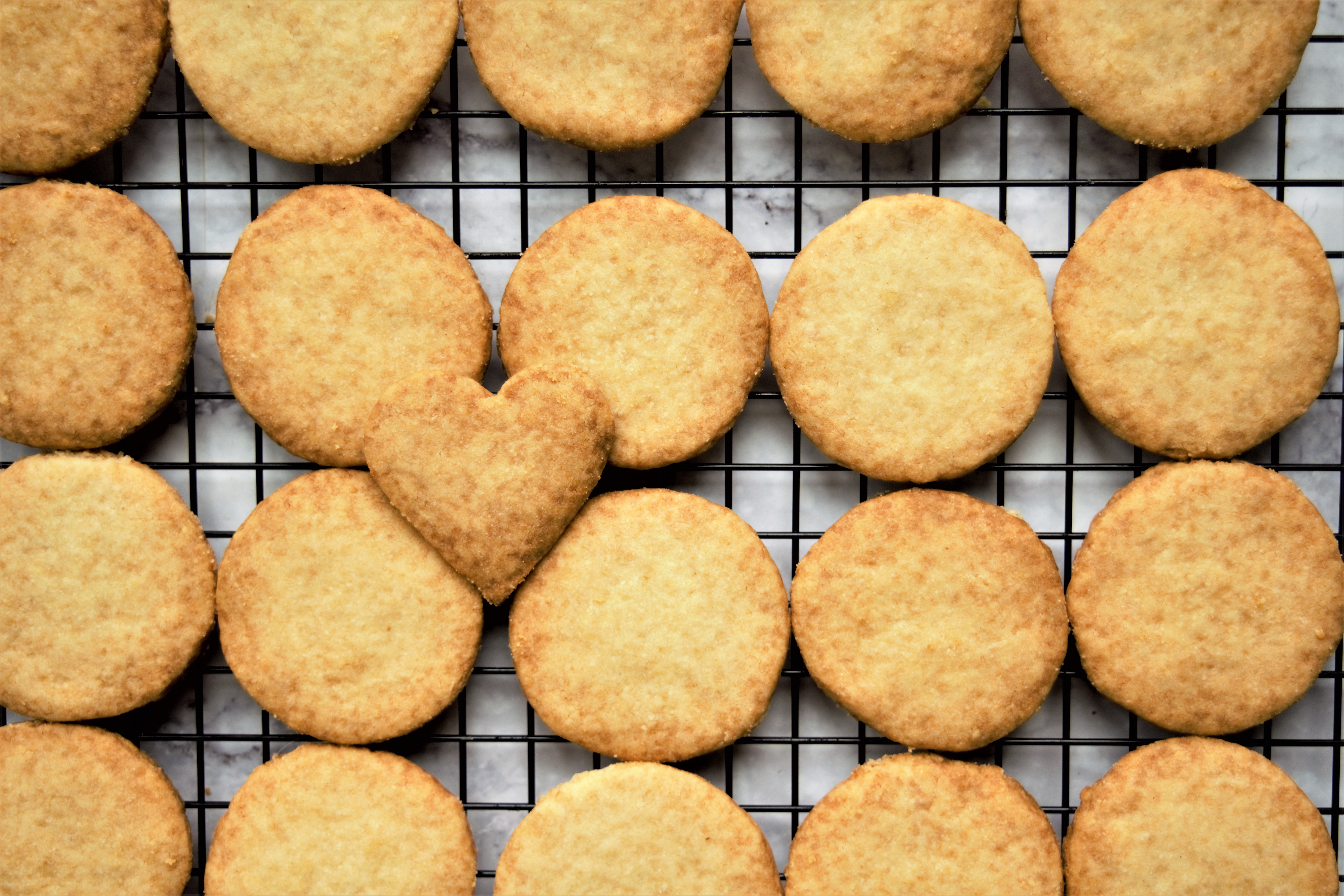 ---
My favorite vegan and gluten-free almond-raspberry sandwich cookies! This recipe was veganized, adapted, and made gluten-free from a recipe I received from the New York Times newsletter I got a while ago. You can't tell the difference! They are identical to the original buttery cookies.
I rarely have these kinds of treats. I know that even though these cookies are vegan and gluten-free, they aren't necessarily good for you. Sugar and margarine are to be avoided if you want to have a balanced diet. However, they are a better substitute to have on special occasions. If you have a gluten or lactose allergy, these cookies are a dream!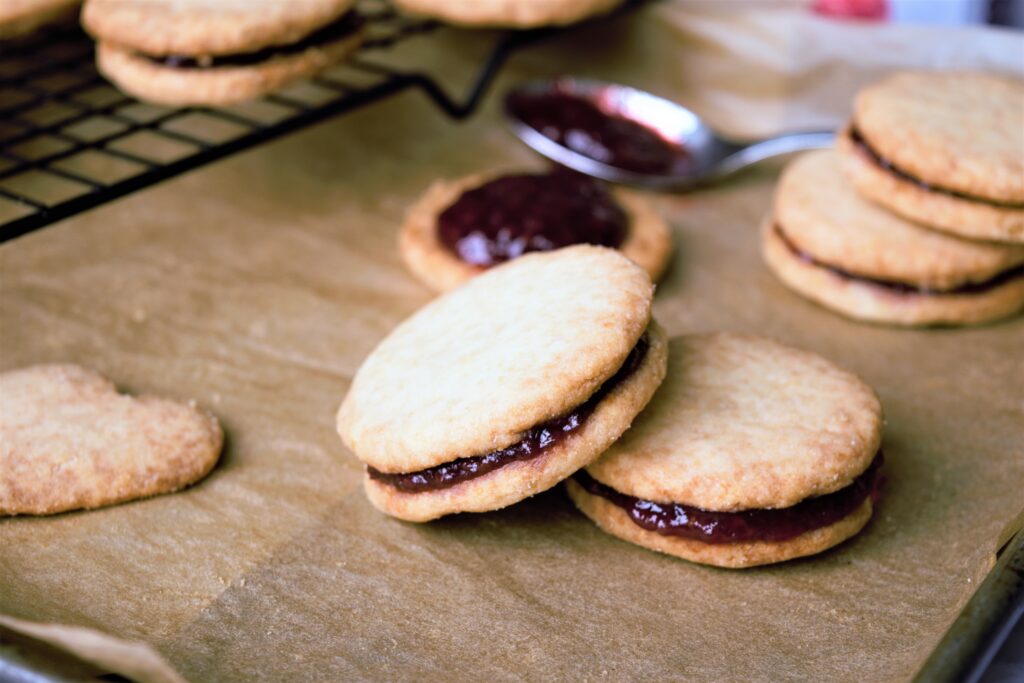 The jam is what gives makes sandwich cookies so good. Make sure you have a good quality jam, with right consistency as if it is too thin it won't hold the cookies together. The healthier brands of jams tend to be a little thinner as they contain less or no processed sugar. One thing that I found is beneficial is to let the jam dry a bit before forming the sandwich. Lay the cookies topped with the jam on a baker's rack for about thirty minutes.
Also, try other flavors! Peach, strawberry, blueberry, are great substitutes. The healthier the jam, the better this cookies will be, and you will enjoy them guilt free.
The Best Vegan and Gluten-Free Almond-Raspberry Cookies!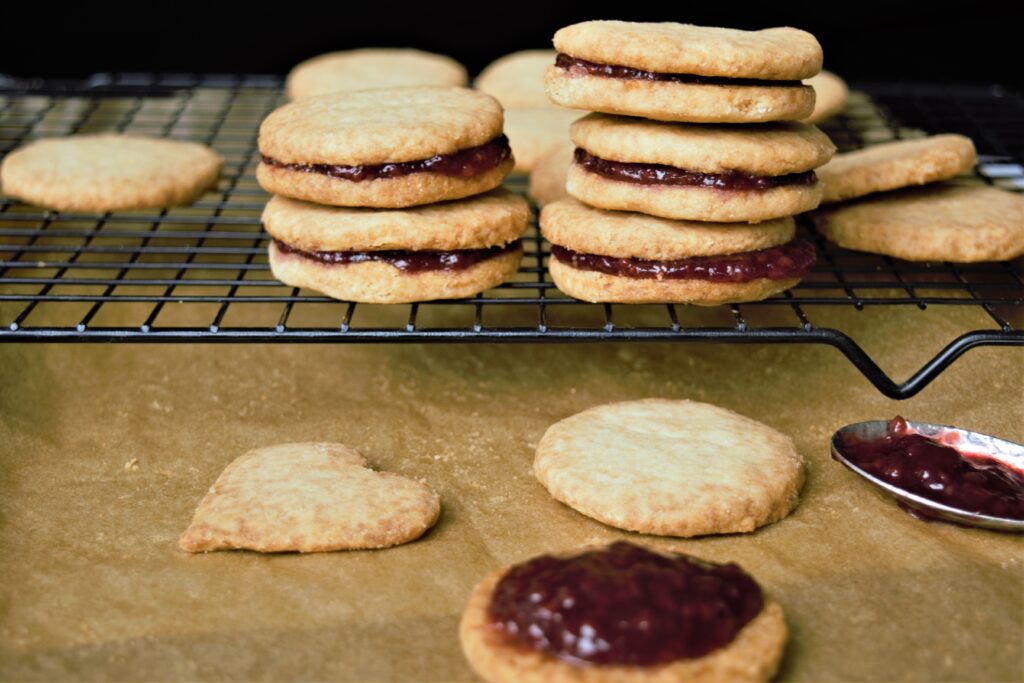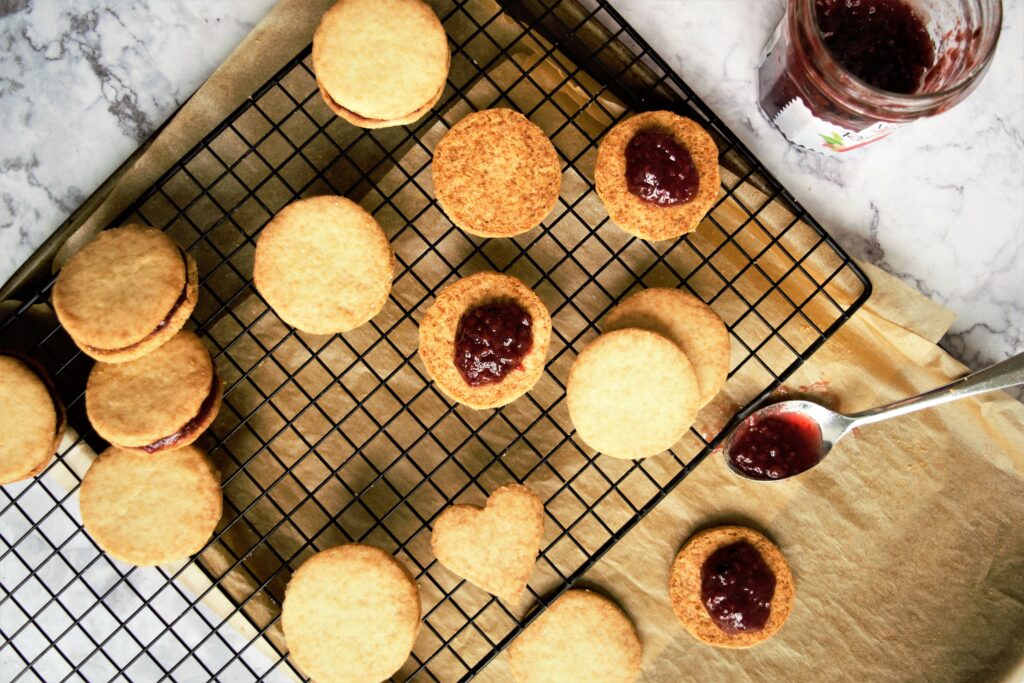 The number of cookies you will get from this recipe depends on how big you want them to be. I use a small glass container as my cookie cutter. A water glass works great as long it isn't too thick.
You will need to work quickly as the dough becomes soft and hard to work with. I use a very thin silicone spatula to move the cookies to the baking pan. Even though it is not necessary, I spray the parchment paper with some oil.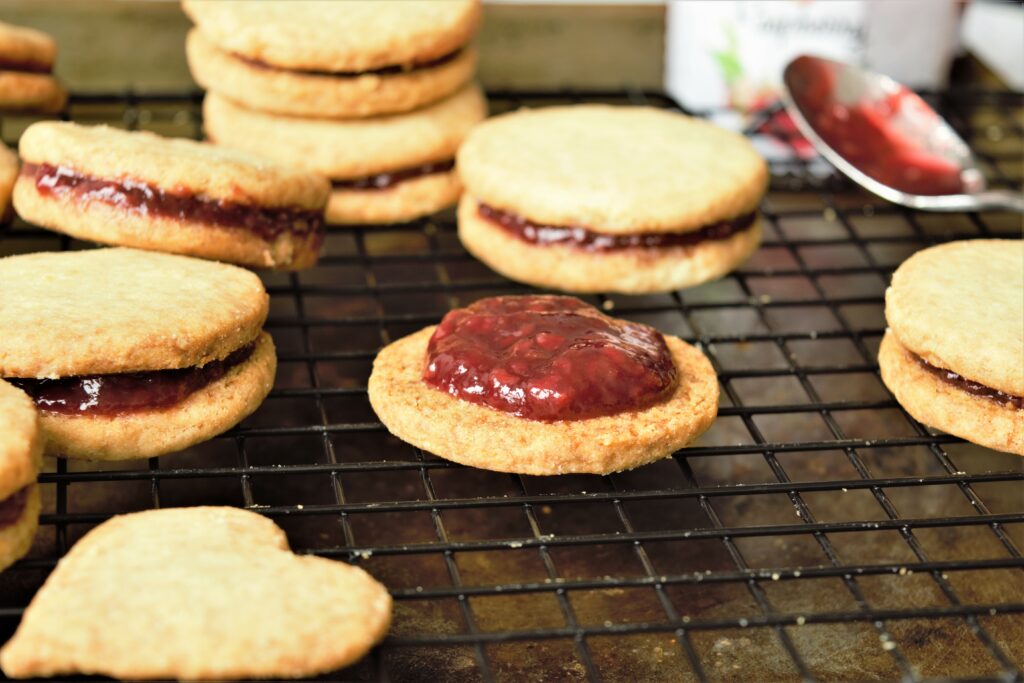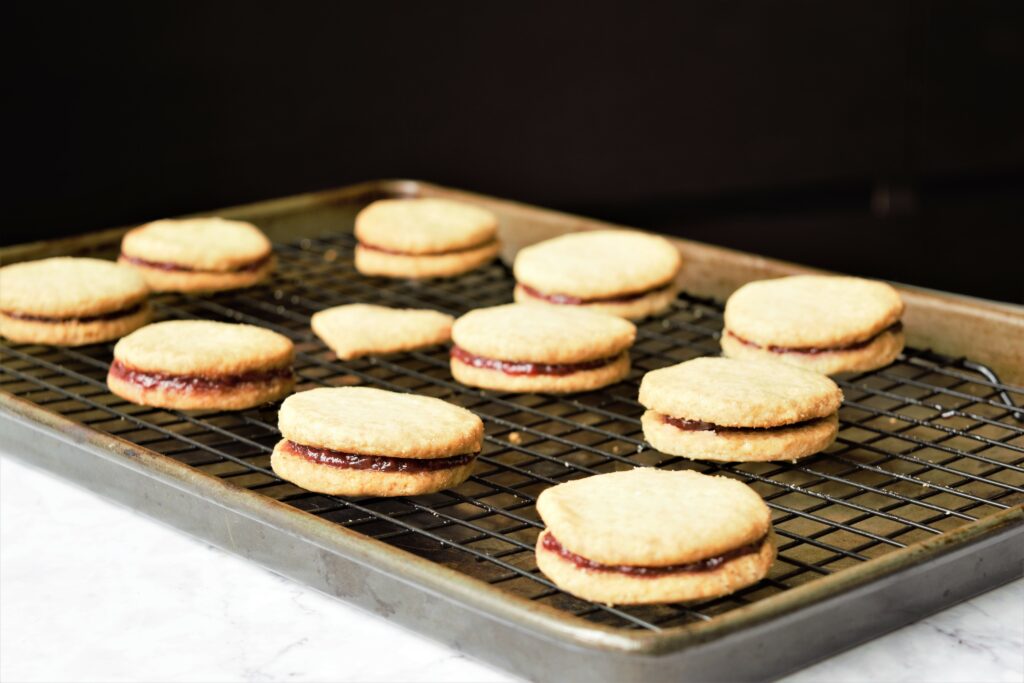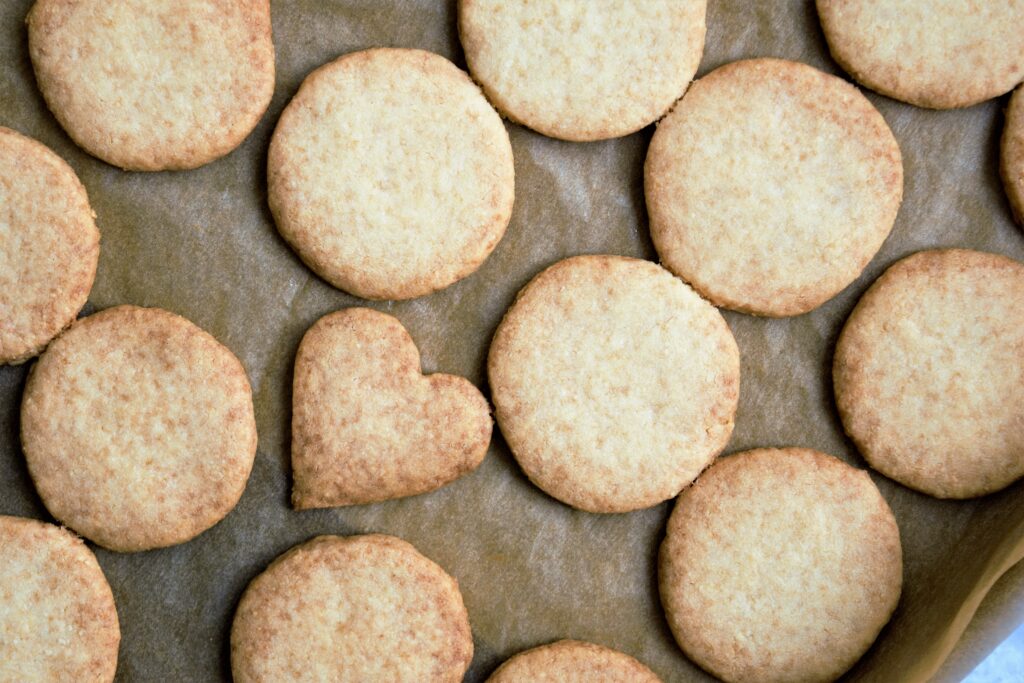 how to make your own the gluten-free flour
I have made several recipes with this homemade flour blend. The strawberry crostata was my favorite! It is effortless to work with, resembling a regular gluten all-purpose flour. This blend is perfect for desserts, but I still need to try it with bread and other savory dishes such as pizza, quiches, and empanadas.
Mary's All-Purpose Gluten-Free Flour Blend
MAKES 6 CUPS
A combination of white and brown rice flour lightens the texture of baked goods. For a more nutritious mix with a lower glycemic index, use all brown rice flour (a total of 4 cups flour).
2 cups brown rice flour
2 cups white rice flour
1⅓ cups potato starch (not potato flour)
⅔ cup tapioca starch/flour
1. Mix ingredients together. Store in a tightly covered container in the refrigerator until used.
Each cup contains:
564 calories
2g total fat
0g saturated fat
0g trans fat
0mg cholesterol
4mg sodium
127 g carbohydrate
4 g fiber
7 g protein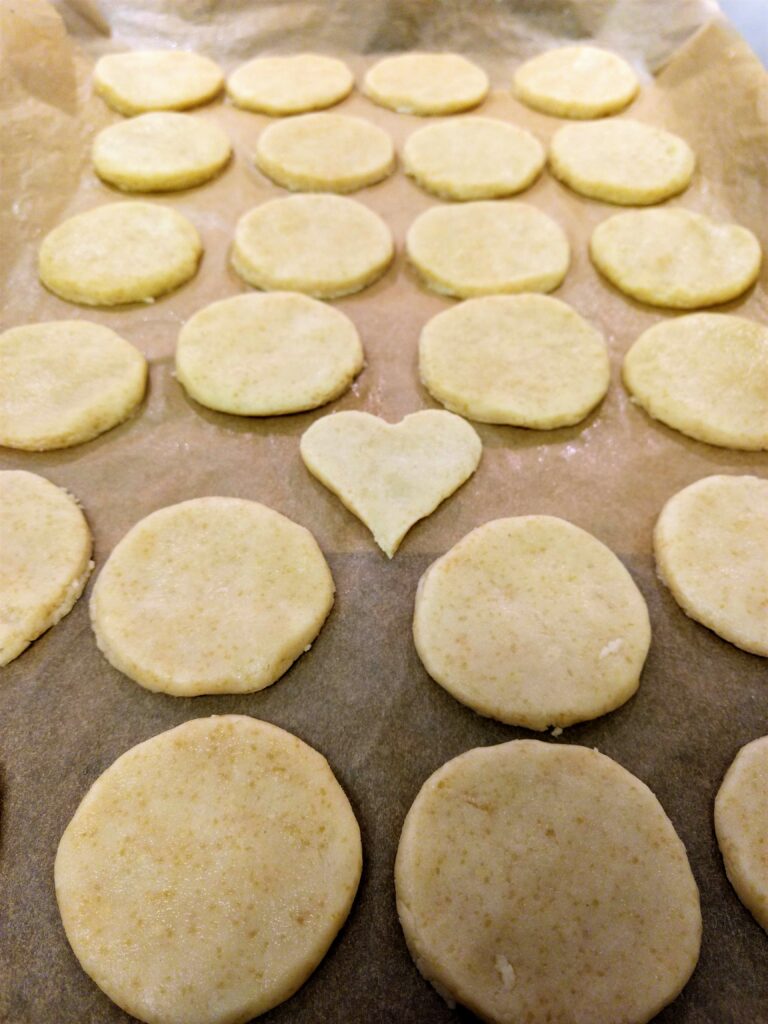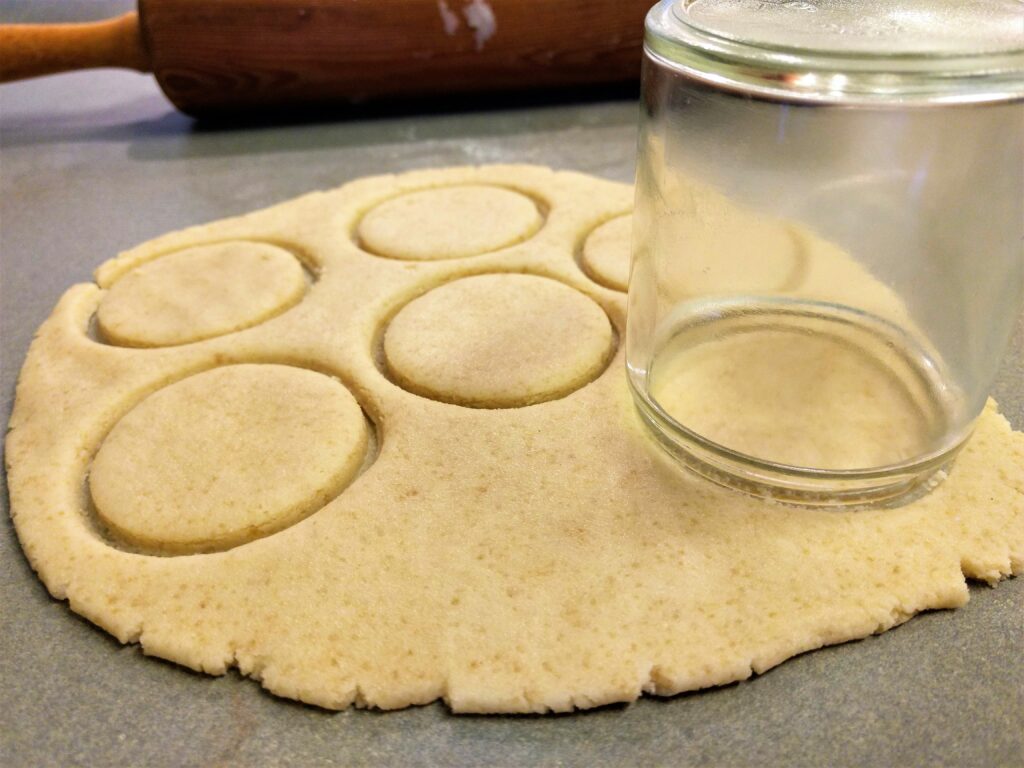 Vegan and Gluten-Free Almond-Raspberry Sandwich Cookies
Ingredients
1

cup

all-purpose gluten-free flour

⅓

cup

slivered almond

¼

cup

granulated sugar

plus for coating

8

tablespoons

unsalted vegan butter

cut into ½-inch pieces and chilled

½

teaspoon

vanilla extract

¼

cup

raspberry jam
Instructions
Sliced blanched almonds can be substituted for the slivered almonds.

Adjust oven racks to upper-middle and lower-middle positions and heat oven to 350 degrees. Line 2 baking sheets with parchment paper. Process 1 cup flour and almonds in a food processor until almonds are finely ground, about 1 minute. Add ½ cup sugar and remaining 1 cup flour and process until combined. Add butter and vanilla and pulse until dough forms.

Transfer dough to lightly floured counter and roll to ¼ inch thickness. Using a 2-inch round cookie cutter, cut dough into circles; space circles 2 inches apart on prepared sheets. Gently reroll scraps, cut into circles, and transfer to prepared sheets. Bake until the edges are light brown, about 15 minutes, switching and rotating sheets halfway through baking. Let cookies cool on sheets for 5 minutes, then transfer to wire rack.

Place remaining ½ cup sugar in a bowl. Working quickly, spread 1 teaspoon jam over bottom of half of the warm cookies, then top with remaining cookies, pressing lightly to adhere. Gently toss cookies in sugar to coat and transfer to wire rack. Let cookies cool completely before serving.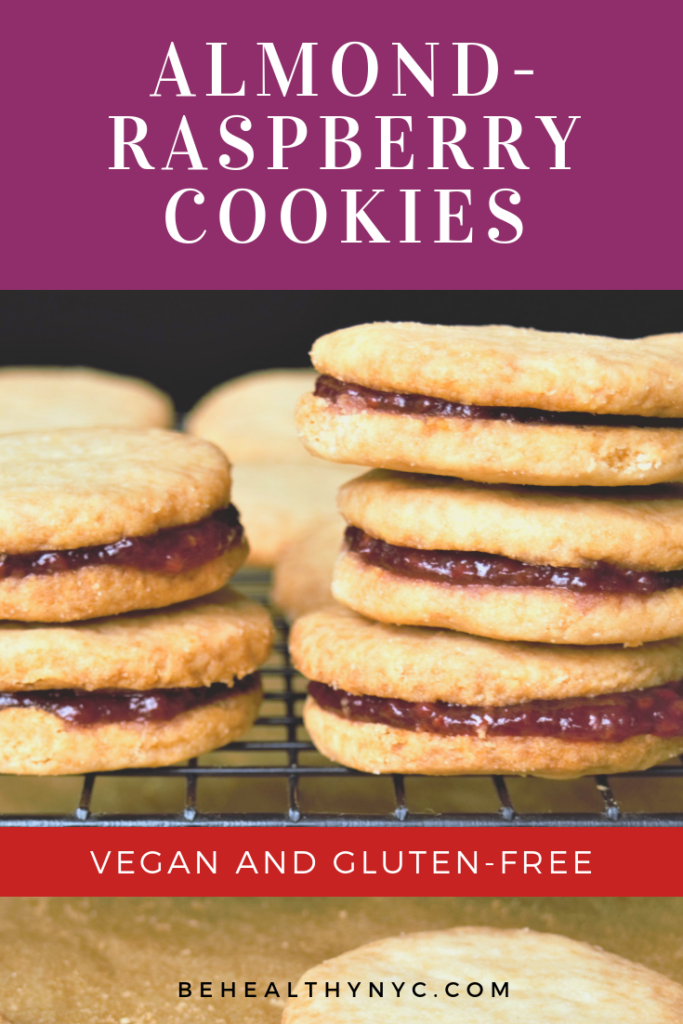 ---
---