Raw Vegan Key Lime Pie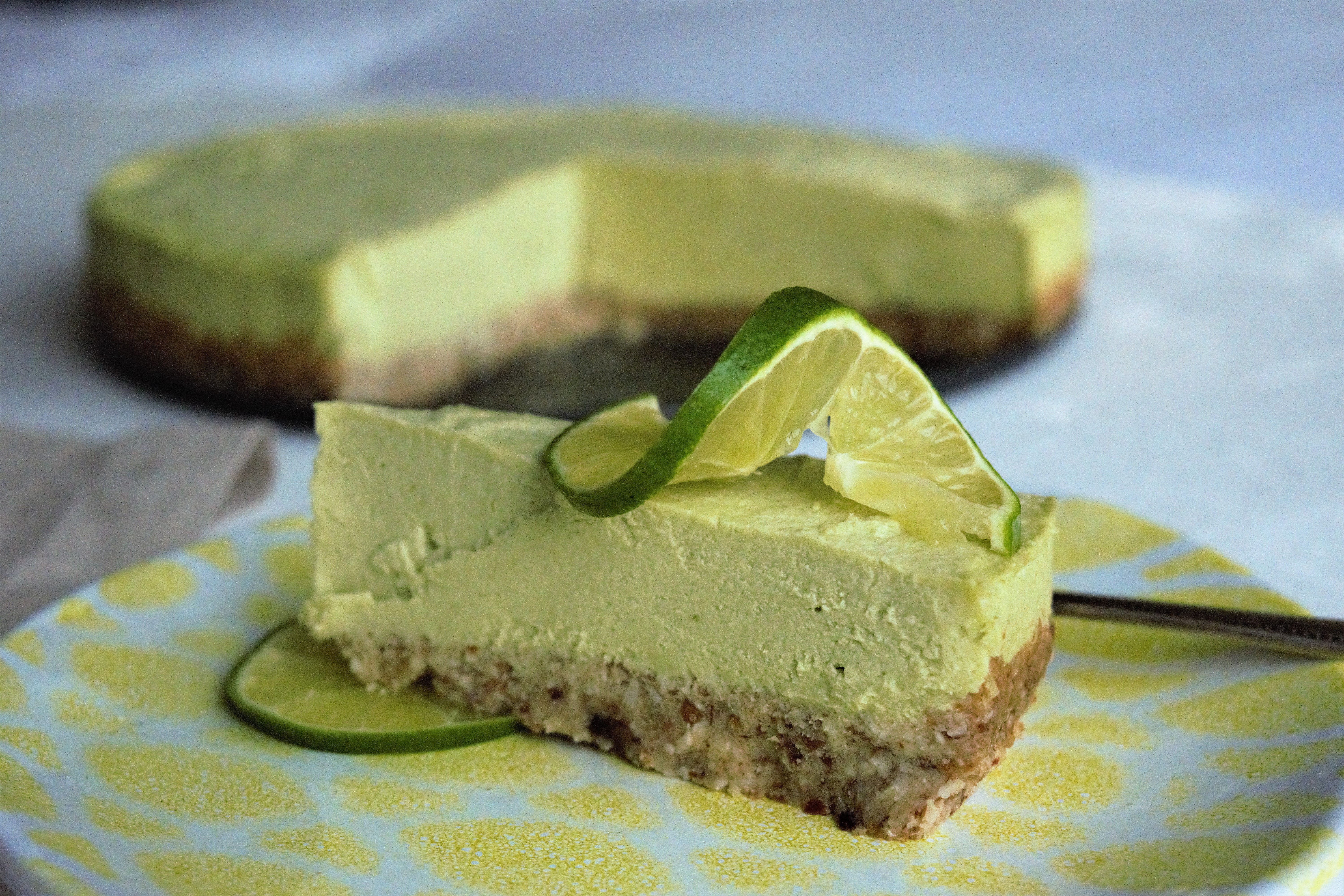 This delicious raw vegan key lime pie is so easy to make you will memorize this recipe!
I used xanthan gum as I prefer the "cheesecake" consistency it gives this pie. But the coconut butter works beautifully!
In the past, I made popsicles with the same recipe; and by omitting the xanthan gum, you can make a lovely key lime pudding.
Make sure to double the recipe as you might want to make some popsicles. The creamy consistency of the avocados make a great ice cream or popsicles.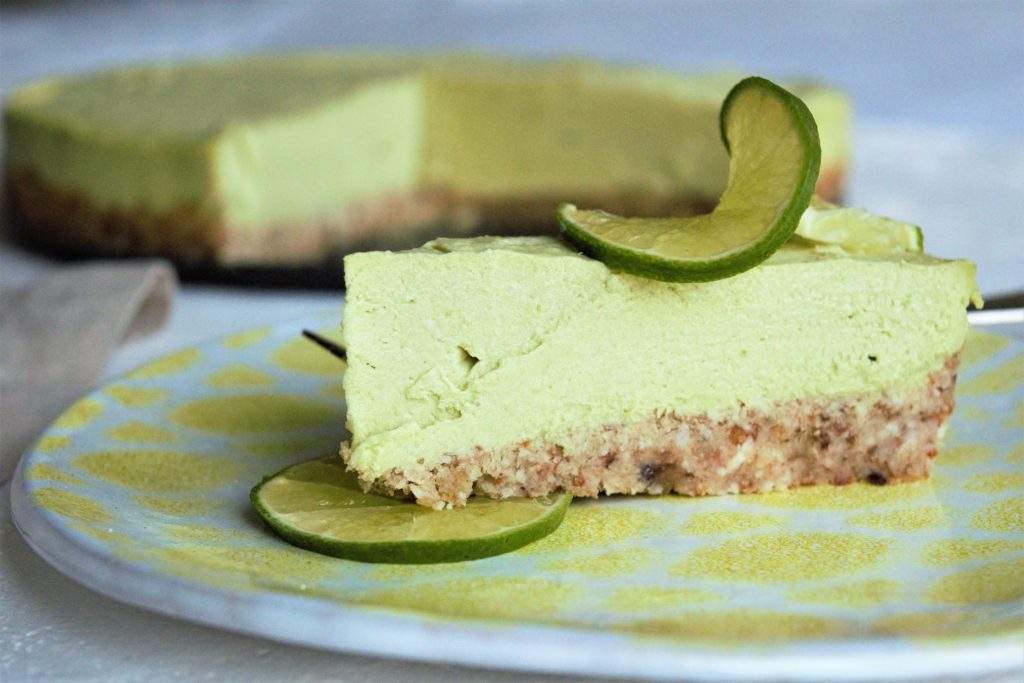 One of the things I love about this dessert is how sophisticated it looks! The bright green color is so beautiful, there is no way you won't make a impression with your family and guests. And I always make this dessert to those friends that think healthy and vegan foods are boring and tasteless. It is amazing seeing their reaction when I say there is no refined sugar and no dairy in this recipe!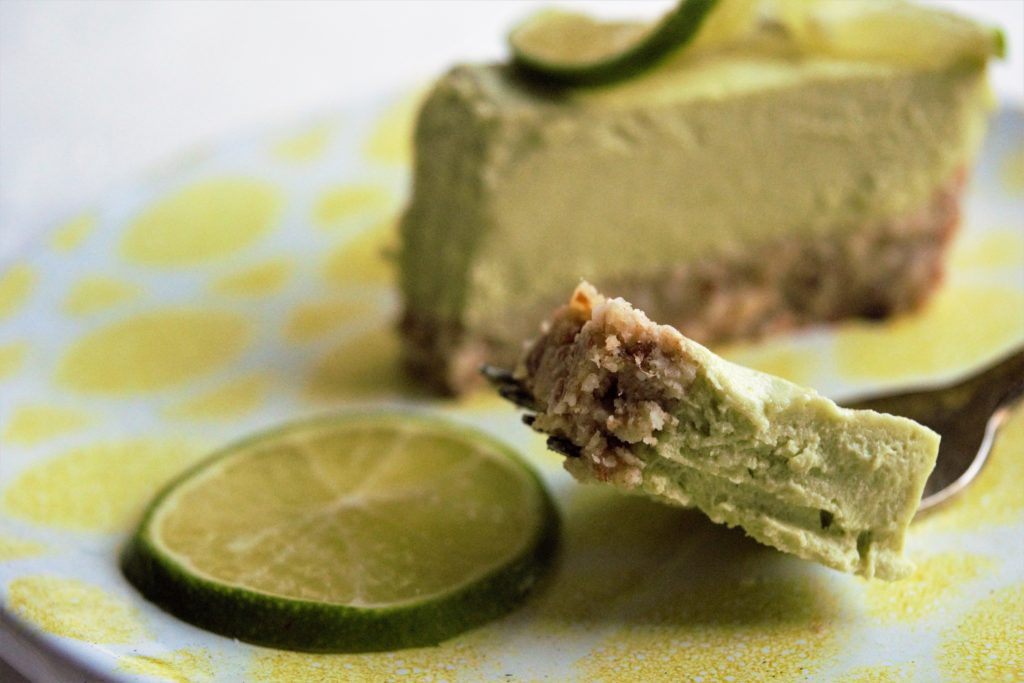 Raw Vegan Key Lime Pie
Only a few ingredients, and all of them super healthy. I spend all summer having this delicious key lime pie. It is a crowd pleaser, and even kids love it. The maple syrup can be easily substituted for xylitol if you are diabetic or just cutting on carbs.
If you can't find xantham gum in your local supermarket or don't want to pay for a whole jar of coconut butter, you can make your own coconut butter at home! It takes some time to process it, but it is much cheaper than store-bought.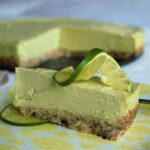 Raw Vegan Key Lime Pie
Ingredients
Crust 
2

cups

raw almonds

1/2

cup

coconut flakes

1/2

cup

date paste

2

tablespoons

coconut oil

1/4

teaspoon

vanilla extract

a pinch of sea salt
Filling 
3/4

cup

fresh lime juice (about 6 limes)

1/2

cup

maple syrup

1/4

cup

coconut milk

2

avocados

2

teaspoons

vanilla extract

a pinch of sea salt

2

tablespoons

lecithin powder (or 2 teaspoons xanthan gum or 3/4 cup coconut butter)
Instructions
1. Date Paste: To make date paste, pit and soak 6-8 dates in 1/4 cup water for an hour, then blend in a small blender, or immersion blender, or food processor. Set aside.
2. Add almonds to food processor and blend until fine, add the rest of the ingredients and pulse until blended but crumbly. You want the "crust" mixture to stick together when pinched between your fingers but not too sticky. Press firmly and evenly into a tart pan with a removable bottom.
3. Blend the filling ingredients in a blender until creamy. Then add: 2 tablespoons lecithin powder (or coconut butter/xanthan gum). Blend well in a high-speed blender. Pour into crust and chill about 2 hours in the freezer. To serve, unthaw about 10-15 minutes. Alternately, you can pour the filling into bowls or glasses and refrigerate for an hour and serve as a pudding. You can also freeze the filling for a few hours and serve as ice cream.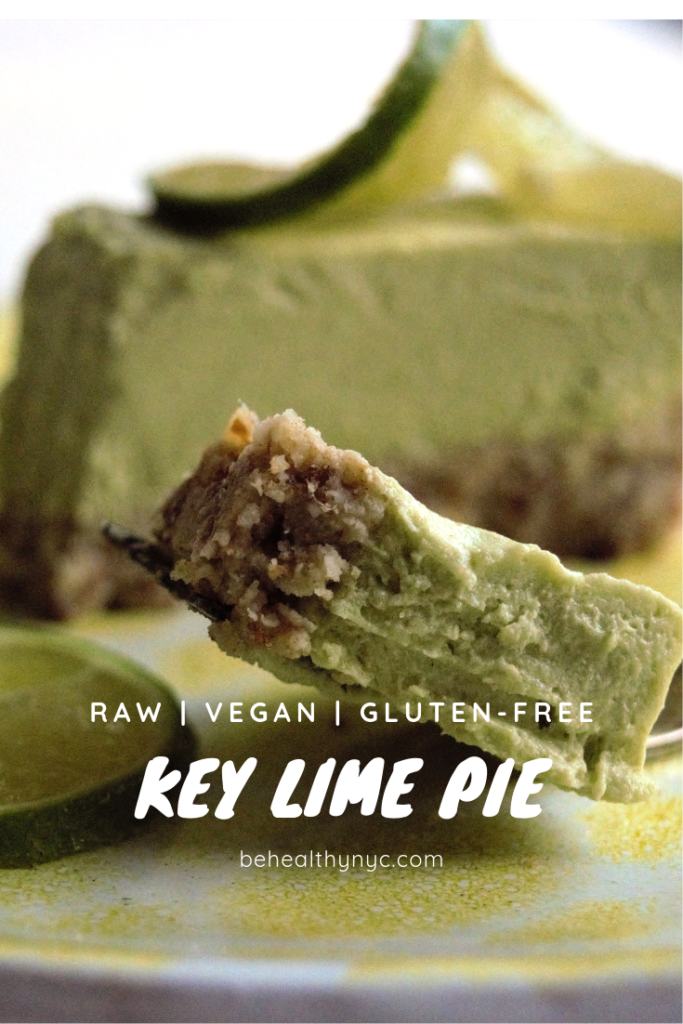 ---
more recipes you might like
---