Vegan Mixed Grains with Shiitake Mushrooms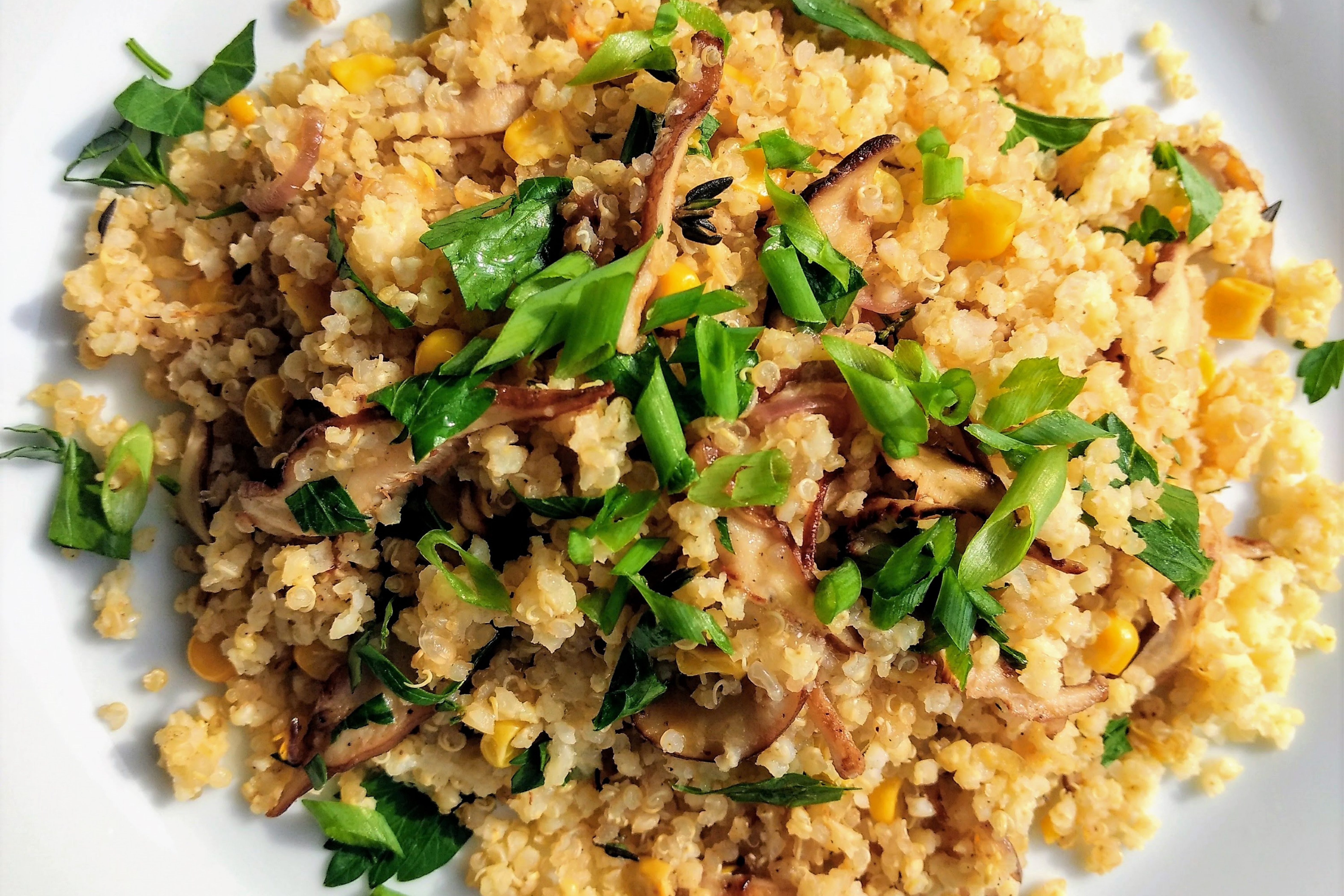 I tried this vegan mixed grains and shiitake mushrooms several times, and it is always a good "bed" for tofu or a nice stew.   Grains are an excellent source of protein, especially quinoa. So I have made this recipe as part of my meal prep for the week accompanied with greens and vegetables. You can make so many variations of it: Mix different grains like quinoa, rice, amaranth or barley, with shiitake or wild mushrooms, peas or edamame instead of corn, you can also add green vegetables such as snow peas, green beans or asparagus.    
The only thing I altered from the original recipe was to include onions and garlic. Next time I will try a different combination of herbs or mushrooms and roasted corn and cherry tomatoes with garlic would be great! I am going to update this recipe for every season! The Autumn version will be acorn or butternut squash with sage! I love brainstorming all the possibilities!   This recipe was adapted from the Food Network Magazine.
Vegan Mixed Grains with Shiitake Mushrooms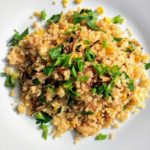 Vegan Mixed Grains with Shiitake Mushrooms
Ingredients
1

cup

quinoa

1

cup

millet

8 oz

(about 1 1/2 cups)

shiitake mushrooms, sliced

1/2

cup

onions, diced

1

teaspoon

minced garlic

1

tablespoon

extra-virgin olive oil

more for drizzle

1

cup

corn (fresh or frozen)

1

cup

fresh parsley, chopped

juice of 1/2 lemon
Instructions
1. Cook the quinoa and millet in boiling salted water until tender, about 12 minutes. Drain and spread on a paper towel-lined baking sheet to cool (a big colander also works).
2. Cook the shiitake, onions and garlic in olive oil in a large skillet over medium-high heat until browned, about 5 minutes.
3. Add the corn, thyme and season with salt and pepper to taste. cook, stirring, until the corn is tender, 30 seconds. Toss in the grains, parsley and the lemon juice; drizzle with 3 to 4 tablespoons olive oil.
---
more recipes you might like
---